Angels select two-sport athlete Jordyn Adams with their first pick in MLB draft
The Angels used their top pick on a highly athletic high school outfielder for the second consecutive year, choosing two-sport star Jordyn Adams of Cary, N.C., with the 17th overall selection Monday in the first round of the amateur draft.
They chose high school shortstop Jeremiah Jackson of St. Luke's Episcopal in Mobile, Ala., in the second round, marking the first time since 2010 (infielder Kaleb Cowart, pitcher Cam Bedrosian) the team chose prep players with their first two picks.
The 6-foot-2, 180-pound Adams, a speedy receiver who has committed to play football and baseball at North Carolina, hit .453 (34 for 75) with five doubles, three triples, one home run and 15 runs batted in during his senior season at Green Hope High.
As a junior at Blythewood High in South Carolina, Adams, who throws and bats right-handed, hit .494 with 26 stolen bases. He was considered a better football prospect until he impressed scouts at USA Baseball's National High School Invitational in late March.
"The first thing that jumps out is his athleticism," scouting director Matt Swanson said of Adams. "If you look at our last couple of drafts, that's a common thread. Jordyn is someone who is big and fast and strong and someone we can continue to mold. It's another very exciting pick for us."
According to Baseball America, Adams, 18, was the tournament's best hitter in a field with many of the top high school bats in this year's draft class. Adams has excellent bat speed, and scouts project he will hit for more power as he adds muscle to his wiry frame.
With his superb speed — Adams has been clocked from home to first in 4.12 — he projects as more of a leadoff hitter. His speed and athleticism make him a potential impact defender in center field.
The Angels used the 10th overall pick in 2017 on Louisville high school outfielder Jo Adell, who has advanced to Class-A Inland Empire this season and is considered the organization's top prospect.
"The pure tools and athleticism they possess is very unique and similar, but they're very different players," Swanson said of Adams and Adell. "They share similar upsides but different ways to get there."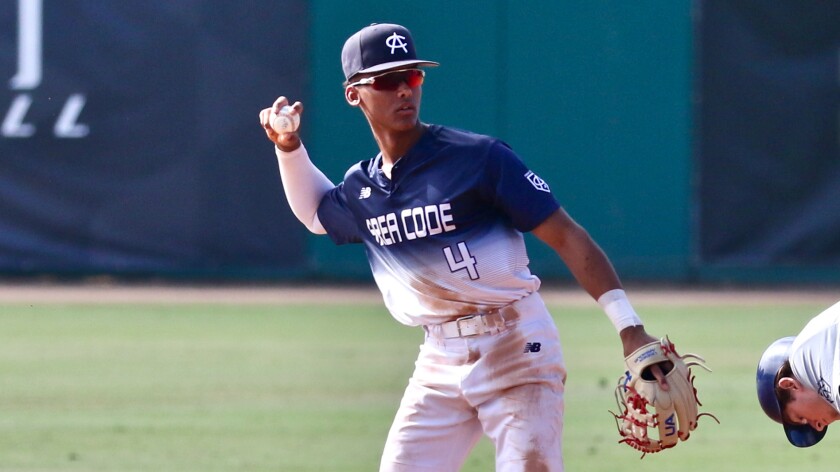 The 6-foot, 165-pound Jackson, 18, has good bat speed, raw power for his size and a strong arm that should allow him to remain at shortstop. A six-year varsity starter at his school, he hit .644 (58 for 90) with 15 home runs, nine doubles, four triples, 49 RBIs and 54 runs as a senior.
"We made the pick with the intention of developing him as a shortstop," Swanson said. "He's given us no indication that he shouldn't stay there long-term."
According to mlb.com, Jackson, the 57th overall pick, is the first Alabama high school middle infielder selected in the first three rounds since the New York Yankees picked Bo Jackson in 1982.
Ohtani left out
The left-handed-hitting Shohei Ohtani was not in the Angels' lineup against Kansas City Royals left-hander Danny Duffy on Monday night.
Ohtani is batting .329 with a 1.047 on-base-plus-slugging percentage, six home runs and 19 RBIs in 95 plate appearances against right-handers but only .143 with a .451 OPS, no home runs and one RBI in 33 plate appearances against left-handers.
"I still think it's a small sample size," manager Mike Scioscia said. "He's had some really good at-bats against lefties, and sometimes he's been searching. He's learning a new league, different deliveries. There's a lot on Shohei's plate."
Ohtani has cooled off in the last two weeks, hitting .172 (five for 38) with a .644 OPS, no home runs, three RBIs, 12 strikeouts and nine walks in nine games from May 22 through Sunday, his average falling from .321 to .283. He pinch-hit against right-hander Kevin McCarthy in the sixth and got a fortuitous single past an infield shift.
"He's not expanding his zone, he's taking his walks, he's hitting some balls hard," Scioscia said. "You're not gonna get balls to fall in at an extraordinary pace all the time, but his process is great."
Lack of pomp
MLB Network televised the first round and competitive-balance round of the draft. Things were a little different when Scioscia, the former Dodgers catcher, was selected in the first round in 1976.
"I wasn't even aware the draft was that day," Scioscia said. "I was out playing pick-up baseball with my buddies at the high school. I got home and my dad said, 'Hey, you got a phone call, you got drafted by the Dodgers.' That was it."
---
Get the latest on L.A.'s teams in the daily Sports Report newsletter.
You may occasionally receive promotional content from the Los Angeles Times.