Angels and free-agent first baseman Justin Bour agree to one-year deal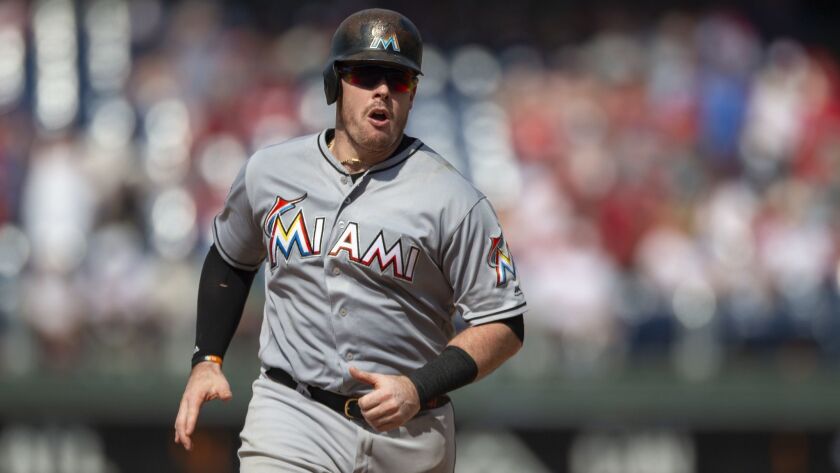 Reporting from Las Vegas —
Mere hours after manager Brad Ausmus raved about veteran Albert Pujols' pedigree, the Angels on Wednesday reached a preliminary agreement on a one-year, $2.5-million contract with free-agent first baseman Justin Bour, a person familiar with the deal said.
The person spoke on condition of anonymity because the contract has not been officially announced. The deal is pending a physical.
Signing Bour was not the move the Angels were expected to make when they arrived this week at the Mandalay Bay Resort and Casino for the winter meetings. Their penchant for cycling through starting pitchers and a lack of experience at catcher identified two specific needs.
But general manager Billy Eppler cited this week a desire to improve the club at what he described as the intersection of a desirable price tag and the value added to the team's run prevention or scoring efforts.
Such was the genesis of the Angels' first substantial move of the offseason.
Bour is expected to share duties with Pujols at first base, should Pujols make it through spring training without an injury. Otherwise, Bour could serve as the full-time first baseman and Pujols could be the full-time designated hitter until two-way player Shohei Ohtani is cleared to hit next season.
Pujols' health has long been a point of concern. He had season-ending knee surgery in August and elbow surgery in September. He has not played more than 80 games at first base for the Angels since he played 95 games in 2015, leaving a hole the Angels tried to plug with former players C.J. Cron, Jefry Marte and the late Luis Valbuena.
Ausmus said Wednesday he didn't know what to expect from Pujols, who batted .245 with 19 home runs in 117 games last season. Pujols has not been cleared to hit but has begun workouts.
"My first hope is that Albert is OK," Ausmus said. "He says he feels great. But we're still going to have to take it slowly in spring training. … This guy is a phenomenal talent. But going forward, it's just going to be his health and performance. It's a performance-based game."
It appears the Angels were not ready to gamble on Pujols' vitals or even their depth chart, which includes first base prospects Matt Thaiss and Jared Walsh.
They chose instead to go with a left-handed power hitter who could platoon with Pujols.
Over his five-year career, most of it spent with the Miami Marlins before he was traded to the Philadelphia Phillies in August, Bour has slugged .466 with 84 home runs, 66 doubles, two triples and 277 runs batted in.
Bour, 30, was nontendered last month by the Phillies, with whom his slugging production dropped off. An oblique strain in late August sent him to the 10-day disabled list. After that, he was six for 29 and mustered only two doubles. He hit one home run with the Phillies, who acquired him during an early August surge as they pursued first place in the National League East.
Live updates from the baseball winter meetings »
The Angels don't have a date for when Ohtani will return from elbow ligament-replacement surgery as a designated hitter, but
Ausmus said Ohtani might not be ready for opening day. That timeline would buy the Angels time to rest Pujols, who will be 39 in the eighth year of his decade-long $240-million contract. It would also give Bour time to recapture his form from 2017, when he batted .289 with a .902 on-base-plus-slugging percentage.
Bour had a career-low .227 batting average in a career-high 141 games last season. But his 20 home runs were only five fewer than his total from 2017, when he participated in the All-Star game home run derby and lost 23-22 to Aaron Judge of the New York Yankees in the first round.
Bour played off the bench as the Phillies fizzled out of contention last season. Now he is in position to help the Angels take on a new-look American League West, in which the Angels could make enough headway and reach the playoffs for the first time since 2014 if Eppler's chips fall in the right place.
ALSO:
Dodgers ready to add Joe Kelly to their bullpen »
One way or another, the Dodgers plan to add a veteran catcher this offseason »
Free agent reliever Jeurys Familia set to return to Mets »
MLB: Charlie Morton and Rays agree on $30M, two-year deal »
---
Get the latest on L.A.'s teams in the daily Sports Report newsletter.
You may occasionally receive promotional content from the Los Angeles Times.