Angels win streak continues but Mike Trout leaves with groin injury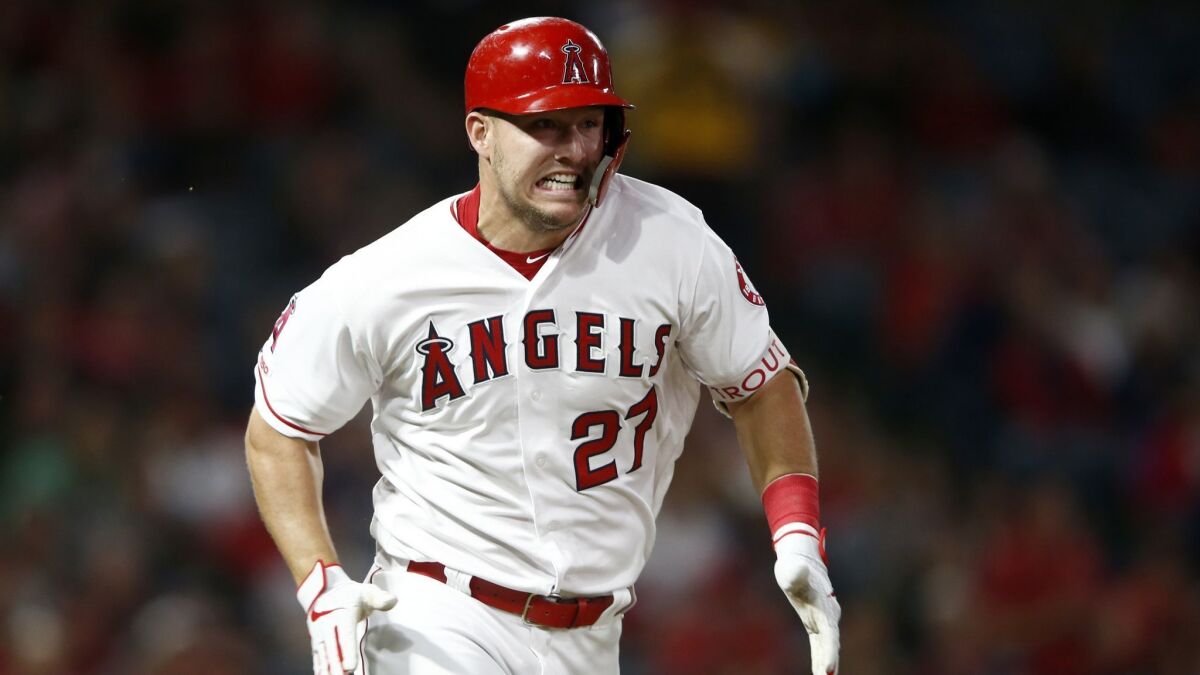 For the fifth time in five days, the Angels left Angel Stadium victorious. They beat the Milwaukee Brewers 11-8 on Tuesday night.
But there is a chance they lost star center fielder Mike Trout for at least a few days. He left the game because of a right groin strain, the team announced, and is day-to-day.
The prospect of Trout risking injury dawned on the Angels in the third inning, when trainer Adam Nevala noticed Trout stretching his groin in the outfield during the third inning.
Afraid of what a severe injury to Trout might portend for the rest of the Angels' nascent season, manager Brad Ausmus pulled the plug on Trout's night.
Trout had grabbed at his right leg after he slid feet-first into second base on a force-out that ended the second inning. He remained in the game but was replaced by Peter Bourjos in the outfield before the start of the fourth inning.
"We can't lose that guy for any length of time, so it was really my call," Ausmus said. "He lobbied to stay in, and I said 'We can't take the chance.'"
Trout, who leads the Angels in average (.406), home runs (five) and RBIs (12), said he felt some relief after speaking with team doctors.
"Obviously I have to make sure it's 100% before I go back out there," Trout said. "We've got an off day coming up [Thursday]. Obviously see how I feel tomorrow. But I'm just happy it's not as bad as it could've been."
Trout had two hits in two at-bats against Brewers starter Freddy Peralta. He singled on a ground ball to right in the first inning, snapping a hitless streak at five plate appearances. He ran at a speed of 30.3 feet per second, according to MLB's Statcast system, to beat out a ground ball to second for an single in the second inning.
Trout on Monday was named the American League player of the week after batting .438 with five runs scored, seven hits, five homers, nine RBIs and eight walks across six games. He hit a homer in each of the first four games of the Angels' homestand, including two in Friday's win over Texas.
Trout's 2.631 on-base-plus-slugging percentage against the Rangers was the third-highest OPS in a four-game series behind Babe Ruth and Mickey Mantle. For the 30 minutes that elapsed between Trout's departure and the team announcement on his injury, it seemed the Angels might go without that level of production for an extended period.
For now, they have dodged a bullet. Ausmus said the team has not discussed the possibility of putting Trout on the injured list. The Angels might just give Trout, who has played in all 12 games this season, the day off on Wednesday.
"It feels better than it did," said Trout. "Obviously I wanted to get back in there but after talking to the doctors, it's a pretty good thing I came out. I didn't want to push it, especially this early in the season. I've just gotta get it right and when it's right, I'll play."
Trout's early exit overshadowed a back-and-forth affair that began with a six-run first inning by the Angels (6-6).
Albert Pujols ripped a two-out single to right that scored Trout from second and allowed Justin Bour to advance to second. Brian Goodwin, claimed off waivers March 27 to fill the void created by Justin Upton's toe injury, piled on. His 10th hit in an Angels uniform traveled at a below-average speed of 75.4 mph, just slow enough to allow Bour to score and Pujols to lumber from first to third.
Jonathan Lucroy extended the barrage, beating out an infield single to drive in a run. Then Tommy La Stella, who had hit 11 home runs since making his major league debut in 2014, squared up a letter-high, 91-mph fastball and launched it 403 feet to right for a 6-0 lead.
The homer was the longest of La Stella's career for about an hour. He blasted a solo shot 414 feet to center to lead off the fourth, marking his second career game with multiple home runs. It gave the Angels a 7-5 lead and chased Peralta, who'd given up four earned runs in his first 11 innings this year.
"I would say I caught them right, caught them on the barrel pretty well," said La Stella, who hit a two-run homer in the series opener with the Brewers on Monday and has now homered in consecutive games for the first time in his career. "But more than anything it's freeing up my hands a little bit at the plate, not muscling my swing as much. I feel like I generate a lot less when I'm muscling the swing. Just trusting my hands to do the work and trusting they'll get there."
Sign up for our daily sports newsletter »
The offensive outpouring should have been enough for Angels starter Matt Harvey. Five days after surrendering eight first-inning runs to the Rangers in a loss here, Harvey was gifted a 6-0 lead after one inning.
But Harvey faltered. After he recorded two quick outs to start the second inning, Yasmani Grandal singled to right. Three consecutive run-scoring hits followed, shrinking Harvey's lead to 6-3.
Grandal, the former Dodgers catcher who signed a one-year contract with the Brewers on Jan. 14, homered off Harvey in the fourth inning. By the time Harvey was replaced by reliever Luke Bard with one out in the fifth, he had given up five runs.
"We get a big run like that in the first inning and I let them chip away and give up three runs in the second inning and then the home run in the fourth," said Harvey, whose fastball consistently hit 94-95 mph. "I just have to do a better job of locating pitches. My pitch sequence wasn't the best to Grandal after a changeup and he barely hit it. That's on me. Just frustrated the offense came up to play and I was lagging behind."
Mike Moustakas and Grandal hit back-to-back home runs off Bard, who inherited one runner from Harvey and gave up two runs of his own. The blasts gave the Brewers an 8-7 lead, but the Angels clawed back ahead.
Lucroy singled in Andrelton Simmons in the fifth to tie it up, then drew a bases-loaded walk with two outs in the seventh for a 9-8 lead. The Angels added two more in the eighth on Simmons' RBI double and Pujols' sacrifice fly.
The Angels got hits from all but two spots — leadoff man Kole Calhoun, who drew a walk to open the eighth, and No. 9 hitter Zack Cozart, who went 0 for 4 and is in a one-for-30 slump.
"I was telling you guys this: We're going to come around," said Trout. "The offense has been great the last few games, pitching's been [good]. Obviously tonight was tough, but we came out with a 'W.'
"It's good to see this club do that. We know what we're capable of. It's fun to go out there and play."
---
Get the latest on L.A.'s teams in the daily Sports Report newsletter.
You may occasionally receive promotional content from the Los Angeles Times.