Angels acquire prospect Packy Naughton from Reds for Brian Goodwin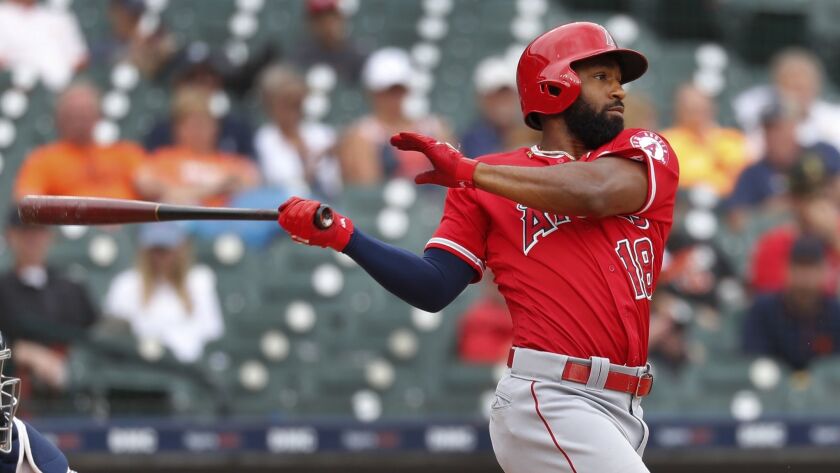 Outfielder Brian Goodwin was a revelation for the Angels, transforming from a waiver claim into a reliable option at the plate and in the field.
But with the Angels far out of a playoff position, and the farm system boasting formidable depth at his spot, Goodwin became expendable. He was traded at Monday's deadline to the Cincinnati Reds, less than an hour after he was included in the lineup for the Angels' series finale against the Seattle Mariners.
The Angels in exchange acquired left-handed starting pitcher Packy Naughton, who was one of the Reds' top pitching prospects. Another pitcher is expected to be sent to the Angels at a later date to complete the deal, said a source with knowledge of the matter who was unable to publicly comment.
While the Reds were busy stocking up to improve their shot at a postseason berth, the Angels fell to 12-24 with a 2-1 loss. The Angels' silver lining? Strong performances from starter Jaime Barria, who gave up one run in his return to the rotation, and the bullpen. Matt Andriese, Mike Mayers, Felix Peña and Ty Buttrey combined to strike out seven batters in 4 and 2/3 innings.
"The pitching has been showing better," manager Joe Maddon said, "...and that's the thing we have to do to really ascend."
Lack of starting pitch depth was what made the deal for Naughton so palatable. Naughton, 24, had a 3.32 ERA and went 11-12 for the Reds' high-A and double-A affiliates in 2019. He was the club's minor league pitcher of the year.
His best tool is the changeup in his three-pitch arsenal, which also features a fastball in the low 90s. His breaking pitch needs some work, general manager Billy Eppler said, and he'll get the chance to refine the pitch as a member of the Angels' 60-man pool.
"He's just got a really good feel to pitch," Eppler said in a videoconference call.
The last-place Angels on Friday night traded Tommy La Stella to the first-place Oakland A's and will receive infielder Franklin Barreto in exchange.
Naughton, a Boston native, was drafted in the ninth round out of Virginia Tech in 2017. He has a career minor league ERA of 3.59 and 331 strikeouts in 371 innings.
Goodwin, a former first-round pick who never got much playing time with the Washington Nationals, enjoyed a career rejuvenation in Anaheim. He hit .262 with a .796 OPS and 47 RBIs over 136 games in 2019. He got off to a slow start in 2020 but had a .793 OPS through 30 games. He batted .242 with seven doubles, a triple and four home runs.
"We wanted real value back because he's been a good player for us," Eppler said. "He's gotten big hits and he was under [contractual] control. He played good defense and moved around the outfield. The Reds are getting a good player."
Like infielder Tommy La Stella before him, Goodwin came to the Angels in one of Eppler's best under-the-radar moves before being flipped for a prospect. Goodwin had been designated for assignment by the Kansas City Royals after spending his 2019 spring training experimenting at the plate.
Goodwin, 29, is under team control through 2022. He is owed a prorated portion of his $2.2 million salary.
The Angels have had a losing record in each of the five-plus seasons under Billy Eppler, who has been unable to improve the pitching staff.
Goodwin spent most of his time in Anaheim as a platoon player, but the left-handed hitter had nearly equal splits against both left-handers and right-handers.
Despite his productivity, Goodwin might not have found a place in the Angels' outfield for much longer. The team counts two outfielders among their top five prospects. One of them, Brandon Marsh, was the 45th-best minor leaguer ranked by Baseball America this summer. Marsh could figure into the Angels' landscape in 2021.
Before Goodwin distributed hugs and said his goodbyes in the Angels dugout during Monday's game, Eppler also fielded calls on shortstop Andrelton Simmons and starters Andrew Heaney and Dylan Bundy.
Eppler was reluctant to part with the pitchers because they both have one season remaining on their contracts. Losing Bundy would have been a major hit to the 2020 staff. He has accumulated 1.4 wins above replacement and posted a 2.47 ERA, the 12th-best mark in baseball.
"It would have to be a compelling return for us to do anything with them and nothing matched up," Eppler said.
Three takeaways
1. Justin Upton's playing time will increase in the wake of Goodwin's departure. So it's a good sign for the Angels that Upton continued his mini streak Monday and launched a 1-and-2 changeup on the outer edge of the plate for a leadoff homer in the second. Upton has five hits in 16 at-bats since riding the bench for four consecutive games from Aug. 20-23.
2. Barria didn't have his best stuff Monday but pitched well in 4⅓ innings. Rather than going slider-heavy as he did in Houston last week, Barria distributed his pitches more evenly. Including Barria's one-run effort, Angels starters compiled a 1.42 ERA (four earned runs in 25⅓ innings) and held opponents to a .195 clip during the series split.
3. Mariners starter Marco Gonzales continued his years-long dominance of the Angels, giving up only four hits in the second complete game of his career. He retired 21 in a row after Upton's homer. Gonzales secured his third victory over the Angels this season and eighth in the last four years.
---
Get the latest on L.A.'s teams in the daily Sports Report newsletter.
You may occasionally receive promotional content from the Los Angeles Times.