Brother of David Benavidez, youngest WBC champ, helped him come of age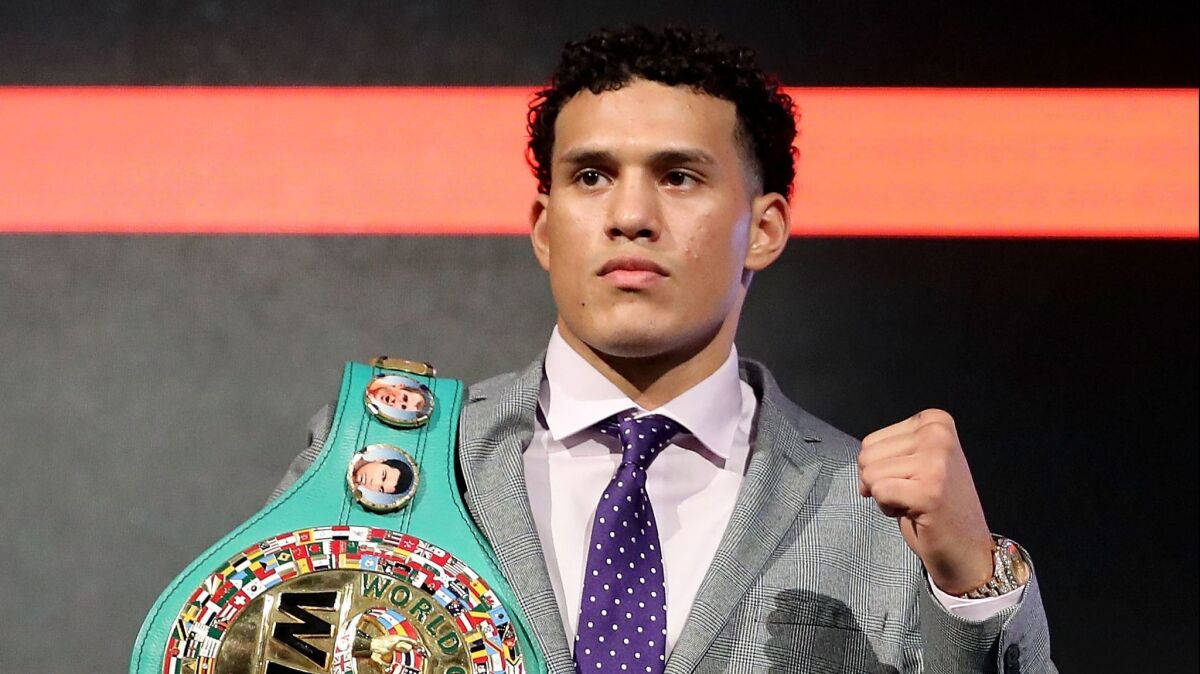 Driven by a demanding father-trainer, steered by observing his talented but flawed older brother, and fueled by personal desire, Southland-trained David Benavidez is boxing's youngest world champion.
"I've worked extremely hard to get here. I have something to prove, and I want to show everyone why I'm the youngest champion," said Benavidez, 21, who holds the World Boxing Council super-middleweight title. "For someone to try to discredit me, I'm not going to take that."
That someone is Romania's Ronald Gavril (18-2, 14 knockouts), a Floyd Mayweather Jr.-promoted fighter who's never been knocked down. Gavril floored Benavidez in the 12th round of their September meeting, but judges awarded Benavidez (19-0, 17 KOs) the split-decision victory by scores of 116-111, 117-111, 111-116.
The pair will settle their debate in a Showtime-televised rematch Saturday night at Mandalay Bay in Las Vegas in the co-main event under former welterweight champion Danny Garcia's bout against Oxnard's Brandon Rios.
"He's fighting a real fighter and he still has a lot of things to learn," said Gavril, 31. "It's a big fight for the championship, and this is not going to be an easy fight for him. I'm out to hurt him."
Benavidez already has absorbed some significant pain.
A few days before the first Gavril fight, Benavidez learned that his uncle Moises Balladeras, an Afghanistan war veteran, was shot and killed by Phoenix police after brandishing a firearm during an alleged suicide threat the family connects to post traumatic stress disorder.
"David was crying during many of the days leading up to the fight, and it got to the point I had to tell the family to stop calling him," said his father, Jose Benavidez Sr.
Winning the vacant WBC super-middleweight belt marked not only Benavidez's remarkable rise to become the youngest active champion, but also elevated him beyond his older brother, Jose, an unbeaten welterweight who has struggled to meet great expectations after turning pro at the start of the decade.
After a July 2016 bout, Jose Jr. returned to Phoenix and said he was a day from departing for Los Angeles to train for either a Jessie Vargas or Manny Pacquiao fight when he was shot in the leg late at night on the street.
"I almost died. It hit me above my right knee and I lost a lot of blood, needed 100 staples," Jose Jr. said. "The doctor told me, 'Don't even think about boxing again.' "
While Jose Jr.'s promise had grown thanks to 200 amateur bouts, David battled childhood obesity and said he weighed 250 pounds around age 12.
"I stopped training for two years and ate everything — McDonald's, Taco Bell, Burger King, a strict fast-food diet," he said. "Now it's vegetables, fish, chicken, no sodas … just water. If you don't pay attention, you can blow up in weight fast."
With the help of his self-taught trainer-father, David found inspiration in boxing.
"I remember seeing David spar with [rugged cruiserweight] Lateef Kayode when he was 15 … the dad installed old-school mental toughness in those boys," conditioning coach Alex Ariza said. "I try to break every fighter. I want them comfortable being uncomfortable. But these guys won't say anything. They'd sweat until they drown, run until they passed out."
His brother's actions, good and bad, shaped David.
"He's given me a lot of knowledge. He led the way for me, passed the torch to me," David said. "He did some things that maybe weren't good, so I learned from his mistakes.
"Sometimes when you box so often, you get a little burned out and lazy, and he kind of walked away from the sport. I didn't have the same amateur experience. I wasn't burned out. And I also learned from what he did good. He's a sound voice and he wants the best for me."
Jose Jr., who won his Feb. 3 comeback fight in Texas to improve to 26-0 with 17 KOs, defuses talk of a sibling rivalry.
"Being a champion was the dream ever since we were little kids," Jose Jr. said. " It means a lot because when people say you can't do something … you can do whatever you want as long as you want it, as long as you're motivated and you put the hard work in.
"Nothing is impossible in life, and that's what we've seen in my brother. It gives me a lot of joy to know we've accomplished this, and we know we're not even where we want to be.
"It's never been, 'I'm going to do it better than you.' We both motivate each other. I love my brother. I wish him nothing but the best. And we push each other to extreme lengths. I know they never gave my brother that belt for free … and this is going to be a good year for both of us."
BOXING
Main event: Danny Garcia (33-1, 19 KOs) vs. Brandon Rios (34-3-1, 25 KOs), welterweights.
When: Saturday, 7 p.m.
Where: Mandalay Bay, Las Vegas.
Television: Showtime.
Co-main event: David Benavidez (19-0, 17 KOs) vs. Ronald Gavril (18-2, 14 KOs) for Benavidez's World Boxing Council super-middleweight belt.
---
Get our high school sports newsletter
Prep Rally is devoted to the SoCal high school sports experience, bringing you scores, stories and a behind-the-scenes look at what makes prep sports so popular.
You may occasionally receive promotional content from the Los Angeles Times.