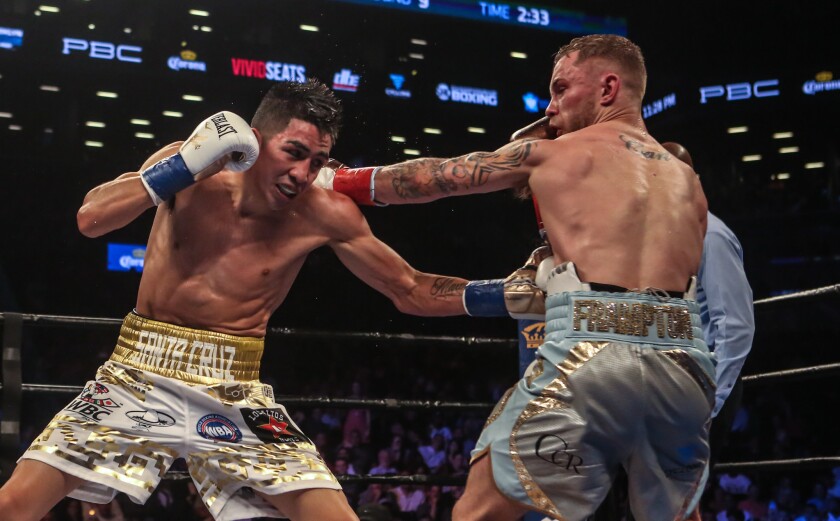 Leo Santa Cruz, following his loss to Carl Frampton in July, suggested that a critical factor in the judges' decision was the vocal fervor of the new featherweight champion's fans.
Their throaty support, Santa Cruz speculated, might have swayed judges who awarded Frampton the close rounds in his majority decision triumph over Santa Cruz, the former three-division world champion from Los Angeles.
One thing that was clear, however, was the diminished impact of Santa Cruz's father-trainer, Jose Santa Cruz, whose typical strong guidance was limited due to his bout with cancer.
"When we got into the fight, it was clear my dad wanted me to fight another way," said Santa Cruz, who trained under his brothers' supervision for most of the first half of his training camp before Jose felt well enough from chemotherapy treatments to work again. "It got me mixed up, confused and we were distracted trying to get the game plans together."
Frampton (23-0, 14 knockouts) rocked Santa Cruz (32-1-1, 18 KOs) to the ropes in the second round, stood resolute in the face of Santa Cruz's slightly busier punching pace and landed the more effective blows to win the World Boxing Assn. featherweight belt on two scorecards by 116-112 and 117-111 margins.
Their rematch on Saturday, headlining a Showtime-televised card at MGM Grand in Las Vegas, comes after a full training camp together for father and son. And while the elder Santa Cruz is still subject to treatments for myeloma, the bark in his voice is at full volume.
"The big difference is I'm here with him this time, telling him to put the pressure on, not let off," Jose Santa Cruz said. "I'm pushing him to be a come-forward fighter, to be a stronger fighter and defend better. I'm staying in his ear."
Jose Santa Cruz's strategy is rooted in delivering his patented scolding of his son during training sessions. "Yes, I keep the pressure there and need to keep doing that so [Leo] can correct himself. He's going to be at his strongest."
But on the heels of Santa Cruz's defeat to Frampton, there have been significant adjustments, too.
For one, more talented, assertive sparring partners were brought into Santa Cruz's camp and more emphasis was placed on defense, given Leo Santa Cruz's seven-inch reach advantage and 2 ½-inch height edge over Frampton.
"Leo's much more prepared for this fight," Jose Santa Cruz said. "Last fight, he was just going for it with slower punches rather than staying back and defending himself. We know Leo has the ability to be a big star. Overcoming a loss to win will mean a lot."
Frampton says he isn't expecting a dramatic transformation, citing Santa Cruz's years-long pattern of fights in which he charges and punches frequently.
"He thinks I don't have anything new, but I can change my strategy. I'm not going to jump in and lunge toward him to try to knock him out," Santa Cruz answered.
"I'm taller. I can box him. I won't be the same guy. I wasn't the same as I usually am in the last fight mentally because of my dad and what was going on with him. I didn't want to realize it then, but once I was in the fight, I didn't feel my training.
"Having my dad here healthy, pushing me, has helped."
It wasn't that long ago that Santa Cruz was being chastised for taking on underwhelming opponents given him by his protective and powerful manager Al Haymon of Premier Boxing Champions.
Yet, after his father stared down cancer, Leo Santa Cruz was moved to immediately invoke his rematch clause with Frampton as soon as the judges read the scores at their July fight in Brooklyn.
"That's what I was always trying to prove. I've always cared what the fans have said. I wanted to fight the best, not hear that I'm fighting nobodies," Leo Santa Cruz said.
A victory Saturday could net Santa Cruz a trilogy meeting with Frampton in Belfast, Northern Ireland, in the summer. Featherweight champions Oscar Valdez, Gary Russell Jr., Lee Selby and Abner Mares are also in play.
"I want to fight all of them," Santa Cruz said. "I want to show I'm the best."
BOXING
Who: Carl Frampton, Northern Ireland, (23-0, 14 KOs) vs. Leo Santa Cruz, Los Angeles, (32-1-1, 18 KOs) for Frampton's World Boxing Assn. featherweight belt
When: Saturday, 7 p.m.
Where: MGM Grand, Las Vegas
Television: Showtime
Tickets: $54-$504, at www.AXS.com
Undercard: Dejan Zlaticanin (22-0, 15 KOs), Montenegro, vs. Mikey Garcia, Riverside, (35-0, 29 KOs) for Zlaticanin's World Boxing Council lightweight belt
Twitter: @latimespugmire
---