Newsletter: The Fight Corner: Will the Errol Spence Jr.-Mikey Garcia fight draw a big crowd to AT&T Stadium?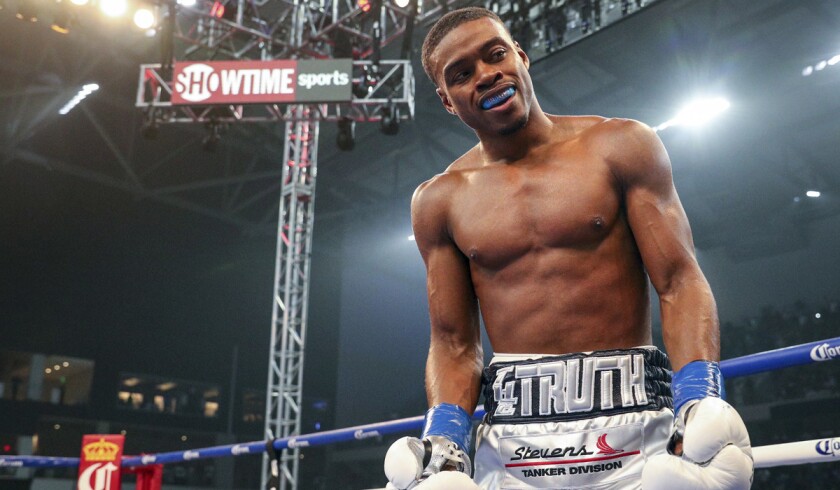 Hi, my name is Lance Pugmire, and welcome to our weekly boxing/MMA newsletter. This newsletter will be delivered right to your inbox every week if you sign up here. Let's get right to the news.
It's a stunning question, given the rare accomplishment of matching an unbeaten welterweight champion against an undefeated four-division champion in their prime.
Will the Errol Spence Jr.-Mikey Garcia fight March 16 draw a strong enough crowd to justify its placement at the home of the Dallas Cowboys, AT&T Stadium?
Some of the same experts who decried the extended delay in making the 2015 Floyd Mayweather Jr.-Manny Pacquiao fight when it was ready in 2010, now believe that this meeting of Texas' 28-year-old Spence (24-0, 21 knockouts) and the 30-year-old Garcia (39-0, 30 KOs) has been rushed into this colossal pay-per-view position.
Bizarre rationale.
Even Spence praises the guts of Garcia, the Oxnard-raised, Riverside-trained fighter who pushed for the Spence showdown before he knew more than 12,000 would pack into Staples Center in July to watch him knock down fellow lightweight champion Robert Easter Jr. once en route to a unanimous-decision victory.
Spence was there, and out of all the things the International Boxing Federation champion saw that night, he said he was most impressed by "the crowd that came out to support Garcia. That's always great, because he can definitely take a load off me in drawing a crowd, because a lot of people, especially Mexicans, will come out to support him — especially in Texas. We're both in on this, instead of only me, like in most of my fights."
Spence has captured Texas' attention, as evidenced by the 12,000-plus that came to the Cowboys' practice facility, the Star, in March to watch him knock out the unknown Carlos Ocampo in the first round.
Thursday, as most of the nation's sporting audience watched the Cowboys' meeting against the Washington Redskins, the widespread hype began when the Fox Sports camera panned to Spence standing alongside Cowboys owner Jerry Jones, with Joe Buck informing that Fox will enter the pay-per-view business with the Garcia fight.
Jones has hosted three championship bouts previously at his stadium, with the two involving Pacquiao and another in 2016 headlined by Canelo Alvarez, each drawing around 50,000 fans.
"I'm hoping for 30,000 plus. We'll have great promotion with Fox backing us," Spence said. "Just having that exposure … ideally, I want to be a crossover athlete like Sugar Ray Leonard was, so having this big event against Mikey Garcia, who has so many fans — fans who haven't seen me — and being on the commercials on Fox before, during and after the NFL games, that's huge.
"Many people who aren't familiar with boxing will see that it's coming on. Having that network power behind us is sure to make it a big event."
Being a prominent Latino fighter is one powerful route to pay-per-view success, and Garcia also will be fighting in Texas for the ninth time after previously winning two world titles in the state.
His challenge will be bridging the physical differences with Spence, who at 5-9½ is more than three inches taller than Garcia. Spence also owns a four-inch reach advantage and the comfort of being able to hydrate beyond the 147-pound weight limit for Garcia's first bout in the division.
"I can definitely impose my will and move around the ring how I want to," Spence asserted. "Skill is going to play a major factor. I have a lot of skills, and I believe that and my ability will be the difference. He's definitely skilled, but I don't see anything he does that I can't do.
"I throw the same punches, I have a great jab and I'm way better athletically than him. I have the total package."
One last chance
Garcia doesn't need to go far for proof that a smaller man has a chance.
Garcia's brother and trainer, Robert, is the cornerman for Riverside's Josesito Lopez (36-7, 19 KOs), who moved up in weight in 2012 and broke the jaw of former welterweight champion Victor Ortiz to stop him after nine rounds in a major upset at Staples Center.
Lopez, 34, faces even longer odds when he meets World Boxing Assn. welterweight champion Keith Thurman Jan. 26 at Barclays Center in New York.
Thurman (28-0, 22 KOs) hasn't fought since a split-decision victory over Danny Garcia in March 2017. He suffered elbow and hand injuries afterward, delaying his return as the World Boxing Council stripped its belt, which is now worn by Shawn Porter.
"I'm used to this position. I don't need to try and convince anybody that I'm satisfied and comfortable with myself, and I view this as a fight I can win," Lopez said. "I'm an underdog in boxing and life, and when my back is against the wall, I perform my best. I'm ready for the champion."
While the bout is being viewed as a tune-up fight for Thurman, with Spence and Porter (for a second time) in his future, Lopez has won three consecutive fights since a 2015 technical knockout loss to Andre Berto.
"There could be some ring rust [from Thurman] and while training with Robert Garcia, I've retuned my finest qualities," Lopez said. "I'm a smarter, more defensive and methodical fighter in picking my shots."
Being called a tuneup foe "gives me fire in training. The hardest part is the preparation. That gives me all the motivation I need to work hard. I'm going to show I'm also a great fighter."
Oscar Valdez return set
After suffering a major jaw injury in his March victory over Scott Quigg at StubHub Center, Southern California-trained World Boxing Organization featherweight champion Oscar Valdez is returning to the ring Jan. 12 in Tucson on ESPN, The Times has learned.
Valdez (24-0, 19 knockouts) will make his fifth title defense by facing Spain's Andoni Gago (20-3-3, six KOs). Gago won a European featherweight belt earlier this year.
The bout is expected to land at Tucson Convention Center, where Valdez defeated Genesis Servania last year.
Valdez was raised in both Nogales, Mexico, and Tucson, and fought for the Mexican Olympic team. Following his hard-fought victory over Quigg in March, he left Norwalk-based trainer Manny Robles and aligned with Eddy Reynoso, who trains Canelo Alvarez, in San Diego.
Vengeful fight
Now that Mikey Garcia is taking his welterweight title fight, lightweight champion Vasiliy Lomachenko and his powerful manager, Egis Klimas, are unsure when they'll get Garcia to meet the Ukrainian three-division champion.
"What can you do?" Klimas wondered, knowing his former light-heavyweight champion Sergey Kovalev spent years chasing a unification bout against WBC champion Adonis Stevenson to no avail.
But another Klimas client, unbeaten Ukrainian Oleksandr Gvozdyk (15-0, 12 KOs), has successfully positioned himself as a mandatory foe to fight Stevenson (29-1-1, 24 KOs) Saturday in Quebec City.
Showtime will televise the bout as a lead-in to its pay-per-view broadcast of the Deontay Wilder-Tyson Fury heavyweight title bout at Staples Center.
Until next time
Stay tuned for future newsletters. Subscribe here, and I'll come right to your inbox. Something else you'd like to see? Email me. Or follow me on Twitter @latimespugmire
---
Get the latest on L.A.'s teams in the daily Sports Report newsletter.
You may occasionally receive promotional content from the Los Angeles Times.