Cuban heavyweight Luis Ortiz fights for his daughter, not for fame and wealth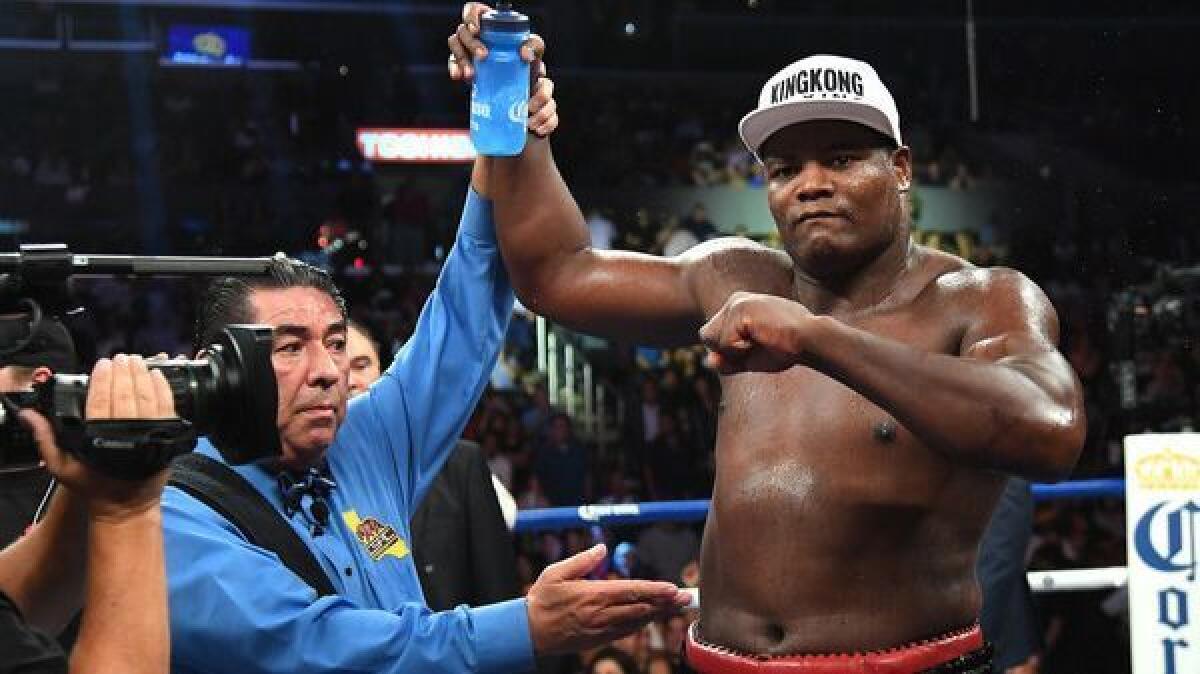 The mention of an elite Cuban athlete defecting to the U.S. typically is linked to a desire to attain wealth afforded to such physical talent.
When boxer Luis Ortiz departed his homeland in 2009, braving ocean waters he deeply feared on a small watercraft before walking for two days across the desert with only one shoe, his focus was less on fame than the effort to heal his ailing daughter, Lismercedes.
"I came to this country because of my daughter, because I wanted to find a cure. This is the most important thing to me," Ortiz (29-1, 25 knockouts) said this week as he readies for a bout against Travis Kauffman (32-2, 23 KOs) on Saturday at Staples Center. The heavyweight matchup is part of the undercard for the Deontay Wilder-Tyson Fury title fight.
Ortiz's wife, Lisdey, and Lismercedes, now 10, are due to arrive in Los Angeles from their home in Miami on Friday, and it's Ortiz's hope that the family will remain in California next week to visit Stanford University School of Medicine.
Ortiz's daughter has the painful skin condition epidermolysis bullosa. He learned through a support foundation that Stanford physicians have reported major strides in the treatment for it.
Instead of the multiple layers of skin that most people possess, EB patients have only one. Minor friction or rubbing can result in the skin tearing or blistering. The resulting pain when touched compares to that of a third-degree burn, Ortiz said.
"It's very hard for me to do both things — to box and care for my family," Ortiz admitted. "I have to train for a fight and care for my daughter. Right before I left, she tripped herself and is so used to saying, 'Papi, hold me down while mom dresses me,' because that's what she's used to … but I had to leave.
"Her little brothers know she suffers, but she's very strong. … The doctors have said this type of sickness either makes kids strong or really depresses them. It's built her up, taught her how to learn how to withstand pain. She's at this spot where she knows how to live with it on an everyday basis and she's going to live with more of it than anyone else."
Dr. Peter Marinkovich of Stanford said he's been in contact with a representative of Ortiz's camp to try to arrange a visit. Marinkovich's team would analyze the girl's medical history and likely conduct a physical and biopsy.
"There are a number of different types of EB, and there are several types of gene therapies we're testing for a specific type in trials right now … it's an exciting time to offer patients some therapies that are starting to work," Marinkovich said. "And to help raise awareness of this disease is a great thing."
Ortiz said he'll relocate if need be.
"If I have to move to California, I will do it," said Ortiz, who is positioned for a rematch with Wilder in 2019 should both men win their bouts Saturday.
Wilder (40-0, 39 KOs), who prevailed over Ortiz by 10th-round technical knockout, meets unbeaten former champion Tyson Fury of England in the Showtime-televised pay-per-view main event.
"I have a lot of admiration for Deontay for taking my fight, and now Tyson … but make no mistake, if we get in the ring again, I'm going to try to take his head off," said Ortiz, who assesses his margin of defeat as razor thin.
"I'll train harder, work on my cardio harder and stick to the same game plan of family first, championship second, and I know I'll be rewarded. My little boy who's ready to turn 5 tells me every day, 'Papi, you lost [to Wilder]. How come he beat you?'"
Ortiz, who turns 40 in March, had to wait 30 months following his Cuban defection for his wife to make the trek to the U.S. to gain asylum. She would do so eight months pregnant after Ortiz was able to pay a visit to her in Cuba earlier that year
"Two years waiting for that, and every day I was lonely, spending money, calling to Cuba to hear her … " Ortiz said of Lismercedes. "Then we had a window of opportunity we had to take. They came. I knew it'd be tough."
Lisdey Ortiz boarded a flight to Mexico, making her own extended walk toward the U.S. border with a broken suitcase.
"I was so scared they'd be turned around … [Lisdey] had no one to help her. I couldn't believe that — who wouldn't help an eight-months pregnant woman with a broken suitcase?" Ortiz sighed, tears welling.
On the U.S. side of the border, he said he waited with a large pot full of soup because he figured his wife would be starving.
"When I finally saw them, it was remarkable," Ortiz said. "I can't even explain that feeling. My three children govern me. They tell me what to do every day. I live for them."
He beamed while showing pictures of his family at a theme park and at home. Ortiz's smile is ever present, and now he feels especially near the culmination of his pursuit to place his child into healing hands — an accomplishment more meaningful to him than a world title.
"One-thousand percent," he said. "The title is secondary to my family … without them, I wouldn't be standing here."
BOXING
Main Event: Deontay Wilder (40-0, 39 KOs) vs. Tyson Fury (27-0, 19 KOs) for Wilder's World Boxing Council heavyweight belt.
Where: Staples Center.
When: Saturday, first fight at 3 p.m., pay-per-view portion begins at 6.
Television: Showtime pay-per-view, $74.95.
Tickets: $75-$125-$300-$400-$1,000-$1,500 at Staples Center box office and axs.com; Staples Center offering a Cyber Monday special for tickets.
Undercard: Jarrett Hurd (22-0, 15 KOs) vs. Jason Welborn (24-6, seven KOs) for Hurd's International Boxing Federation and World Boxing Assn. light-middleweight belts; Luis Ortiz (29-1, 25 KOs) vs. Travis Kauffman (32-2, 23 KOs), heavyweights; Joe Joyce (6-0, six KOs) vs. Joe Hanks (23-2, 15 KOs), heavyweights.
Twitter: @latimespugmire
Get our high school sports newsletter
Prep Rally is devoted to the SoCal high school sports experience, bringing you scores, stories and a behind-the-scenes look at what makes prep sports so popular.
You may occasionally receive promotional content from the Los Angeles Times.