Miguel Cotto is committed to inspiring, aiding hurricane-battered countrymen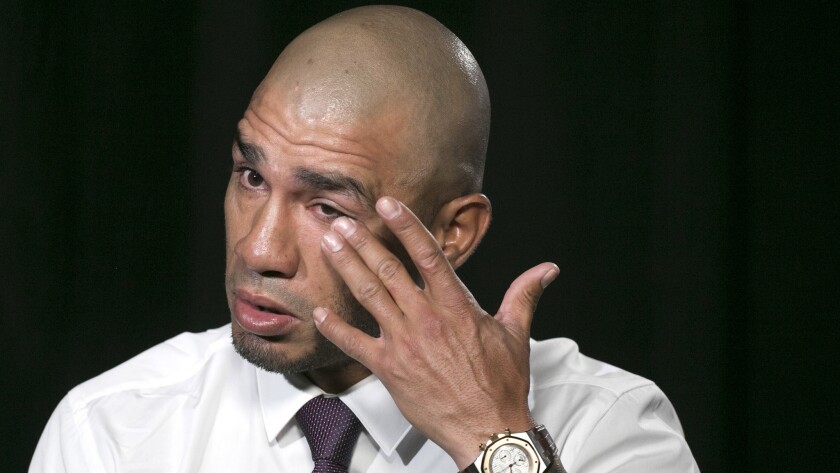 Miguel Cotto's reluctance to communicate every thought in his head has, at times, hidden the goodness and resilience that define him.
The four-division boxing champion returned last week to his trainer Freddie Roach's Wild Card Boxing Club in Hollywood after spending the last month aiding his family, neighbors and friends in Puerto Rico during and after Hurricane Maria.
Reports put Maria's damage near $51 billion with about 50 dead and more than 100 missing. Maria arrived Sept. 30, hours after Cotto returned home to be with his wife and four children after attending the Canelo Alvarez-Gennady Golovkin bout in Las Vegas.
"The blast, the whole hurricane … it was the biggest disaster I've ever seen in my whole life and it happened to Puerto Rico," Cotto said in his first public comments on the subject. "Trees with no limbs, fallen electrical power lines on the ground … a lot of disasters throughout the country.
"The storm was too big and Puerto Rico is too small."
The first matter to tend to was family. Cotto said he made many calls before Maria struck and tried to maintain contact throughout. ost their lives.
The second duty was to help neighbors.
Cotto volunteered the use of large amounts of fresh water on his property in south-central Puerto Rico to all neighbors in need, according to his promoter, Eric Gomez, president of Golden Boy Promotions.
"Puerto Ricans, we are very unique people," Cotto said. "All we have, and all we can do, is help each other for the benefit of Puerto Rico and all the families there.
"When I was born, I had a family of my father and mother. During my 36 years of life, I have new members of my family. They might not be in my family, but I love them like my family. Everybody's safe. Everybody has health and the desire to overcome this disaster."
Cotto (41-5, 33 knockouts) said before defeating Japan's Yoshihiro Kamegai on Aug. 26 for the World Boxing Organization light-middleweight title that he planned to fight only once more before the end of the year and then retire.
Golden Boy sought to provide Cotto an esteemed farewell opponent such as lightweight champion Mikey Garcia, but talks fell apart and the company was left to sign former welterweight title fighter Sadam Ali for a Dec. 2 bout at Madison Square Garden in New York.
It took Golden Boy officials several days to reach Cotto in Puerto Rico to confirm his safety. He reported that the people closest to him were safe and he would fulfill his promise to fight by the end of the year.
Part of the deal is that Golden Boy will donate a percentage of each ticket sold to a Puerto Rico relief agency of Cotto's choosing.
The fight "is motivation for him," said Roach, who also trains Manny Pacquiao, whose home country of the Philippines has had weather disasters. "They took care of it very well, doing the best they could for how it is. It's a real mess, a terrible disaster. It'll take a while … it's like what I've seen in the Philippines. There's destruction, and then the next day they're out rebuilding. Very resilient people.
"[Cotto] is not going to let this get to him. He's going to get through it. I know it's a big thing. He's not a guy who's going to talk about it, but I'm sure everybody in his community is doing well because he's making sure of it. He's that type of person."
Leaving Puerto Rico was difficult, but Cotto decided it was best.
Work remains to be done and he thought his countrymen might get a psychological boost from his expected victory in the ring, along with more donations.
Cotto has overcome much in his career. In 2008, he lost for the first time while getting badly beaten by Antonio Margarito, a loss that considerably heightened in controversy when Margarito was found to have plaster in his hand wraps before trying to fight Shane Mosley in his next bout.
In their 2011 rematch at Madison Square Garden, Cotto pelted Margarito with head-rattling punches until Margarito retired on his stool after nine rounds.
Cotto has had his turn in the spotlight with competitive losses against Pacquiao (2009), Floyd Mayweather Jr. (2012) and Alvarez (2015).
Now comes his boxing end, and a new beginning that coincides with his homeland's rebuilding.
"I became a boxer [at 11] to lose weight. I've been a pro since 2001. I became a man being a boxer, a family man, and it's time for me to do other things and think first of my family, not myself," said Cotto, whose children range from 10 to 21.
Throughout his run of memorable Puerto Rico weekend June cards in New York and victories over Mosley, Sergio Martinez and Margarito, Cotto said the benefit of his ring accomplishments is his greatest achievement as International Boxing Hall of Fame induction awaits.
"Boxing was my work. It was the best way to provide to my family, to my own. Nothing else passed my mind," he said.
"I'm not going to look back. I have a more important priority in my mind: my family. I lost a lot of good, special moments with them and I'm not going to be able to lose them anymore."
Twitter: @latimespugmire
---
Get our high school sports newsletter
Prep Rally is devoted to the SoCal high school sports experience, bringing you scores, stories and a behind-the-scenes look at what makes prep sports so popular.
You may occasionally receive promotional content from the Los Angeles Times.