If he conquers weight and Tyron Woodley, Darren Till gives UFC a powerful draw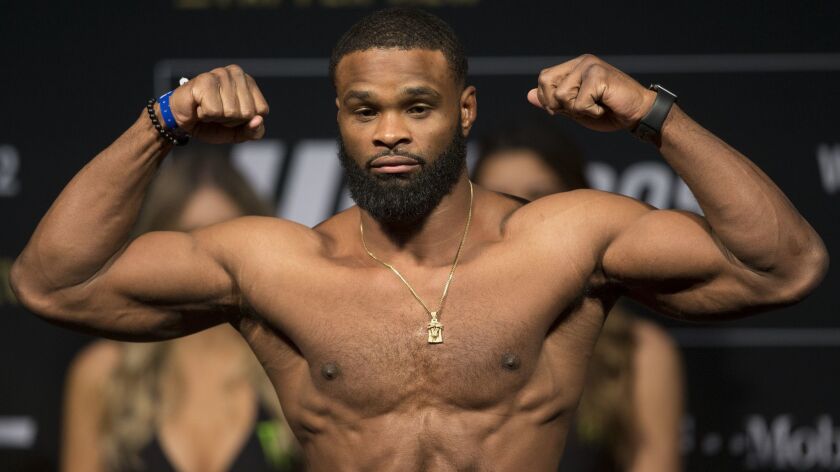 The interview began early last week with Darren Till issuing words that will likely remain on his tongue between now and his weigh-in before Saturday's UFC 228 welterweight title shot against champion Tyron Woodley in Dallas.
"I'm in a bad mood. I'm low on food," Till said.
The popular, second-rated welterweight from Liverpool, England, has captivated mixed martial arts fans with his action fighting, entertaining verbal talents and frequent use of the F-word.
Now, after missing weight twice in his past four bouts, including weighing 174.5 pounds for a 171-pound limit bout against former title challenger Stephen "Wonderboy" Thompson on May 27, Till (17-0-1) has to obsess on the scale in order to have a chance to wrest the belt from Woodley (18-3-1).
Although Woodley has said he'll fight whether the challenger weighs "170 or 176," Till vowed to make 170 and pursue a victory that could be a financial boon for the UFC, whose financial advisors are certainly hopeful that both Till and similarly mouthy former two-division champion Conor McGregor win their coming title fights. McGregor meets new lightweight champion Khabib Nurmagomedov on Oct. 6 in Las Vegas.
"Fans, and people in general, look to people to take certain things on, and I'm a guy you can take at face value. I speak my mind. I'm totally a 100% person. People like that and respect it … that's one of the biggest reasons fans want me to win here," Till said.
"Every day you go to the gym, you've got to become a better version of yourself. You've got to never believe you've fully evolved. I want my coaches to put that weight on me. Tyron is a big challenge ahead, another one that I'm looking forward to, and I cannot wait to fight."
Asked if he's considered moving to a plant-based diet to help the cause, Till said, "I've got it right here next to me," after concluding a workout at the UFC Performance Institute in Las Vegas.
"I'll cut my leg off or something like that to make it," he said laughing. "I've made welterweight many times as an amateur and professional … the one time you don't make it, people say so many things … .
"I bet all of those who were talking have jobs and that they make mistakes at their jobs. I made a mistake. So I might come to their house and say [disparaging things] about them now … because I'm going to rectify my mistake on Saturday."
Till said he's found inspiration to set aside any criticism over how his popularity outweighed the weight problem by considering his rise to reach this pay-per-view main event.
"I didn't beg for the title shot. I was the first guy to say I missed weight, I don't deserve it. So I wasn't sitting waiting for that phone call … whatever name they were going to say, I was going to say yes, let's do this," Till said. "The name was Tyron. The UFC thought high enough of me to give me the fight. It came as a bit of a shock. It's been a good, fast rise and I'm ready because all my pain from all my life … on Saturday, I'll be able to look at that belt and say it was worth it."
Woodley is a stubborn champion, willing to wait out the technicalities of Thompson in two boring fights to find enough opportunities to win. He also defeated jiu-jitsu specialist Demian Maia.
"He's the champion and you have to respect what he has done," Till said. "But as soon as I step in the octagon, I will not give a … who he is or what he is. I will try to put my fist straight to his face. He's had hard tests against Stephen and Demian, guys you really need to strategize for and be intelligent for. I know he gets a lot of hate, but he's not getting it from me because my last fight was against Stephen and I had to figure out that puzzle too."
Twitter: @latimespugmire
---
Get the latest on L.A.'s teams in the daily Sports Report newsletter.
You may occasionally receive promotional content from the Los Angeles Times.