Gegard Mousasi aims to capitalize on move from UFC to Bellator
Reporting from San Jose —
Minus the shouting, personal insults and showmanship that will dominate Conor McGregor's return to UFC next week, Gegard Mousasi will defend his Bellator MMA middleweight belt with far less bluster on Saturday.
The 33-year-old from Amsterdam defected from the UFC last year as its No. 4-rated middleweight, a ranking he considered too low after his triumphs over former champions Chris Weidman, Vitor Belfort and Dan Henderson while winning nine of 10 fights.
Relaxing shirtless poolside at San Jose's Fairmont Hotel this week, Mousasi said of Saturday's showdown with welterweight champion Rory MacDonald, "We don't need to talk to sell this fight. People know it will be a good one.
"Trash talk can work and help the buildup, and it's good to have bad blood because you're fighting someone, but people also appreciate two guys being respectful. If you're a good fighter, you don't need it. You recognize and respect your opponent is doing the same thing you are: training, sacrificing. It's sports. We hit each other and we're finished."
Mousasi (44-6-2) recently has seen the rewards given to colorful UFC competitors Darren Till, who was defeated this month in a welterweight title fight against Tyron Woodley, and Colby Covington, the division's No. 1 contender.
McGregor, the UFC's richest athlete, continued his unmuzzled ways last week by berating Oct. 6 opponent and lightweight champion Khabib Nurmagomedov of Russia over his religious convictions, his father's courage and his loyalty to President Vladimir Putin.
"They sometimes cross a line and it becomes too much — saying someone's girlfriend looks like a horse, bringing up someone's country or race — you can't say that. It's not necessary and that's not my style," Mousasi said.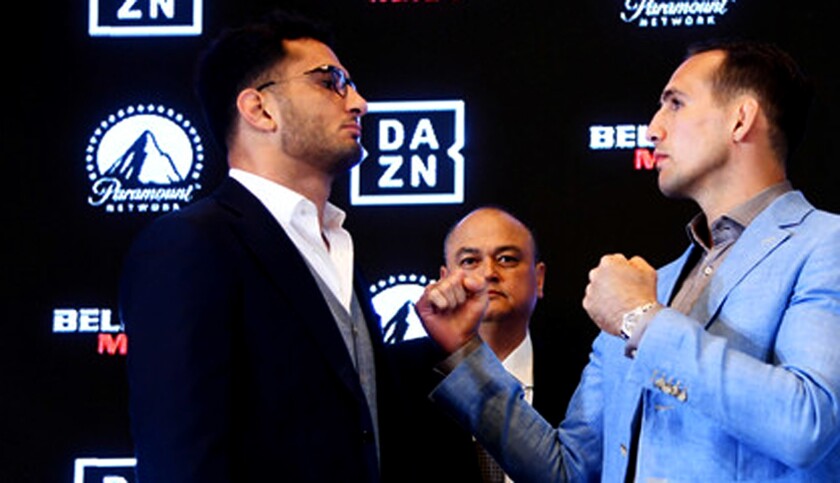 Not being boisterous carried a financial toll in the UFC, Mousasi believes.
Mousasi said he paid his dues by accepting a 2014 fight he'd lose against Ronald "Jacare" Souza when he felt "tired, burned out" after fighting three months earlier and agreeing to meet Belfort — in a later canceled fight — while the former champion was receiving testosterone replacement therapy.
"I asked to get paid extra because I was taking a fight on short notice, taking the risk of fighting a guy on TRT. The reward should've been higher. They said no … those kinds of things," Mousasi said.
He said he interpreted a late $50,000 increase in contract extension talks as a token offer considering his four victories during the same 2016-17 period in which exuberant then-champion Michael Bisping had fought only once.
"I earned my title shot. I wanted to be the champion and go to the 'A-list' of the contenders. You make money in the UFC by becoming champion and defending the belt. I didn't want [contender] treatment," he said. "Not making a lot of noise maybe cost me my title shot … forever."
So he opted to join his former Strikeforce boss Scott Coker and Viacom-backed Bellator, which Saturday will launch its deal with new streaming service DAZN.
"You feel part of a family — not a factory — in Bellator. They promised me my first fight would be for the belt, and I won it. Now, I'm fighting Rory in a super-fight," Mousasi said. "There's a lot more ease in getting the fights I want."
Bellator gained a determined veteran in Mousasi, who watched the careers of talented contenders he'd beaten during his rise crumble in defeat.
"I always maintained persistence to fight, even right after a loss when it can be so difficult to return to training," Mousasi said. "You don't feel like moving on. You've just missed on the reward you expected from the prior camp. But you need to erase the pain of the loss."
He was unhappy with his Bellator debut, winning the belt by decision after fracturing an orbital bone early in the fight. He returned in May to win by first-round knockout — "without a scratch," he said — over Rafael Carvalho and now confronts the unyielding MacDonald (20-4).
"His fights against [Robbie] Lawler, Douglas Lima … he's too tough for his own good," Mousasi said of MacDonald. "I have to finish him. Otherwise, he won't give up. I have the reach, strength, and I think I'm better stand-up.
"I can't lose, or people will talk: 'You see … he lost to a welterweight, he's not that good.'"
BELLATOR 206
Main event: Middleweight champion Gegard Mousasi (44-6-2) vs. welterweight champion Rory MacDonald (20-4) for Mousasi's middleweight belt
When: 7 p.m. Saturday
Where: SAP Center, San Jose
Broadcast: DAZN streaming
Undercard: Quinton "Rampage" Jackson (37-13) vs. Wanderlei Silva (35-13-1), heavyweights; Douglas Lima (29-7) vs. Andrey Koreshkov (21-2), welterweight grand prix; Aaron Pico (3-1) vs. Leandro Higo (18-4), featherweights
Twitter: @latimespugmire
---
Get the latest on L.A.'s teams in the daily Sports Report newsletter.
You may occasionally receive promotional content from the Los Angeles Times.