Elie Seckbach has pioneered a new way to cover boxing with his viral videos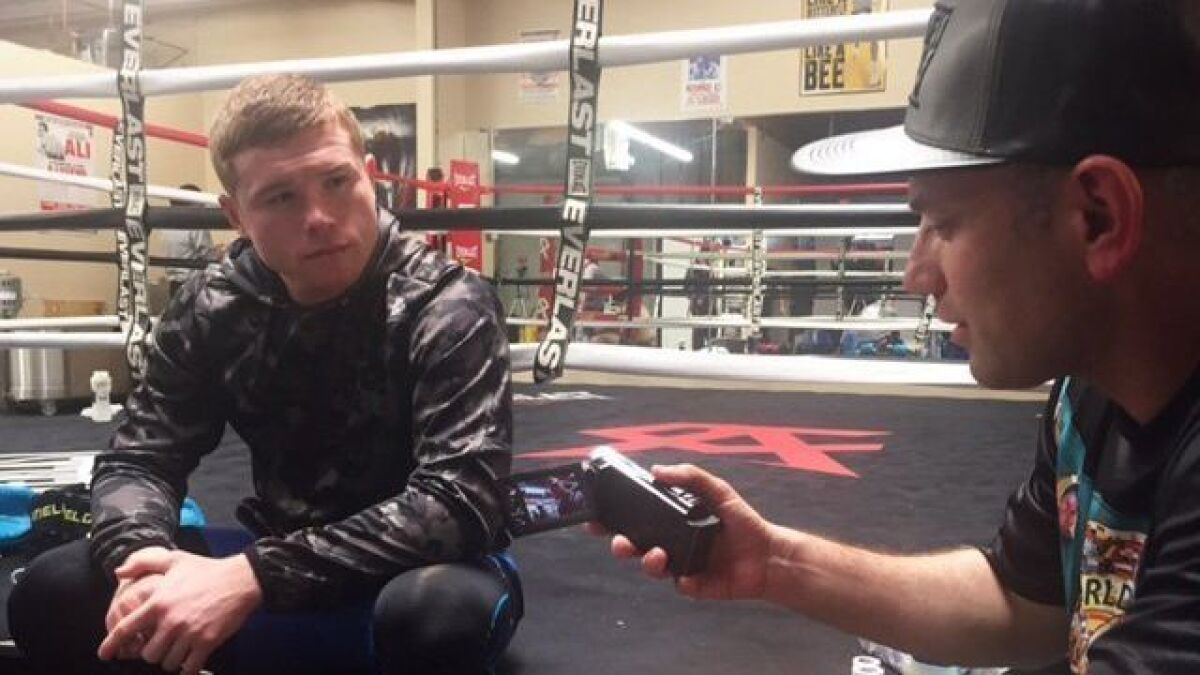 Reporting from Las Vegas —
The city was still waking up. The casino floor at the MGM Grand was almost empty. The only line in the property was at Starbucks.
The hardest-working man in boxing was already on the prowl.
Elie Seckbach wore a black hoodie over a black Bruce Lee T-shirt, dark blue jeans and a pair of black Michael Jordan sneakers. His head was covered with a black and white cap.
"There's O'Sullivan," he said.
Spike O'Sullivan, an Irish middleweight with a curvy hipster moustache, was speaking to a couple of fans in the hotel lobby. Sullivan will be fighting Saturday on the undercard of the middleweight championship match between Canelo Alvarez and Gennady Golovkin.
As O'Sullivan started to walk toward the elevators, Seckbach approached him TMZ-style, clutching a small black Sony video recorder.
"Spike," Seckbach called to him. "How long would it take for me to grow a moustache like you?"
O'Sullivan smiled.
"Five years," he replied.
Seckbach, a youthful 44, operates ESNEWS, a boxing-centric YouTube channel with more than 327,000 subscribers. He has uploaded more than 71,000 videos that have collectively amassed more than 614 million views, generating enough income for him to work as a full-time reporter for the last five years.
He's quirky, he's always smiling and he could be the most influential reporter in boxing today.
His reach is such that he is frequently asked to pose for photographs not only by fans, but also by boxers. He has helped broker fights. And when Shane Mosley was inducted into the Nevada Boxing Hall of Fame last month, he thanked Seckbach in his speech.
As traditional media outlets continue to scale back their coverage of boxing — Lance Pugmire of The Times is believed to be the only newspaper writer in the country who reports exclusively on combat sports — the sport has turned to new media for exposure.
Jane Murcia, a senior associate at the Mercury public strategy firm contracted by Golden Boy Promotions, estimates that more than half of credentialed reporters at most boxing events produce material exclusively for blogs or social media platforms such as YouTube or Instagram.
"We need the Elies of the world," Murcia said.
Alvarez's rematch with Golovkin has attracted a substantial number of television and radio journalists, who have packed the media workroom at the MGM Grand this week. This isn't normal. The average fight is covered by a handful of reporters from traditional media outlets and a throng of videographers holding up camcorders and smartphones.
Seckbach was a pioneer of the medium. And however many others have followed his lead, he remains a distinct voice. Many of his videos open with a rap song a viewer wrote and recorded in his honor. He has a signature sign-off: "I'm Elie Seckbach, reee-porting."
"I wanted to have a good closing catchphrase," Seckbach said. "My friends said it made me sound like an idiot, that it made me sound like I was slow."
The self-effacing Seckbach laughed. The line had its desired effect. Many fans who see him often greet him by saying, "Reee-porting."
Seckbach spends considerable time at the gym, allowing him to capture the carefree banter between fighters and trainers. He asks lighthearted questions that occasionally elicit insightful answers.
A couple of hours before the Wednesday news conference for the undercard fighters on the Alvarez-Golovkin card, Seckbach hailed a taxi at the MGM Grand and asked to be driven to the nearby boxing gym in Las Vegas. Seckbach was called there by Jose Benavidez Sr., who alerted him that his sons would be working out there. Jose Jr. is a former junior-welterweight champion and David is a current super-middleweight champion.
Seckbach first interviewed Jose Jr. on camera when he was a teenage prospect. The family remains grateful for the early publicity.
"He's like family now," Jose Sr. said.
Seckbach made it a point to speak to every fighter in the camp. You never know who will be the next star. Or who will have a good story.
One of the fighters there was a super-middleweight named Denis Doughlin, who was trained by his mother Saphya.
"Why would you want your son to box?" Seckbach asked Saphya as he pointed his camcorder at her.
Denis explained that he lost a street fight as an 8-year-old.
"She called me a punk," Denis said with a smile.
Benavidez Sr., who trains his sons, grants Seckbach complete freedom in his gym.
"I let him do whatever he wants," Benavidez Sr. said. "I trust him."
Others do too. Before and after his loss to Alvarez last year, Julio Cesar Chavez Jr. invited Seckbach to his hotel suite. There, Seckbach was able to gather behind-the-scenes footage of Chavez Jr., some that included his legendary father.
The irony is that Seckbach didn't know anything about boxing until about a decade ago.
Seckbach was born in Israel to a father who was a university professor and a mother who speaks 11 languages and writes encyclopedia texts. His passion was basketball.
After completing his mandatory military service, the 5-foot-9 Seckbach moved to California to play basketball at Los Angeles Valley College. He transferred to Cal State L.A. and while there, started covering sports for Israeli news outlets.
He gained experience working for various Los Angeles news stations, including what he considers a valuable two-year stint as a producer for consumer advocate Mike Boguslawski at KCBS.
"That's where I learned a lot," Seckbach said. "I learned how the system works."
Seckbach returned to covering basketball and landed a position with America Online's sports website, FanHouse. He became known for videos that showed him making bets with Kobe Bryant and trading jokes with Shaquille O'Neal.
An interview with Manny Pacquiao in 2008 changed his career trajectory. By then, Pacquiao had already engaged in high-profile fights against Marco Antonio Barrera, Erik Morales and Juan Manuel Marquez, but Seckbach had never heard of him.
The video collected more than 300,000 views.
At the time, Seckbach considered a video with 2,000 views to be viral. Interviews with Bryant or LeBron James used to be watched 5,000-10,000 times.
So Seckbach shifted his focus to boxing.
On their honeymoon last year, Seckbach and his wife visited France, Netherlands, Israel, Azerbaijan, Ukraine and Russia. He was recognized in all six countries.
That's part of the reason why Seckbach posts videos around the clock.
"It's 8 a.m. somewhere," he said.
Get our high school sports newsletter
Prep Rally is devoted to the SoCal high school sports experience, bringing you scores, stories and a behind-the-scenes look at what makes prep sports so popular.
You may occasionally receive promotional content from the Los Angeles Times.