Sergey Kovalev set to fight Eleider Alvarez with felony assault case pending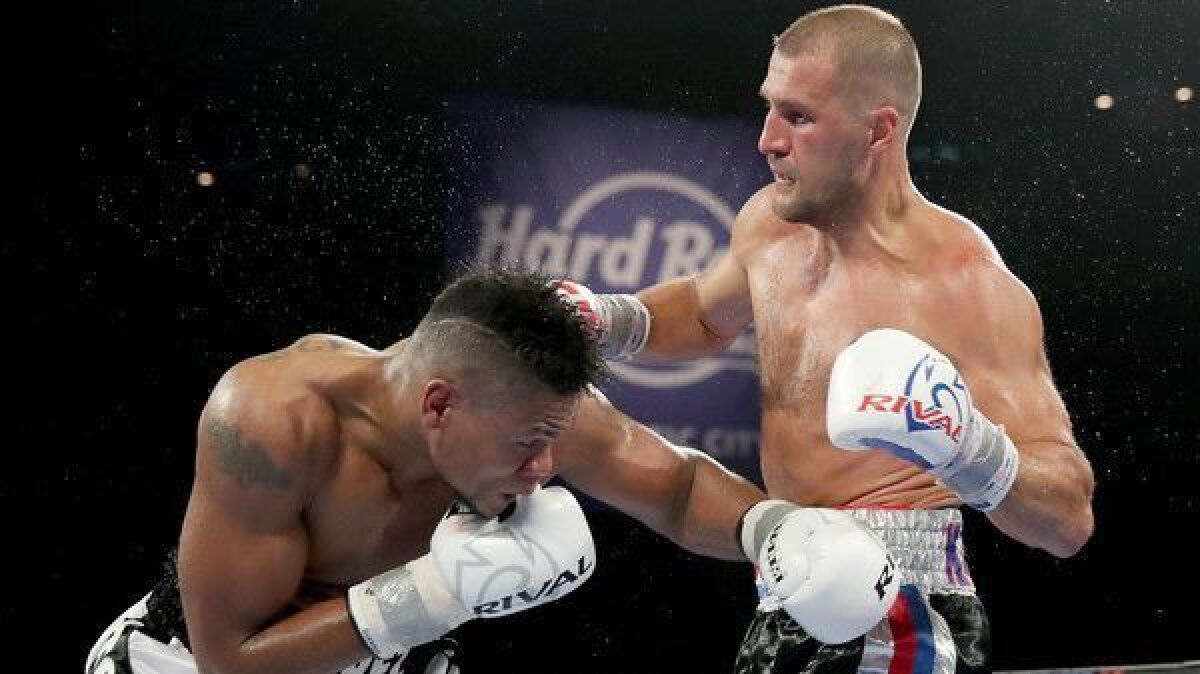 Reporting from Frisco, Texas —
Once video evidence emerged showing NFL running backs Ray Rice and Kareem Hunt committing physical violence against women in separate incidents, the league quickly moved to eliminate their playing privileges, and there's no indication either will return.
In the past two weeks, though, four high-profile combat sports fighters who've confronted past or current legal cases connected to the mistreatment of women have been permitted to enter either an octagon or boxing ring to collect the full earnings from their appearance.
The latest is former two-division light-heavyweight champion Sergey Kovalev of Russia. Kovalev will attempt to recapture his World Boxing Organization belt from Eleider Alvarez (24-0, 12 KOs) on Saturday night at The Star at Ford Center. Alvarez stopped Kovalev (32-3-1, 28 KOs) last year.
ESPN Plus will stream the bout that effectively serves as the night's main event.
While Rice and Hunt have thus far eluded criminal charges, Kovalev was arrested and posted $50,000 bond in Big Bear Lake last year before being charged with felony assault by means of force likely to produce great bodily injury.
He's due back in San Bernardino Superior Court March 11 for his pre-preliminary hearing while the woman he allegedly abused detailed in an $8-million civil lawsuit, which was first reported by TMZ, this week that Kovalev tried to have sex with her, punched her in the face upon being rebuffed and kicked her dog.
Kovalev, following his attorney's advice, has declined to discuss the case since it became public earlier this month.
"This time, I wanted to be better for everything — in life, in the boxing gym," Kovalev told reporters this week. "I will get my belt back … at any cost."
Preceding Kovalev's active case, unbeaten Floyd Mayweather Jr. was allowed to take a lucrative 2012 pay-per-view fight against Miguel Cotto despite facing a criminal domestic violence case that later resulted in more than two months of jail time.
Sign up for our daily sports newsletter »
And the precedent — rooted in officials explaining that the fighter's actions shouldn't deprive them from earning a living and/or that due process needs to play out — has been repeatedly cited as the subsequent cases have emerged.
WBO President Francisco "Paco" Valcarcel said he demanded a written explanation from Kovalev and his representatives before sanctioning the title fight.
"They explained the situation. We have to presume him innocent," Valcarcel said without detailing Kovalev's explanation. "They met the criteria we require. The case is pending."
Valcarcel maintains he has the latitude to suspend fighters without them being proven guilty in a court of law, pointing to discipline he dealt to former middleweight champion Billy Joe Saunders (inappropriate contact with a prostitute) and Australian light-heavyweight Damien Hooper (alleged sexual assault) following internal investigations.
The inconsistent treatment by sanctioning bodies and state commissions leaves something to be desired, say many women advocates, including veteran East Coast boxing promoter Lou DiBella.
"There is no national commissioner. The industry doesn't have a governing body. In the absence of that, we are what we always have been — sort of the Wild West and Dodge City," DiBella said. "We're not the NFL, the NBA or Major League Baseball … and even those sports didn't have a handle on this societal problem for quite awhile."
UFC leadership placed formerly disciplined NFL player Greg Hardy (domestic violence) in a Jan. 19 fight card that included a female fighter who'd been a recent victim of domestic abuse.
On a Premier Boxing Champions card set for Jan. 19, former four-division champion Adrien Broner participated in a pay-per-view loss to Manny Pacquiao, earning a guaranteed $2.5 million as the event generated 400,000 pay-per-view buys, after Broner was called to two court cases for mistreating women in a Cleveland club and an Atlanta mall.
That same night's co-main event was won by light-heavyweight Marcus Browne, who has a history of domestic violence in New York.
The difference in tolerance between sports leagues occurs as boxing and mixed martial arts promoters are motivated mostly by finances.
"So the NFL has a team … if they throw the guy out, does that team still have a game Sunday?" Kovalev promoter Kathy Duva asked. "If I throw the guy out, I'm now in the hole hundreds of thousands of dollars I've invested in a fight.
"I would love to be as rich as the NFL and then I could take that position. It is just not possible. So my decision is to not judge people. There's a court system. There's a reason for it, a system set up to make those judgments. I am not empowered to, so I'm not going to try."
All the while, state athletic commissions have varying levels of scrutiny over such matters. Because commissioners are political appointees, DiBella reminds, the default opinion is to allow due process.
California State Athletic Commission Executive Officer Andy Foster is stringent on the matter of domestic violence. He's previously rejected a fighter's license for mixed martial arts fighter Kevin Crane of Ojai following his documented 2017 felony domestic violence case that left his girlfriend with a concussion.
Foster said his decision to reject Crane isn't based as much on following the NFL's stance on domestic violence as much as his consideration that professional fighters' hands are lethal weapons.
Some veterans of the fight game suggest fighters who've been involved in domestic violence incidents should be ordered to be routinely tested for performance-enhancing drug use and neurological damage — triggers often connected to such behavior.
Until then, Kovalev will fight and Duva, one of the few female promoters in the sport, is allowing it to proceed despite her advocacy for women's rights.
"Of course every woman deserves the right to be heard. And Sergey, in such a situation, deserves the right to clear his name in court," Duva said. "And that is exactly what he intends to do."
Twitter: @latimespugmire
---
Get our high school sports newsletter
Prep Rally is devoted to the SoCal high school sports experience, bringing you scores, stories and a behind-the-scenes look at what makes prep sports so popular.
You may occasionally receive promotional content from the Los Angeles Times.