Only one will win the 'Money Belt,' but both Mayweather and McGregor will line their pockets with gold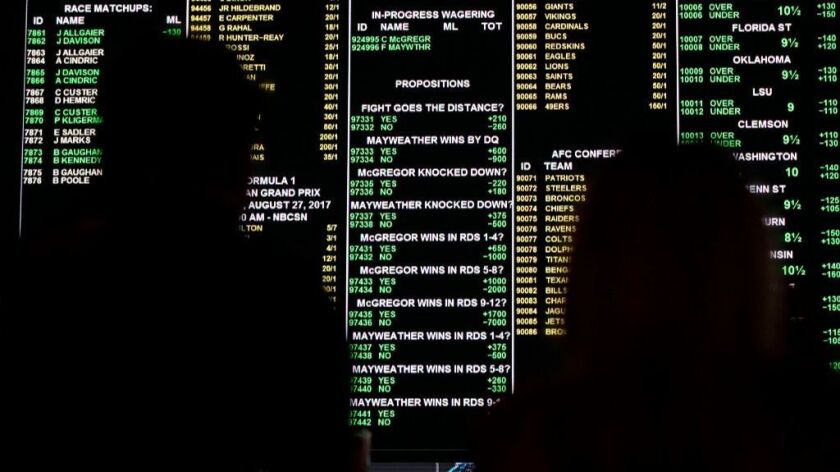 Reporting from Las Vegas —
Maybe the perfect symbolism of the Floyd Mayweather Jr.-Conor McGregor fight isn't so much that the World Boxing Council is offering a specially created "Money Belt" to the winner, but how the belt came to be made.
WBC President Mauricio Sulaiman said that the belt's designer needed to purchase more than three pounds of gold in layers in downtown Mexico City, then transport it secretly in a plastic grocery bag to his shop through dangerous streets..
"So, he's carrying a plastic bag as if he was carrying bread, but it's full of gold," Sulaiman said. "It was a process that was very exciting."
Although the fight has been subjected to great ridicule, McGregor's longshot attempt to defeat Mayweather has developed into a compelling socio-economic experiment measuring just how many people are willing to spend thousands of dollars to attend, and how many millions more will spend $100 for the Showtime pay-per-view broadcast.
Asked why he chose to commission the "Money Belt," Sulaiman said, "They're going to do this boxing match — unprecedented — that everybody criticizes and everybody wants to see happen."
A breakdown of the bout's financial streams by the Los Angeles Times shows that the curiosity has magnetized the world's interest to a level that it's possible McGregor, with his 0-0 professional boxing record, could generate with Mayweather more revenue than the record $600 million produced by Mayweather and former seven-division champion Manny Pacquiao 2015.
After consulting with several officials connected to the financial side of the fight, the estimated revenue for Mayweather-McGregor is $662 million.
"We're doing great numbers in the U.S. and around the world," Mayweather said. "It's the biggest fight in history. If you want to be at an event of this magnitude, you have to pay a high price."
Saturday's spectacle matching Mayweather, 40, against the UFC's only simultaneous two-division champion was fostered by two years of social-media back-and-forth after Mayweather retired in September 2015.
McGregor, 29, impressed Mayweather both with his powerful punches and the volume of pay-per-view buys he spawns with his electric wit and charisma.
Fans devoted to both combat sports have been hooked throughout the extended buildup and the hype that drew more than 10,000 fans to each of their four tour stops in Los Angeles, Toronto, New York and London.
And when Mayweather and the UFC sold tickets ranging from $500 to $10,000 apiece at T-Mobile Arena, buyers purchased enough tickets to surpass the combat-sports record $72 million live gate that Mayweather-Pacquiao generated.
Nevada bookmakers also have predicted that the $50 million bet on Mayweather-Pacquiao will be eclipsed by the expected $70 million wagered on Mayweather-McGregor.
The key revenue stream is U.S. pay-per-view sales.
Stephen Espinoza, executive vice president of Showtime, said that early indicators show, "We are trending for a new record," beyond the 4.6 million buys that Mayweather-Pacquiao produced. Espinoza couldn't commit to saying that Mayweather-McGregor would have more than 5 million buys, with estimates ranging from 3.5 million to 7 million by other experts.
"We don't really have a precedent," Espinoza said. "There hasn't been an event like this. The multiple, different factors tell us a significant chunk will be first-time or rare buyers. That's a huge opportunity for us because attracting those people is touching a new audience. And UFC's digital platforms are also getting first-time buyers. That's a great sign."
If the bout captures 5 million buys, that's close to $500 million in gross revenue.
"Everything we've seen and felt and measured has been in excess of the Mayweather-Pacquiao fight," Espinoza said. "Whether it's social-media views, website views, views of the preview content, it's better by two or three times. It's the most widely distributed pay-per-view ever. It's on more platforms, more streaming, more over-the-top, more digital, more bars and restaurants, more theaters … it's going to 200 countries and territories."
The sale of foreign television rights netted close to the $40 million of Mayweather-Pacquiao, with interest boosted by McGregor's widespread popularity in Ireland, England, Canada and Australia — all pay-per-view markets.
While sponsorship has been reduced by the shorter time window between the fight announcement and Saturday, the bout did land a $2 million investment from beer company Corona to advertise on the ring canvas, and UFC's closed-circuit representative has gained $20 million by placing the bout at select closed-circuit bars and restaurants in the U.S.
Additionally, about $4 million apiece is expected to come from Fathom Theaters and Las Vegas closed-circuit showings of the bout.
"It's absolutely amazing," McGregor said of the riches. "To be involved in it, I'm very grateful. Everyone involved is going to benefit from it. We're all living well."
That said, fans who feel scorned by Mayweather's dull victory over Pacquiao should know that although he has promised to make up for that inaction with a more offensive showing against McGregor, he did say this Wednesday:
"I don't worry about anyone criticizing me when I'm walking home with $300 million."
FOLLOW THE MONEY
A look at the projected revenue streams for the Floyd Mayweather-Conor McGregor boxing match:
Showtime pay-per-view: 5 million buys at $100 apiece = $500 million
Live gate at T-Mobile Arena: $80 million
Sponsorship: $12 million
Foreign television rights: $40 million
Closed-circuit U.S. bars/restaurants: $20 million
Closed-circuit Las Vegas casinos: $4 million
Fathom movie theaters: $4 million
Merchandise: $2 million
Total projected revenue: $662 million
Twitter: @latimespugmire
---
Get the latest on L.A.'s teams in the daily Sports Report newsletter.
You may occasionally receive promotional content from the Los Angeles Times.