Chuck Liddell and Tito Ortiz hope to have a blast from the past
The legacies of mixed martial arts fighters Chuck Liddell and Tito Ortiz are set. They were two of the biggest stars in the fledgling UFC, and their battles in the octagon set the stage for the multibillion-dollar business it is today.
Still, the fighters, who are set to meet for the third time Saturday at the Forum, haven't seen the financial rewards for setting the UFC on the path to success.
"Through my whole career, I've made maybe $10 million from 20 years of fighting," said Ortiz, 43. "I'd like to see how much money UFC made off of me — around $350 million to $400 million? I've come to think, what was I doing wrong that boxers are doing right?"
"I did it because I love the sport, trying to build it to what it became, and they sold the company [in 2016] for $4 billion. I'm not looking for handouts, but do you think I got a Christmas check? Hell, no."
While UFC president Dana White has long cast the talkative Ortiz as a malcontent, there's no question he and mohawk-wearing Liddell were leading characters in building the UFC from its unregulated origin to the goliath it's become. Former owner Lorenzo Fertitta has said the skill and magnetism of both men led him to purchase the then-struggling organization for $2 million and invest deeply to keep it afloat.
Ortiz, the "Huntington Beach Bad Boy," debuted at UFC 13 in 1997 and fought in eight consecutive light-heavyweight title fights — the skilled wrestler effectively invented the phrase "ground and pound" — from 1999 to 2003.
San Luis Obispo's Liddell, who turns 49 next month, started at UFC 17 in 2003 and reigned as light-heavyweight champion from 2005 to 2007, a six-fight span that included his second triumph over Ortiz on New Year's Eve weekend in 2006. That victory, in the most lucrative fight at that time in the sport's history, is considered the springboard that moved MMA into the national sporting consciousness.
The grind of cage fighting ultimately caught up to both, with Ortiz losing seven of his last nine UFC bouts, while Liddell was knocked out in four of his final six. Liddell retired in 2010, Ortiz in 2017.
"I wish my last memory of Chuck could be of him yelling and screaming after knocking some guy out and Tito grave-digging somebody, but now it's going to be that memory of [Saturday]," lamented Daniel Cormier, the UFC heavyweight and light-heavyweight champion.
Andy Foster, executive officer of the California State Athletic Commission, said Liddell was licensed after passing Assn. of Ringside Physicians' standards for 40-plus fighters that required a brain scan, vision test, heart monitoring and a neurocognitive test.
"I'm in great shape. You'll see when I get out there," Liddell said. "Everything's firing. The speed's there, the power's there. There's no better tune-up fight than Tito. If I'm going to make a run at fighting again, it's a great way to see if I can pull it off."
Ortiz, who defeated former UFC title challenger Chael Sonnen in a 2017 Bellator bout at the Forum in his most recent fight, jumped from retirement to avenge his losses once he heard Liddell wanted to fight again.
"I love taking this chance. I wouldn't be a man if I didn't," Ortiz said. "The most important thing now is to show I'm a Mexican American who worked hard to get where I am. Someone tries to prove me wrong? I'm going to try to prove them wrong. If it takes 10 times, I'll be there 10 times. There's no quit in me."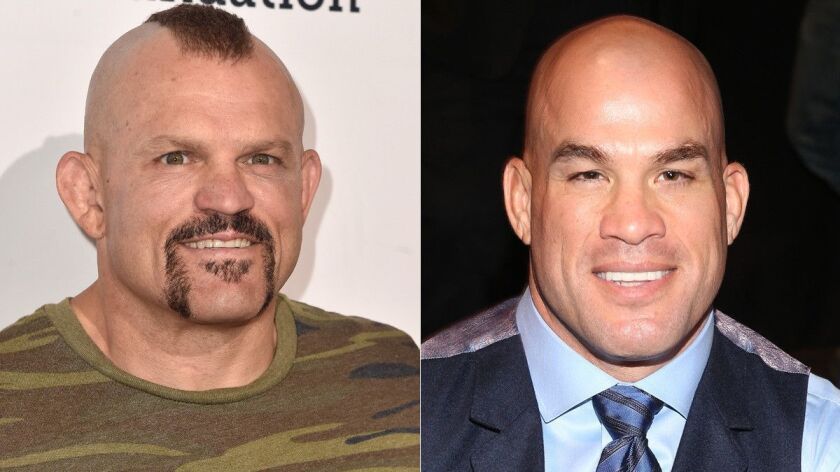 Liddell didn't bother considering the risk of allowing Ortiz to exit the trilogy with the lasting impression of victory.
"I never have worried about stuff like that," Liddell said. "From the first faceoff, he's still afraid of me, like that big-brother syndrome … I can beat him every time. Tito can't get that out of his head, and it eats at him. I'm so in his head, it's entertaining."
The carrot of the purse money has seduced so many before them. Ortiz acknowledges he's no different.
He expressed hope that this first Golden Boy MMA venture — with a crowd near 7,000 expected — will persuade promoter Oscar De La Hoya to remain in the MMA business and perhaps make Ortiz his president, maintaining the boxing financial model that allows Ortiz and Liddell to share in pay-per-view, live gate, international television rights, sponsorship and merchandising profits.
"This is about me winning a fight, but could also be about starting something new to allow fighter revenues to become much bigger than they are," Ortiz said, likely overreaching in predicting that the grudge match will generate more than 300,000 PPV buys when industry experts have predicted fewer than 100,000.
MMA
Main Event: Chuck Liddell (21-8) vs. Tito Ortiz (19-12-1)
Where: Forum
When: First fight 3 p.m., pay-per-view portion begins at 6 p.m.
Television: Pay-per-view, $39.95
Tickets: $30-$50-$100-$150-$300-$500 at Forum box office, Ticketmaster
Twitter: @latimespugmire
---
Get the latest on L.A.'s teams in the daily Sports Report newsletter.
You may occasionally receive promotional content from the Los Angeles Times.