Claressa Shields sends words of support to Paul Gonzales' alleged molestation victim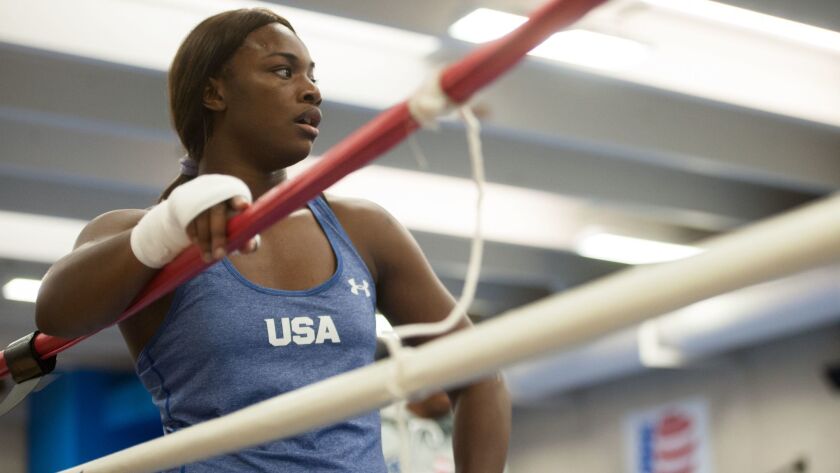 Two-time Olympic gold medalist and current two-belt super-middleweight world champion Claressa Shields has a message for the 13-year-old female boxer allegedly victimized by former gold medalist Paul Gonzales.
"If I could talk to her, I would tell her don't let the perpetrator win. Don't let him be the reason you don't become successful, or that you don't live out your dreams and do what you want to do," Shields told the Los Angeles Times in a Wednesday interview.
Shields, 22, is preparing to defend her World Boxing Council and International Boxing Federation belts Friday on Showtime (7 p.m. Pacific) against 41-year-old Tori Nelson (17-0-3, two knockouts) at Turning Stone Resort in New York.
Gonzales, a 1984 light-flyweight from Boyle Heights who became the first Mexican American to win Olympic gold, was arrested late last month and charged with eight felonies connected to the alleged molestation of the young fighter.
Gonzales, 53, is scheduled to enter a plea at an arraignment in Los Angeles County Superior Court on Jan. 18.
Shields said she would be pleased if an intermediary arranged for her to meet with the alleged victim.
"Falling short is giving him power," Shields said. "I would tell her not every boxing coach is like that, and if she ever wants to try again, go to a different gym. Self-defense is something I believe every woman should have the right to learn.
"Stay strong. Don't let him win. Because when you let someone else dictate how you live your life because they attacked and hurt you, and then you make your decisions based on that [pain], you're giving them power over you."
Shields stands as the most inspiring face of the sport after capturing her second gold in 2016 at the Summer Games in Rio de Janeiro.
The Flint, Mich., fighter is 4-0 after recently becoming the first female to headline a Showtime card, and she said she's eyeing a move down to middleweight later this year to meet champion Christina Hammer of Germany.
"I stand at a very high place. Being a champion, I get treated like a champion. Not just the respect from Showtime, but the respect from everybody, especially people in the boxing world," Shields said. "They can see me showcase my skills, and because of that, the pay is going up, the fights are getting better and … just the way people look at women's boxing now is improving."
Someone enthusiastically informed Shields on Wednesday that a story on her was distributed in the U.K.
"That tells me I'm going the right direction in my career, that the right eyes are looking at me and that I'm in high demand," she said. "So now I can make some demands and have more opportunities. I'm trying to take advantage of those opportunities. Where I stand right now is going to stay that way, and I want to fight the best competition out there."
Reaching that point required Shields to clear her own path to success, and part of that meant a battle for equality in the amateur boxing gyms.
"There was a time when they made the women spar less so the men could get more rounds in," Shields said. "And you know me … you're not ever going to treat a guy better than me. I just don't settle for that. I was like, 'Wait a minute, let the girl go an extra round. That dude can wait two more minutes.'"
She takes pride in knowing her gold-medal success — the last boxer before her to win gold for the U.S. was recently retired super-middleweight champion Andre Ward in 2004 — has boosted the equality cause.
"Now, they give us as much attention to us as the men," Shields said. "Women's boxing in the amateurs is at its peak. We've made it into the Olympics and they're adding weight classes. We have a huge training camp at the Olympic training center in Colorado Springs.
"I give myself some credit because I started breaking these boundaries for the women boxers, telling [officials], 'You're not going to pay guys who didn't even make it to the Olympics more than you're going to pay a gold medalist who's a woman.' I started making demands and putting my foot down, and women's boxing has become a lot better.
"We know the only person to win a gold medal in boxing for the U.S. these past two Olympics was a woman, and that's myself."
Staff writer Harriet Ryan contributed to this report.
---
Get our high school sports newsletter
Prep Rally is devoted to the SoCal high school sports experience, bringing you scores, stories and a behind-the-scenes look at what makes prep sports so popular.
You may occasionally receive promotional content from the Los Angeles Times.