Conor McGregor's adventures outside fighting are the talk of the sport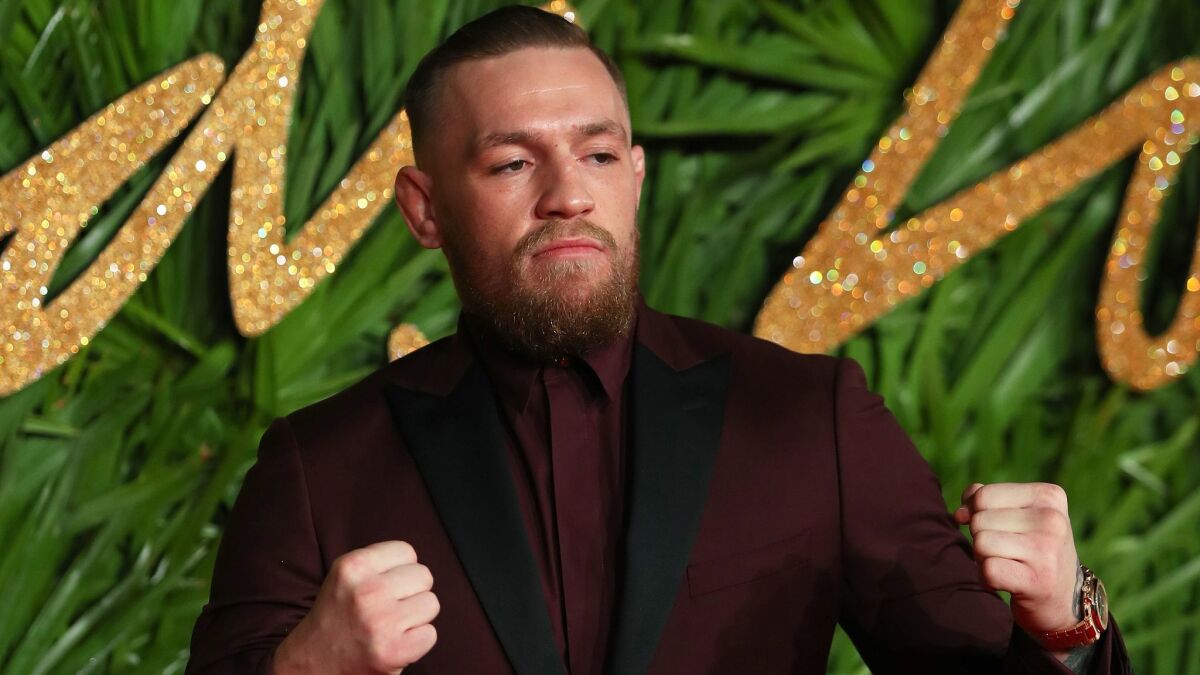 Conor McGregor's hair-raising life since earning an estimated $100 million for boxing Floyd Mayweather Jr. has been a sight to see.
The question that remains is when McGregor will fight again.
UFC President Dana White sent bloggers into hysteria by speculating the lightweight champion might never fight again in his organization because of his wealth.
White told reporters last month, "Try to get up and get punched in the face for a living when you've got $100 million in the bank."
And boxing promoter Bob Arum said Saturday night that any talk of a McGregor boxing match against Manny Pacquiao is "old news," consisting only of an overture to McGregor two months ago by a Pacquiao manager that never received a response.
Instead, McGregor's known activity has consisted of jumping into a Bellator cage last month to shove a referee following a friend's fight, a scuffle in a pub that generated rumors that McGregor had punched a powerful member of an Irish cartel and last week's British Fashion Awards photo with singer Rita Ora, who tweeted the occasion was "date night" despite McGregor's recently fathering a child with longtime girlfriend Dee Devlin.
"Listen, he's enjoying the fruits of his labor, maybe a little bit too much," said Irish boxer Michael Conlan, the 2016 Olympian whom McGregor memorably walked into the ring with on St. Patrick's Day night, whetting the appetite for his Aug. 26 Mayweather spectacle.
"He's going crazy at the minute, but he just needs to take himself back and get back to what he does best, and that's fighting."
But there are significant obstacles to that, no matter how much sense it makes to stage McGregor's first UFC fight since November 2016 on March 3 in Las Vegas against UFC interim champion Tony Ferguson.
"Conor has representation and he has [UFC] over a barrel," Arum told the Los Angeles Times on Friday. "You have to make a deal with him the way we've made a deal with the superstars in our sport, a Mayweather or Pacquiao."
"You have to give him the lion's share of the proceeds, a co-promotion almost. You do the [promotional] work and they get a big percentage. [Dana White] is not willing to do that … that's the complaint about the UFC.
"Because it's like a monopoly over there, the percentage for their fighters isn't the same as boxing, where we net out about 8 to 10% … with the UFC, they pay the fighters around 20%."
Arum repeated that number three more times for effect.
The sea change of altering business principles for the uniqueness of McGregor isn't easy, although the UFC did deviate from its philosophy by engaging in the co-promotion with Mayweather in a fight broadcast by Showtime.
Further stirring things up, Arum said he would be happy to promote a McGregor-Pacquiao boxing match if it comes to life. Pacquiao is said to be interested in returning to the ring in April.
"I would do it for Manny, but, for me, if I promoted that fight, I would tell everybody up front: Guess what? It's not a … fight," Arum said. "If you want a spectacle, watch. One thing I could be sure of: Manny wouldn't carry McGregor the way Mayweather did."
Under this backdrop, the UFC reaching an agreement with McGregor seems the most imperative piece of business. McGregor and his representatives did not respond to The Times' efforts to reach them Monday.
Conlan, before improving to 5-0 Saturday night, said the McGregor scene serves as a reminder of the perils of achieving worldwide fame.
"It can be scary if you have the wrong people around you. Sometimes, you need people who'll put their foot down," Conlan said. "I have the likes of my father, my manager, my team. They are not yes men. He has yes men around him.
"With $140 million in the bank, who's really going to complain? He is a grown man. But I still think he needs people around him with the authority to tell him no."
---
Get our high school sports newsletter
Prep Rally is devoted to the SoCal high school sports experience, bringing you scores, stories and a behind-the-scenes look at what makes prep sports so popular.
You may occasionally receive promotional content from the Los Angeles Times.