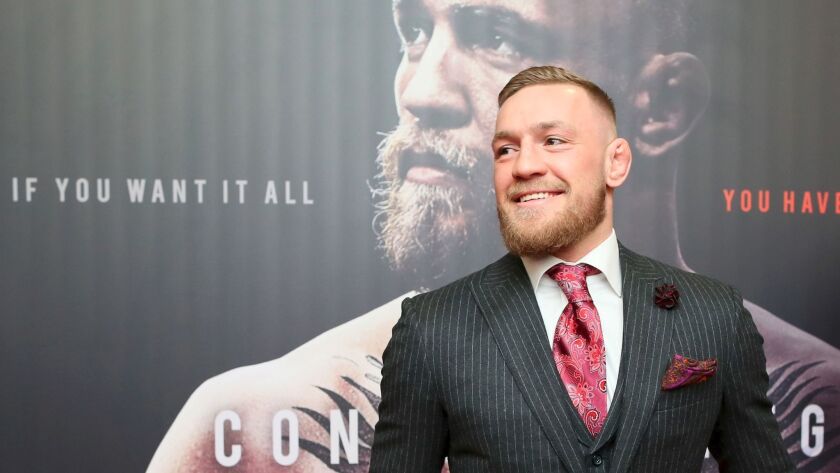 It's now been more than a year since Conor McGregor last fought in a UFC octagon. McGregor's possible return could be resolved in meetings this week, UFC president Dana White told the Los Angeles Times late Tuesday night.
McGregor, the UFC's lightweight champion, previously said he'd like to fight before the end of the year if he emerged healthy from his Aug. 26 boxing loss to Floyd Mayweather Jr., which he did.
So, starting Wednesday, White and his matchmakers are huddling at UFC headquarters in Las Vegas to determine the main event for UFC 219, the traditionally powerful New Year's Eve weekend card that will be staged Dec. 30 at T-Mobile Arena in Las Vegas.
"That's all this week. We're working on that [main event]. I have to have it done by the end of the week," White said.
The most logical opponent for Ireland's McGregor (21-3) is Costa Mesa's Tony Ferguson (25-3), who extended his winning streak to 10 Oct. 7 with a third-round submission of Kevin Lee that netted him the interim lightweight belt.
McGregor and Ferguson's agent, Audie Attar, didn't immediately return messages left for him by The Times on Wednesday morning, but White dropped a few hints that could indicate McGregor lands on Dec. 30.
Asked if McGregor's Irish blood makes him a perfect fit for the UFC's planned Jan. 20 pay-per-view card at TD Garden in Boston, the city where McGregor memorably defeated veteran Dennis Siver and jumped over the octagon cage to heatedly confront then-featherweight champion Jose Aldo in his seat, White said no.
"You can put Conor anywhere, but you've got to do Conor in Vegas," White said after appearing at the Wild Card West speaker series in Santa Monica with Hollywood producer/director Peter Berg and boxing trainer Freddie Roach.
The next UFC pay-per-view card in Las Vegas after Dec. 30 is UFC 222 on March 3.
But McGregor could be in the UFC 219 main event?
"Yeah," White said. "He wanted a fight by the end of the year, so we'll see."
For now, the most significant fight placed on the UFC 219 card is a bantamweight meeting between top-rated former champion Dominick Cruz and No. 3-rated Jimmie Rivera.
White also hedged on the idea that a women's featherweight title fight between Orange County's champion Cris "Cyborg" Justino and former bantamweight champion Holly Holm would be placed atop the UFC 219 card.
"What everybody thinks and what's happening are two different things, so… I will get it done this week," White said.
Justino said in a Wednesday morning text message to The Times: "I don't know anything. I'm just training."
---