Daniel Cormier says he has Cain Velasquez's permission, and the fighting style, to defeat Stipe Miocic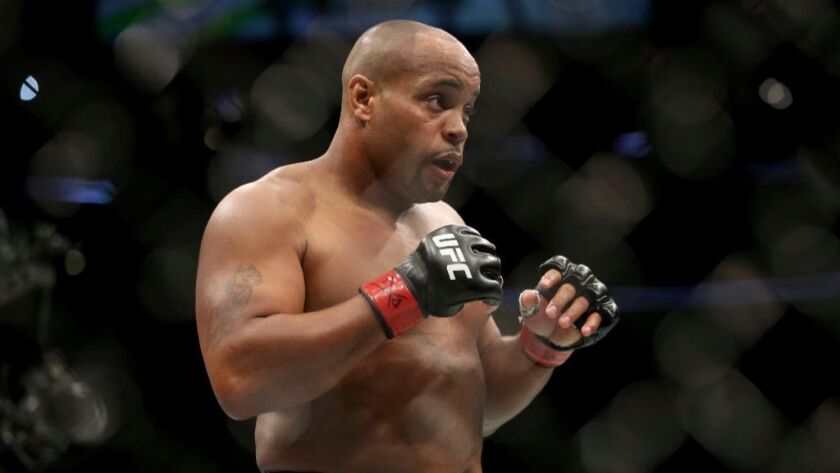 Daniel Cormier has never deviated from his mission to be remembered in the forefront of the discussion about best mixed martial arts fighters in history.
Once he had his friend's blessing to pursue that claim through an unexpected path, Cormier had every reason to pounce on the chance to join Conor McGregor as the UFC's only simultaneous two-division champions.
The company on Friday announced light-heavyweight champion Cormier (20-1) will meet heavyweight champion Stipe Miocic (18-2) for Miocic's belt July 7 at T-Mobile Arena in Las Vegas.
In his first interview since the announcement, Cormier told The Times on Monday that he received approval from former UFC heavyweight champion Cain Velasquez, Cormier's American Kickboxing Academy stablemate in San Jose.
Previously, Cormier maintained he'd never fight at heavyweight due to his bond with Velasquez, even after standing before as Strikeforce heavyweight champion.
"I had Cain's well wishes. Cain thought it was such a unique and great opportunity that I was like, 'If you think that, and you'll help me prepare for him, it's a chance to make history with a financial upside and a big win for me,' " Cormier said. "So let's go give it a shot."
Cormier, 38, after regaining his belt following Jon Jones' repeat positive test for performance-enhancing drugs last year, retained it Jan. 20 in Boston with a second-round stoppage of challenger Volkan Oezdemir.
Atop the same card, Cleveland's Miocic became the first UFC heavyweight to successfully defend his belt three consecutive times by wearing down hard-hitting No. 1-rated contender Francis Ngannou by unanimous decision.
Cormier said while No. 4-rated Velasquez says he'll be ready to return to the octagon in the summer for his first UFC bout since June 2015, he won't be in line for a title fight.
"If they're not going to give him a title shot right now, why not let his buddy give it a shot?" Cormier said. "I'll go back to my weight class when he's ready."
The candid Cormier admits trying to defeat Miocic "is a huge ask … for any heavyweight, much less a light-heavyweight.
"I know it's a big deal, but when I watch him compete, when I watch his style and I watch what he does in the octagon, I can't help but feel a lot of confidence," Cormier said. "I feel very confident in the matchup. Big guy, obviously, but most guys I fight are big guys.
"He's the most dominant heavyweight champion of all time, so if I can pull this off, it puts me in the conversation of being one of the greatest fighters of all time. And I've always chased that. That's always been my ultimate goal."
Two prior losses to Jones in the octagon delayed that pursuit, but with Jones' July victory now ruled a no-contest with his return date in limbo, Cormier says, "If I get this done, it puts me squarely in the conversation."
What does the wrestling-skilled Cormier see as vulnerable about Miocic?
"His fighting style is complete, but I think of fighting style in terms of the way they match up with me, and I feel this is favorable for me," Cormier said. "I'm not saying he has weaknesses. I'm saying versus my skill set, it's an interesting matchup."
Cormier said he's capable of winning "without taking him down … I can win with him on the feet. I can box with anyone in the UFC."
Participating as a coach for 12 weeks on FS1's "The Ultimate Fighter" in advance of the bout is also an opportunity for Cormier to fully connect with fans who have been less than appreciative of him in the past.
"People will get to know me on levels they never did before, and get to see me as a coach, as a human willing to take a backseat to try and help these young [fighters] evolve into something more, to accomplish a goal many can only dream of," Cormier said.
"These guys are already undefeated, so it's up to us as coaches to add a little bit to canvases that have already been drawn upon. They've started to be molded. It's up to me to add something that wasn't there."
Part of that will be contributing a voice in messages Cormier has delivered to himself while becoming both a Strikeforce and UFC champion.
"I want to give them exactly what I have. I want them to experience what made me a world champion, so I'm bringing my whole coaching staff and sparring partners," to Las Vegas.
By May, Cormier said he'll be involved in his own fight preparation and will spend time with the Oklahoma State wrestling team before returning to AKA in San Jose, which counts former middleweight champion Luke Rockhold and top lightweight contender Khabib Nurmagomedov as members.
---
Get the latest on L.A.'s teams in the daily Sports Report newsletter.
You may occasionally receive promotional content from the Los Angeles Times.