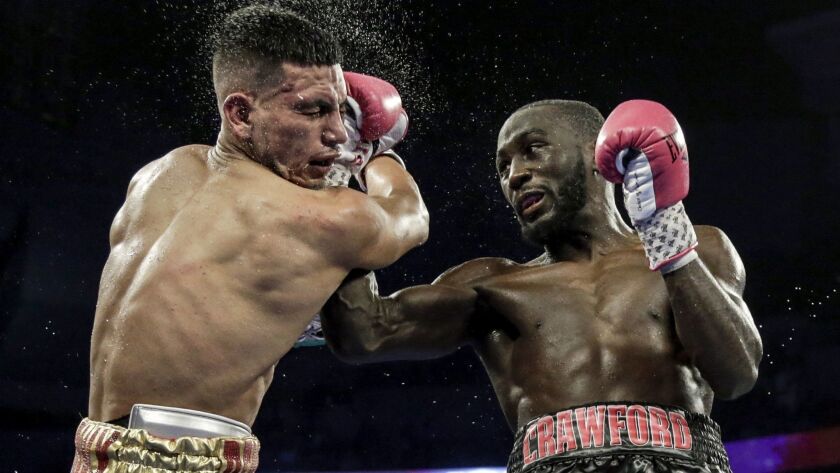 Reporting from New York —
The odds don't favor Terence Crawford, but to know the welterweight champion is to understand he'll never accept defeat.
So he takes to the Madison Square Garden ring Saturday night against Amir Khan, simultaneously defending his World Boxing Organization belt and building his public relations case that he's superior to every other welterweight champion.
While Crawford (34-0, 25 knockouts) fights for veteran promoter Bob Arum's Top Rank promotional company, the four other welterweight champions — unbeatens Errol Spence Jr. and Keith Thurman, the legendary Manny Pacquiao and World Boxing Council champion Shawn Porter — are locked into deals with Arum rival Al Haymon's Premier Boxing Champions.
That makes doing cross-promotional business more complicated and unlikely. So Crawford has done his best to sharpen his focus on Spence, who established himself as the best of the Haymon stable last month by dominating four-division champion Mikey Garcia.
Crawford and Spence had an animated backstage exchange at a fight last year, sizing each other up and boasting about their skills. Crawford's trainer Brian McIntyre said he believes the fighters forged a bond that night and share a vision to break through the business obstacles and press for a mega-fight.
Arum told The Times that should Crawford win Saturday, he will call Haymon next week to open negotiations.
"I love that fight, and we want it," McIntyre said of Crawford-Spence. "We can't do anything else. It's just left for the stars to line up right. I'm sure they will. There's a lot of money on that table."
ESPN boxing analyst Timothy Bradley Jr. confirmed his friend Crawford wants Spence next should he beat Khan, a 10-to-1 underdog.
"Spence has got to tell Al Haymon, 'This is the fight I want because I need people to stop saying this guy's No. 1,'" Bradley said at Friday's weigh-in, where Crawford weighed 146.4 pounds to Khan's 146.6.
"Crawford wants that fight to prove himself. These millennials feel entitled to No. 1, but to do so, you've got to be willing to face the best. Crawford is, but these guys won't get in the ring with him. Stop barking and let's see action. With the performance coming Saturday night, Crawford's going to open up the division and put everyone on notice."
Crawford, the former unified 140-pound champion making his second welterweight title defense, says he views Khan (33-4, 20 KOs), who previously wore a 140-pound belt, as a serious challenger capable of winning early rounds, as Khan did against Canelo Alvarez in their 2016 fight before the bigger Alvarez knocked him out in the sixth round. Crawford says Khan still possesses the type of hand speed and guile that paced him to victories over former champions Marcos Maidana, Zab Judah and Paulie Malignaggi.
"Taking these kinds of fights shows the kind of confidence I have in myself," Crawford said.
Khan, 32, recognizes this is likely his last chance to be involved in the sport's pound-for-pound rankings and show, as he did in beating Maidana in the 2010 fight of the year, that his chin is durable enough to withstand a fighter inside his own weight class.
"I'll do whatever I can to win the fight. It's too important," Khan said, acknowledging he'll go on the defensive if he wins early rounds against the occasionally slow-starting Crawford.
Sign up for our boxing and MMA newsletter »
McIntyre said he has encouraged Crawford to press the attack quickly. "I've stayed on him to punch more, to have better rhythm with his legs," McIntyre said.
Sometimes when the gym work ended, McIntyre would glance at Crawford and see his mind wandering.
"I'm going to tell you something Terence tells us about once a week when I'll catch him staring off in space between rounds," McIntyre said. "He gets up and says, 'I'm going to [mess] that dude up … I'm going to [mess] Spence up.'
"That will and that hunger that he wants to fight Spence … he's looking at it like everyone thinks Spence will beat him, so he wants to prove the world wrong. He wants to show everyone he's the best."
Saturday's ESPN pay-per-view card also includes a featherweight bout between Crawford's friend, Shakur Stevenson (10-0, six KOs), and recent 130-pound title challenger Christopher Diaz (24-1, 16 KOs). The co-main event is unbeaten lightweight Teofimo Lopez (12-0, 10 KOs) against Edis Tatli (31-2, 10 KOs).
Lopez, who knocked out veteran Diego Magdaleno in early February, is pressing for a July title fight against International Boxing Federation champion Richard Commey and an early 2020 date against two-belt champion Vasiliy Lomachenko.
Lopez is fretting that he's outgrowing his division, a concern expressed when he weighed 142 pounds Thursday night and was the last man on the morning weigh-in scale Friday.
Lopez cut man Miguel Diaz preached calm as officials hovered over Lopez, worrying what the scale would read.
"Last night was last night," Diaz assured. "Today is today."
Sure enough, Lopez weighed in right at the 135-pound limit as his team cheered raucously.
"I'm glad that's over!" Lopez exhaled, striding away from the scale.
BOXING
Main event: Terence Crawford (34-0, 25 KOs) vs. Amir Khan (33-4, 20 KOs) for Crawford's World Boxing Organization welterweight belt.
When: Saturday, pay-per-view card begins at 6 p.m. Pacific
Where: Madison Square Garden
Television: ESPN pay-per-view, $69.99
Undercard: Teofimo Lopez (12-0, 10 KOs) vs. Edis Tatli (31-2, 10 KOs), lightweights; Shakur Stevenson (10-0, six KOs) vs. Christopher Diaz (24-1, 16 KOs), featherweights; Felix Verdejo (24-1, 16 KOs) vs. Bryan Vasquez (37-3, 20 KOs), lightweights
Twitter: @latimespugmire
---