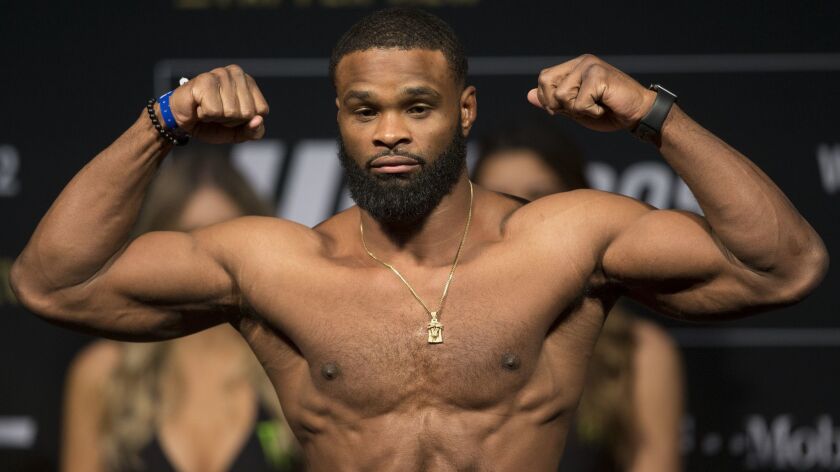 Rules are meant to be broken, or at least questioned, and with the gifted tandem of Tyron Woodley and Ben Askren testing authority, the UFC's typical hard-line policies are going to have to budge.
Not only do the longtime training mates refuse to fight each other even though both are elite members of the 170-pound welterweight division, the situation begs for the UFC to cave and create a new 165-pound division.
"It probably will be presented," Askren (18-0) said of the likelihood this year that UFC bosses will press him to fight champion Woodley should both win their separate Saturday UFC 235 fights at T-Mobile Arena. "We'll just say no."
Added Woodley: "Come to the gym and watch us."
Sign up for our daily sports newsletter »
Standing up for each other is among several similarities that tightly bond the former University of Missouri wrestling teammates who now train together under coach Duke Roufus in Milwaukee.
Former two-time NCAA-champion wrestler Askren is making his UFC debut against former champion Robbie Lawler following an unprecedented trade from the Japan-based ONE Championship that sent its champion Askren to the UFC for former flyweight champion Demetrious Johnson.
Unbeaten since 2014, Woodley (19-3-1) is making the fifth defense of his welterweight belt, meeting Nigerian-born Kamaru Usman.
In an extended interview this week with The Los Angeles Times on its "Arrive Early, Leave Late" podcast, Woodley and Askren elaborated on their kinship, which they refuse to compromise despite the glory of a belt and the riches of purse money.
The number of professional fighters who have taken that stance are few, including former heavyweight-champion boxing brothers Wladimir and Vitali Klitschko and San Jose-based UFC training partners Daniel Cormier, the current heavyweight champion, and former champion Cain Velasquez.
Being college wrestling teammates, "wasn't like we never saw each other. We spent 14-hour bus rides to Milledgeville, Georgia — you get to know each other," Woodley said.
The 36-year-old Woodley (19-3-1 in UFC) was at Missouri when Askren was first recruited there and a bond quickly developed.
"There's a camaraderie there, and unlike in other sports, you don't get an offseason if you want to get good," so the school year progresses from, "collegiate [wrestling] to freestyle, then Greco-Roman, then preseason … there's really no time off," Woodley said. "Wrestling friends hold you to a higher standard … that's what someone who really wants you to reach your maximum potential does for you."
One aspect Woodley admired of Askren remains today: His piercing verbal skills.
"I'd try to calm Ben down, ask him, 'Why do you keep talking stuff to these guys at the weigh-in? You're chasing greatness. You don't want peace?'" Woodley said. "And he'd say, 'Tyron, I want to be infamous.'
It was Askren who questioned UFC President Dana White on Twitter in 2012 over the absence of Olympic-style drug testing in the organization, which didn't begin until three years later.
"So we can thank [Askren] for [existing U.S. Anti-Doping Agency testing] because a lot of people look like they're melting now," Woodley said.
Woodley is a resident of Ferguson, Mo., who resided on the same street that became a national flashpoint of racial unrest because of the fatal officer-involved shooting of Michael Brown Jr., 18, by a white policeman in 2014. The UFC "dropped the ball on" the issue, Woodley said, not allowing him to best explain how "that environment built us, and built character so we made it out of that situation."
He's taken verbal blows from White for dull performances and too much injury time off, but Askren was quick to defend his friend from what he called White's "weird-ass narrative," pointing out that middleweight champion Robert Whittaker has "only fought twice in two years."
Woodley believes he's out of the UFC doghouse now, but assesses he was in it before "because I speak for myself … if it's something about race, something about the way I'm being treated, I'm going to talk about it."
So if the matter of how to deal with Woodley and Askren being in the same division makes the UFC uncomfortable, the pair respond by heightening the attention on it.
At a UFC public workout Thursday that was supposed to feature them appearing separately, they showed up together and practiced wrestling each other.
"They'll create the 165-pound division," Askren said, cackling after the microphones were turned off on Monday's podcast. "You know they will."
Twitter: @latimespugmire
---