Conor McGregor's verbal brilliance overwhelms Nate Diaz ahead of UFC 196
Conor McGregor during a news conference on Feb. 24.
(Christina House / For The Times)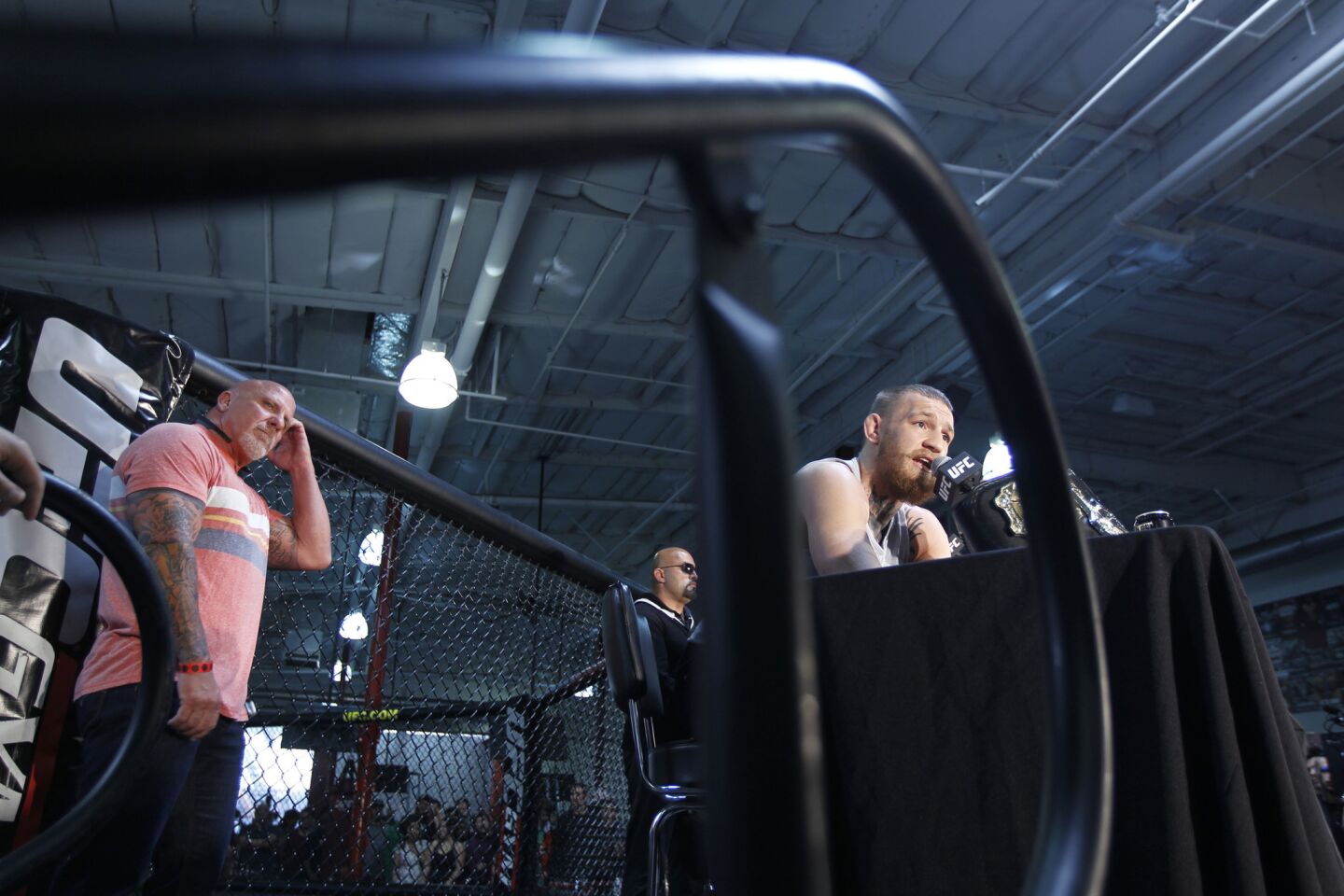 Conor McGregor, right, speaks during a news conference at UFC Gym in Torrance on Feb. 24.
(Christina House / For The Times)
In an electric exchange that could also be characterized as the Ultimate Fighting Championship's version of a roast, Conor McGregor verbally undressed an outmatched March 5 opponent Nate Diaz Wednesday in Torrance.
McGregor (19-2), the UFC's featherweight champion from Ireland, is moving up two weight classes to fight replacement foe Diaz in the UFC 196 main event at MGM Grand in Las Vegas after lightweight champion Rafael Dos Anjos backed out with a foot injury.
"We resolved the money issue [with Diaz], then it was, he could only make 160, then it was 165, so then we said, 'You better step on the scale at 170,' and we're going to fight," McGregor explained of Tuesday talks that finalized the deal.
See the most-read stories in Sports this hour>>
While he loses the immediate chance to become the first UFC fighter to simultaneously hold two belts, McGregor said the catchweight main event shows he's created "my own belt ... whoever I fight is fighting for the McGregor belt," he said.
When Stockton's Diaz disputed McGregor's explanation of the weight negotiations, McGregor blasted him.
"I like Nick (Nate). He's like a little 'cholo' from the hood, but at the same time he coaches preschool kids and goes on bike rides with the elders," McGregor said. "The only weight I care about is the weight of my check and my check's are always super-heavyweight."
He later told Diaz he was welcome because the involvement in fighting McGregor, who drew a live gate of $10.1 million to his December title victory over Jose Also, would make Diaz a millionaire.
Diaz, taken aback by the vocal support of a large crowd that gathered for McGregor at a UFC Gym location, announced, "Hey, this is America," and proceeded to accuse McGregor of steroid use.
Diaz, whose brother, Nick, received a five-year suspension from the Nevada State Athletic Commission last year for a third marijuana violation, also said "everybody's on steroids, the whole UFC." Diaz trained with Gilbert Melendez and Jake Shields, who have tested positive for banned substances.
McGregor said later he thought Diaz's words were unstable rambling in response to the verbal trashing he was absorbing. The UFC last year retained the U.S. Anti-Doping Agency to oversee a more rigid testing program.
"Your two boys were on steroids! Did you know they were taking that stuff?" McGregor asked Diaz. "I wake up, I work, and I sleep. That's it."
McGregor took delight that he so quickly had rattled his opponent, a former lightweight title challenger.
"I'm not trying to play no games," McGregor said. "When they're in there face to face, it's no act and no games, so take back all that mental warfare. I'm simply the best fighter.
"Real, true hard work can't be denied or stopped.
"In 10 days, let's see what this man is all about. I don't get out of shape. He gets out of shape. … This fight, he's asking for weight changes, so I imagine he's gotten back out of shape."
Diaz, 30, answered with an expletive and noted, "I've been fighting in the UFC forever…."
See more of our top stories on Facebook >>
McGregor then turned to Dos Anjos, dismissing his injury as "a bruise" that could've been treated with ice and Ibuprofen.
McGregor said he's unsure if he'll explore a Dos Anjos fight at UFC 200 in July, remain at welterweight or move back to featherweight for a title defense, which he assured he plans to do at some point.
He also criticized Dos Anjos' teammate, heavyweight champion Fabricio Werdum, for backing out of a fight against Cain Velasquez's replacement, Stipe Miocic.
The Irishman not only kept his scheduled date, he's doing so by taking the massive jump in weight.
"He's too readable, too predictable," McGregor said of Diaz. "His soft body and his lack of preparation, he will not be able to handle the ferocity … of course, I feel he will be put away. He will be [knocked out]."
Follow Lance Pugmire on Twitter @latimespugmire
MORE SPORTS NEWS
Surprisingly, Kobe Bryant is enjoying saying goodbye
Rams' immediate to-do list includes getting players settled in L.A.
Floyd Mayweather could avenge Olympic loss if rule change letting pros box is approved
---
Get our high school sports newsletter
Prep Rally is devoted to the SoCal high school sports experience, bringing you scores, stories and a behind-the-scenes look at what makes prep sports so popular.
You may occasionally receive promotional content from the Los Angeles Times.