UFC 235: Kamaru Usman dominates Tyron Woodley to win belt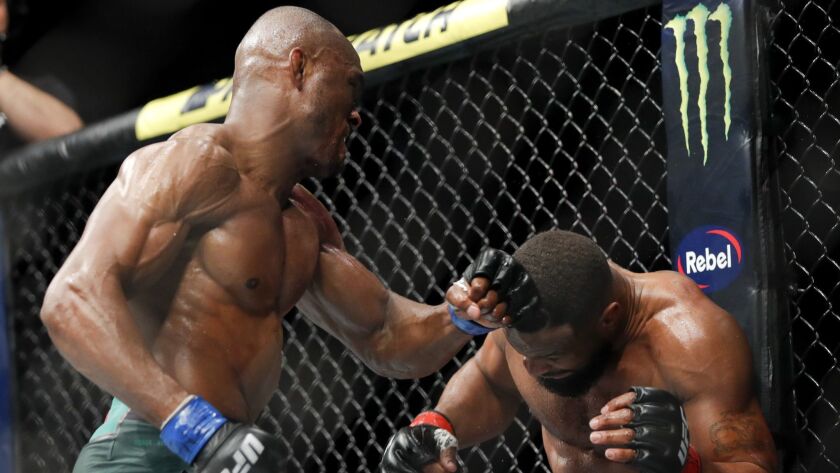 Reporting from Las Vegas —
Kamaru Usman spoke this week of the wealth — diamonds and gold — mined from his native Africa.
There are more riches to be found, Usman said, displaying that Saturday night by convincingly defeating Tyron Woodley to capture the welterweight title at UFC 235 at T-Mobile Arena. That preceded the main event between light-heavyweight champion Jon Jones and Anthony Smith, which Jones won by unanimous decision.
By pressuring Woodley, out-executing him on the canvas and landing blows like a punishing left elbow to the head in a dominating second round, Usman was given a unanimous-decision victory on scorecards of 50-44, 50-44, 50-45.
"I might not be the best striker or wrestler in the world, but when it comes to mixing this [stuff] up, I'm the best … fighter on the planet right now," Usman (15-1) said in the octagon afterward.
Usman foresees himself as a forerunner of other fighters he expects to make an impact in mixed martial arts. African heavyweight Francis Ngannou lost a title shot but rebounded to defeat former champion Cain Velasquez last month.
"There's a strong fighting organization in South Africa, and another north," Usman said. "This will be the start."
By slipping Woodley's choke attempts and holding him up by pressing him to the cage and burning minutes, Usman frustrated the champion who hadn't lost since 2014.
"He came out prepared … I have no excuses," said Woodley (19-4-1). "Sometimes you have nights where the fight's a bad dream."
Usman, holding his young daughter, said, "I come from humble beginnings … this girl lit a fire under [me]. Daddy did it!"
As he left the octagon, Usman was approached by ringside-sitting Colby Covington, the No. 1 contender who has expressed his displeasure at being bypassed by Usman as Woodley's opponent. The expectation is that Covington will fight Usman next.
Earlier, the UFC debut of Woodley's close friend Ben Askren exceeded the expectations of his toughness and wrestling skill.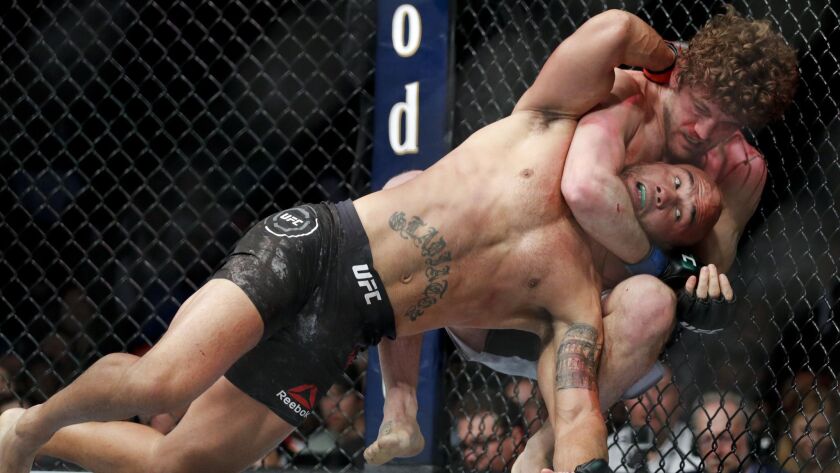 After surviving getting his head slammed to the canvas by former welterweight champion Robbie Lawler, Askren withstood the early barrage and delivered an ending chokehold 3 minutes 20 seconds into the fight, an inspired finish for the two-time NCAA wrestling champion.
"Hey Dana, is that really the best you got? Bring it baby," Askren (19-0) said to UFC President Dana White following the triumph.
Lawler (28-13) might've thought he'd sent Askren to an early exit after the body slam. Lawler followed it with a combination of hard punches to the head as Askren was dazed and looked finished, but referee Herb Dean let the action continue.
"I was pretty discombobulated after that slam. It took me a while to get my wits back," said Askren, who came to the UFC last year after the Japan-based One Championship traded him for former flyweight champion Demetrious Johnson.
Askren capitalized on Dean's decision, holding Lawler and regaining his breath, landing some punches and then pressing Lawler to the cage, where he slipped his right leg behind Lawler's to drop him and apply the bulldog choke.
Dean, thinking Lawler had passed out, waved the fight over, but Lawler immediately arose and argued the stoppage was too quick.
"I'm not the referee, but I heard Herb ask, 'Robbie, are you OK?' and I didn't hear him respond," Askren said.
Bantamweight Pedro Munhoz (18-3) sensationally opened the pay-per-view portion of the card by knocking out former champion Cody Garbrandt with eight seconds remaining in the first round.
"I never got dropped in training. I knew I could take one [punch] to give another back," Munhoz said.
That's what he did in a gripping exchange late in the round, when the heavy striker Garbrandt (11-3) remained in the pocket landing blows to the head before Munhoz unloaded a massive right to the jaw that floored the second-ranked contender. Chopping punches to Garbrandt's right ear triggered the stoppage.
It was a stubborn risk for Garbrandt, whose prior two losses to bantamweight champion T.J. Dillashaw also were also set up by a defining punch.
"That was the game plan," Munhoz said of pursuing the slugfest. "He has a lot of amateur boxing experience, and so do I, and I've been training with some of the best boxers."
Russia's Zabit Magomedsharipov (17-1) won his fifth consecutive UFC fight by standing up to the power punching of featherweight Jeremy Stephens (28-16) and emerging with a unanimous-decision victory by three 29-28 scorecards.
Magomedsharipov landed several scoring kicks in the first round and then took down Stephens just before the midway point of the second, retaining control while landing punches to the head.
Stephens' volume of punches gave him the nod in the third as the combatants engaged in entertaining exchanges in the closing minutes, with Magomedsharipov landing the more telling blows.
"Jeremy is a very tough guy. He has a lot of experience. It's another step," Magomedsharipov said. "I would like to fight anyone to get me closer to the belt."
Another rising challenger, light-heavyweight Johnny Walker (17-3), landed a thunderous flying knee to the chin of Misha Cirkunov (14-5) and added six unanswered punches on the mat to score a technical knockout just 36 seconds into the first round.
While that knee was memorable enough, Walker did a salute sign and fell forward in celebration, but said he dislocated his left shoulder upon landing, turning over in agony before rising and doing his best to laugh off the injury that came after his third consecutive first-round triumph.
In a women's strawweight bout placed on the pay-per-view, China's Weili Zhang (19-1) defeated Tecia Torres (10-4) by unanimous decision.
Former lightweight title challenger Diego Sanchez, 37, displayed the benefits of his fighting wisdom and perseverance to score a second-round technical knockout of welterweight Mickey Gall on the undercard.
Sanchez (29-11), acknowledging the bout was a desperate fight for him, positioned himself atop Gall (5-2) midway through the second and delivered elbows to the head while Gall was backed to the canvas, earning a stoppage 4:13 into the round.
"My back has been against the wall since 2017 … my wife had given up on me, I had to go through a divorce … I've been through a lot of trials and tribulations over these last years," Sanchez said. "I was fighting for everything in there, man — my daughter … my career … myself. I'm still dangerous. I got to show everyone that Diego Sanchez still has that Mexican chin."
The winner of the first "The Ultimate Fighter" in 2005, Sanchez said his interest in the anti-aging world contributed to the showing.
---
Get the latest on L.A.'s teams in the daily Sports Report newsletter.
You may occasionally receive promotional content from the Los Angeles Times.