Anthony Smith 'happy, stronger and faster' ahead of UFC 235 fight with Jon Jones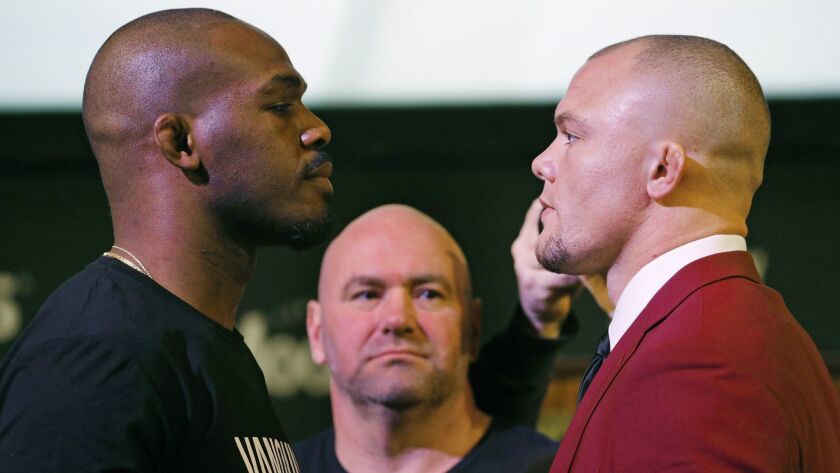 The energy that others have expended judging the missteps of Jon Jones won't be wasted by the UFC light-heavyweight champion's Saturday challenger, Anthony Smith.
Beyond the freed mind, Smith has thrived since avoiding the physical toll of weight cutting, winning all three of his light-heavyweight fights after moving up a weight class to reach Saturday's UFC 235 main event at T-Mobile Arena in Las Vegas.
"With anything in life, you'll do it much better when you're happier," Smith, 30, said. "So showing up and feeling very good at the gym every day for eight weeks, sleeping well, being recovered, eating well, not being calorie deficient and wrecking yourself to make weight … I'm happy, stronger and faster than I've ever been."
Whether that equates to an upset victory against a champion who's never truly lost in the octagon remains to be seen. Smith, giving up a staggering 8 ½ inches in reach, is a 7-to-1 underdog to Jones (23-1) at the Westgate Superbook in Las Vegas.
"Jon's human, and humans have holes and flaws," Smith said. "His, as a fighter, may not be gaping, but they are there. No one up to this point has showed the ability to take advantage of them — for a few different reasons — but he absolutely has tendencies I can take advantage of."
Outside the octagon, Smith has found his life tormented in some of the same ways Jones has. After enjoying a long reign as light-heavyweight champion, Jones' dominance skidded away starting in 2015 when a positive cocaine test and a separate car crash that injured a pregnant woman were followed by performance-enhancing drug suspensions in the next two years.
Jones recaptured the belt Dec. 29 at the Forum by technical knockout over Alexander Gustafsson, but he's been crucified — some would say rightfully so — by Gustafsson, current UFC heavyweight champion Daniel Cormier and fans for his reckless lifestyle and transgressions.
"I'm not going to sit here and put myself up on a pedestal to say I'm better than him," Smith said of Jones. "I feel like I have it figured out now, but 10 years ago, Jon Jones would've been someone I would've loved to hang out with.
"I lived that life, did those things Jon has done … I just changed. That's not saying I'm better than he is. For whatever reason, I pulled myself out of that.
"Unlike him, I wasn't able to be successful as a fighter doing those things he's done. It wrecked my life a couple times. It's part of the reason I have so many losses. I was doing those things while trying to fight as a professional, and I was actually in much deeper holes than Jon."
Smith (31-13), of Omaha, once carried a 5-6 record as a mixed martial arts pro, a period when he skirted death in a 2009 drunk driving crash that shook him.
"There's been some similarities. It wouldn't take you very long to Google how I nearly died. So who would I be to talk about Jon's destruction and his car accident when I've had my own run-ins with drug use and all that?" Smith said.
What truly matters, Smith emphasizes, is now, and how his personal growth has raised him to within one victory of the UFC belt.
Smith reasons his strides have coincided while Jones has plateaued.
"What I'm seeing is that Jon isn't doing a lot of skill building because of all that outside stuff he's had to deal with," Smith said. "I don't see Jon growing in between fights as much as I see Jon doing well with the things he's always done. He's very unpredictable and you never know what he's going to do, but he's not adding a whole ton of new things to his game. He's very much the same fighter he was five years ago."
While Jones was fending off the career-threatening missteps, Smith defeated former champions Rashad Evans and Mauricio "Shogun" Rua, and former title challenger Volkan Oezdemir last year to reach this showdown.
"Everyone wants to pretend Jon Jones is this huge mountain. Listen, beating Jon Jones will not be the most difficult thing I've done. I've been through way bigger problems and way darker places than Jon Jones could ever take me, and the fact that I'm here – after all the pain and sacrifice should say a lot," Smith said.
"Jon Jones is a great athlete, the best who's ever done it — but he's beatable. And I have no doubt in my mind that I have the skills to beat him, and that Sunday, I'll wake up as the new champion."
UFC 235
Main Event: Jon Jones (23-1) vs. Anthony Smith (31-13) for Jones' light-heavyweight belt
When: Saturday, pay-per-view portion begins at 7 p.m.
Where: T-Mobile Arena, Las Vegas
Undercard: Tyron Woodley (19-3-1) vs. Kamaru Usman (14-1) for Woodley's welterweight belt; Ben Askren (18-0) vs. Robbie Lawler (28-12), welterweights; Tecia Torres (10-3) vs. Weili Zhang (18-1), women's straw-weights; Cody Garbrandt (11-2) vs. Pedro Munhoz (17-3), bantamweights
Sign up for our daily sports newsletter »
Twitter: @latimespugmire
---
Get the latest on L.A.'s teams in the daily Sports Report newsletter.
You may occasionally receive promotional content from the Los Angeles Times.