Conor McGregor's flaws will lead to his destruction, Khabib Nurmagomedov predicts
Reporting from Las Vegas —
Disciplined and principled Khabib Nurmagomedov will clash with wild and reckless Conor McGregor on Saturday night in a UFC 229 main event that could become the best-selling fight in organization history.
For all the anticipation to see how lightweight champion Nurmagomedov's strategy to maul McGregor on the canvas will fare against McGregor's knockout power, just as interesting is how their contrasting lifestyles will shape the action.
In April, McGregor was arrested in Brooklyn for throwing a hand truck through the window of a bus carrying Nurmagomedov. At their joint news conference last month in New York, the former two-division champion from Ireland took shots of his new whiskey, then aimed venomous words at the Russian who replaced him as champion.
McGregor used the stage to slam Nurmagomedov's beloved trainer-father, the fighter's patriotism and his loyalty to president Vladimir Putin.
While many other UFC fighters would've responded fiercely, Nurmagomedov (26-0) delivered mostly stoic responses, a chilling portrait of composure while calculating destruction.
"He can say whatever he wants. People don't care when an alcoholic talks. When some guy is drunk and comes to you to talk, you don't care, right?" Nurmagomedov asked Tuesday. "You leave it alone.
"My plan — from my father, my brother, my coach — they all say, 'Hey, you have to be relaxed, don't think about what he's going to say, because if you go back [and forth] with him, this is his game.' Be relaxed and be focused on 6 October. That's what I did.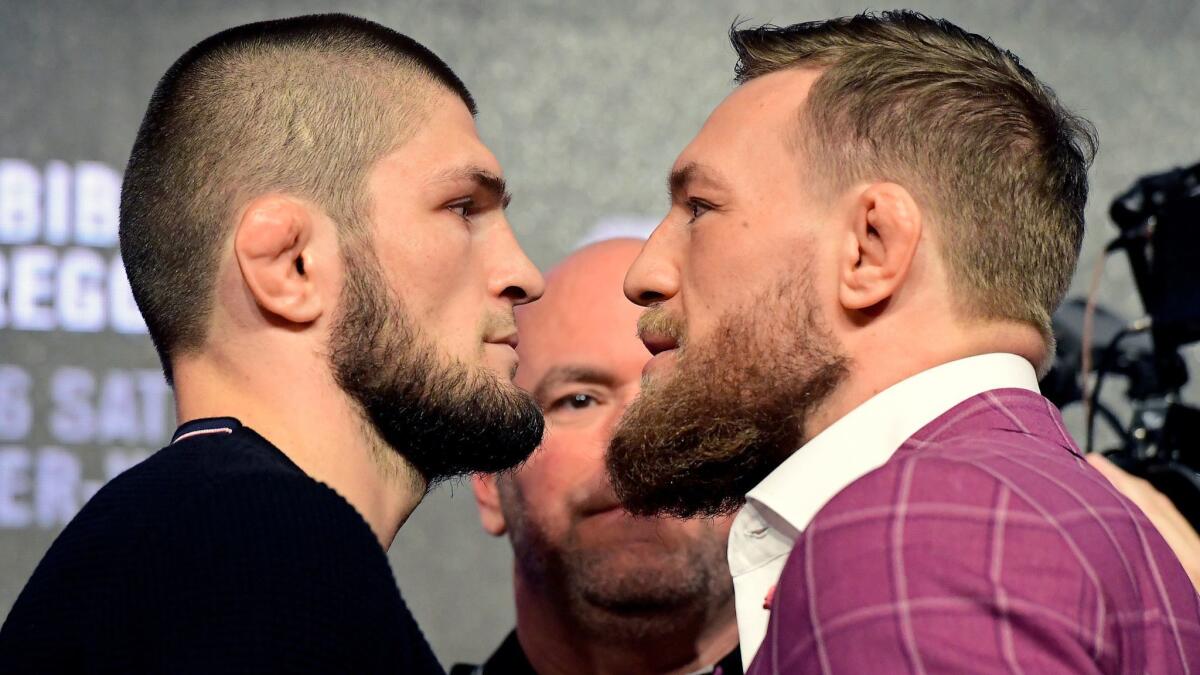 "Even if I was in Russia, I'd follow the plan. If [the guy] talks crazy, stay relaxed, make him nervous. And this is making him nervous. I feel this. It's going to be interesting next press conference [on Thursday] too, but nothing [will] change. I have a couple things about him I'll let people know and that's it."
McGregor (21-3) hasn't fought in the UFC since November 2016, when he knocked out Eddie Alvarez to become the first simultaneous two-belt champion in UFC history. He then lost a boxing match against Floyd Mayweather Jr. in August 2017, collecting a $100-million purse before appearing to careen off the rails in a bar fight, by jumping in a Bellator cage to push a referee, and by attacking the bus.
Nurmagomedov, meanwhile, follows a deeply committed religious life as a Muslim, attending his mosque daily, eschewing vices like alcohol while training diligently.
Does that lifestyle divide decide the fight's outcome?
Former middleweight champion Michael Bisping popped open a cold beer after winning his belt two years ago at the Forum, and Georges St-Pierre accused Bisping of having beer on his breath at a news conference to promote their fight.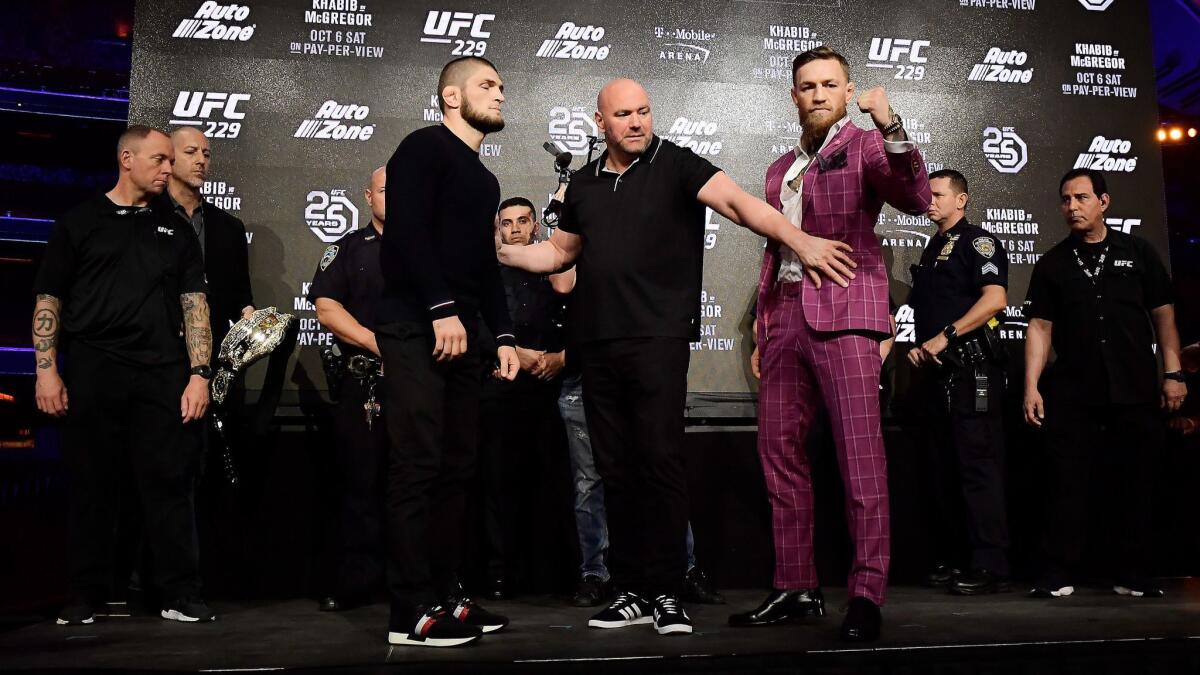 "I've gone off and had a few here and there and some glasses of wine, but I'm certainly not an alcoholic or drug addict, and I don't think Conor is, either," Bisping said. "Wherever you come from in this game, it's just another fight. That's just who you are, and it's just another day at the office.
"Yes, living a clean life, not drinking or partying, going to bed early and eating a healthy diet and training every day, that on paper has got to be beneficial. But not always. There can be a special human being who can burn the candle at both ends, who can be a maniac, drink and party and still show up at the gym and knock guys out. And I think Conor is one of those guys. I'm not saying he's the second coming of Christ or that he's going to beat Khabib, but I don't see it as an issue."
Nurmagomedov does.
"I cannot be nice when the cage closes … I have a plan, don't rush, relax and do what I do all my life: maul him. I'm going to make him very tired, and then I'm going to talk to him," Nurmagomedov said.
"He's sent messages to people who know me, 'Hey, I'll pay you money … $10,000 … please send me some crazy pictures of Khabib.' He's preparing that for press conference. … But I don't have these pictures … he's the one who has crazy pictures. I never go to party. I'm not like him. I'm living a different life. I follow different rules, like religion.
"Saturday night, what's he going to do?"
Twitter: @latimespugmire
Get our high school sports newsletter
Prep Rally is devoted to the SoCal high school sports experience, bringing you scores, stories and a behind-the-scenes look at what makes prep sports so popular.
You may occasionally receive promotional content from the Los Angeles Times.