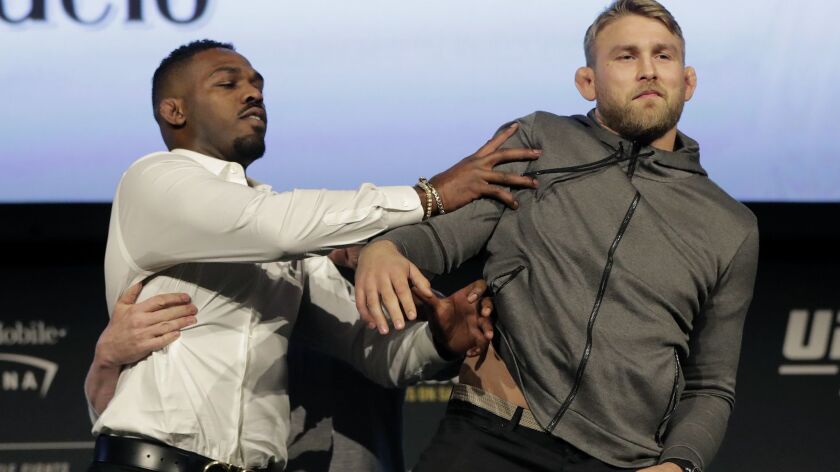 While Jon Jones was ordered Saturday to leave his camp in Albuquerque for an emergency steroid test that he was required to pass to gain permission to fight in California, Alexander Gustafsson was busy concluding the exhaustive training he's devoted to this fight of his life.
"I don't put an effort into what Jones is doing or not doing. I'm not sitting at home and thinking if he's doing [performance-enhancing drugs] or not, and it's not my job to prevent it. I'm just looking at the fight," said Gustafsson, who faces Jones for the UFC light-heavyweight title Saturday.
"My job is to go out there and do my talking in the cage, and to beat the crap out of him."
In the five years since he lost to Jones in a bout labeled by many the best in UFC light-heavyweight history, Gustafsson has maintained that diligent routine.
"I'm better at everything I did back then," Gustafsson (18-4) said of his progress since that 2013 battle for Jones' belt.
"This is not going to last forever. It's a short period of your lifetime. So why not enjoy it? It's fun to me, making sure I'm totally exhausted at the end of every workout."
Jones (22-1), meanwhile, has ridden a roller coaster since that fight that has included a positive drug test, crashing his car into one driven by a pregnant woman and fleeing the scene, stints in rehab and three positive tests for performance-enhancing substances.
That third positive forced last weekend's decision to move UFC 232 from Las Vegas to the Forum after the Nevada State Athletic Commission said it would need more time to call experts and scrutinize the sample collected by the U.S. Anti-Doping Agency and processed through a World Anti-Doping Assn. lab in Salt Lake City.
Experts from the antidoping agencies have explained that the metabolite found in Jones' sample has a long lifespan that likely dates to his ingestion of it in 2017. That positive test resulted in a 15-month suspension and a $200,000 fine, while Jones' victory over Daniel Cormier was changed to a no-contest.
Earlier this year, a USADA arbitration panel ruled Jones accidentally ingested the substance and the California State Athletic Commission reinstated him to fight, renewing his license this month. Jones also passed the emergency drug test last weekend.
But the stains on such a gifted fighter have served as rich material for Cormier, who won the light-heavyweight belt in Jones' absence and has verbally battered his rival over the transgressions, tagging Jones a "junkie" and calling those involved in clearing him to fight Saturday a "joke."
Since Cormier plans to defend the heavyweight belt he also won in March and then retire, the UFC had him vacate the light-heavyweight belt and gave Jones a shot to win it back.
From afar, Gustafsson observed Jones' spiral, but has stayed quiet while focusing on his training.
"I'm not one to trash talk my opponents," Gustaffson said. "If the talk is on, then let's go, I'll say the truth — nothing more or less. But it doesn't affect me in my competition."
While Jones' actions have drawn rebukes from inside the UFC, Gustafsson has taken a different tack. Dwelling on negativity is a waste of energy, he says.
When asked if he joins Cormier in believing Jones was a dirty fighter before the UFC employed USADA testing in 2015, including in that 2013 fight, Gustafsson said, "Yeah, of course I do.
"I don't care, though. It is what it is. That's in the past and it doesn't change anything. We have a new fight coming up and it's all about that fight. Nothing else. I'm going to prepare for the best Jon out there — dirty or not, I don't care. I'll be sure I win this fight.
"Jon's era is over."
UFC 232
Main Event: Jon Jones (22-1) vs. Alexander Gustafsson (18-4) for the UFC light-heavyweight belt
Where: The Forum
When: Saturday, pay-per-view portion begins at 7 p.m., preliminaries on FS1 at 5 p.m.
Tickets: On sale Wednesday
Undercard: Women's featherweight champion Cris Cyborg (20-1) vs. women's bantamweight champion Amanda Nunes (16-4) for Cyborg's featherweight belt; Michael Chiesa (14-4) vs. Carlos Condit (30-12), welterweights; Ilir Latifi (14-5) vs. Corey Anderson (11-4), light-heavyweights; Chad Mendes (18-4) vs. Alexander Volkanovski (18-1), featherweights
Twitter: @latimespugmire
---