Khabib Nurmagomedov could face suspension and have belt stripped following post-fight antics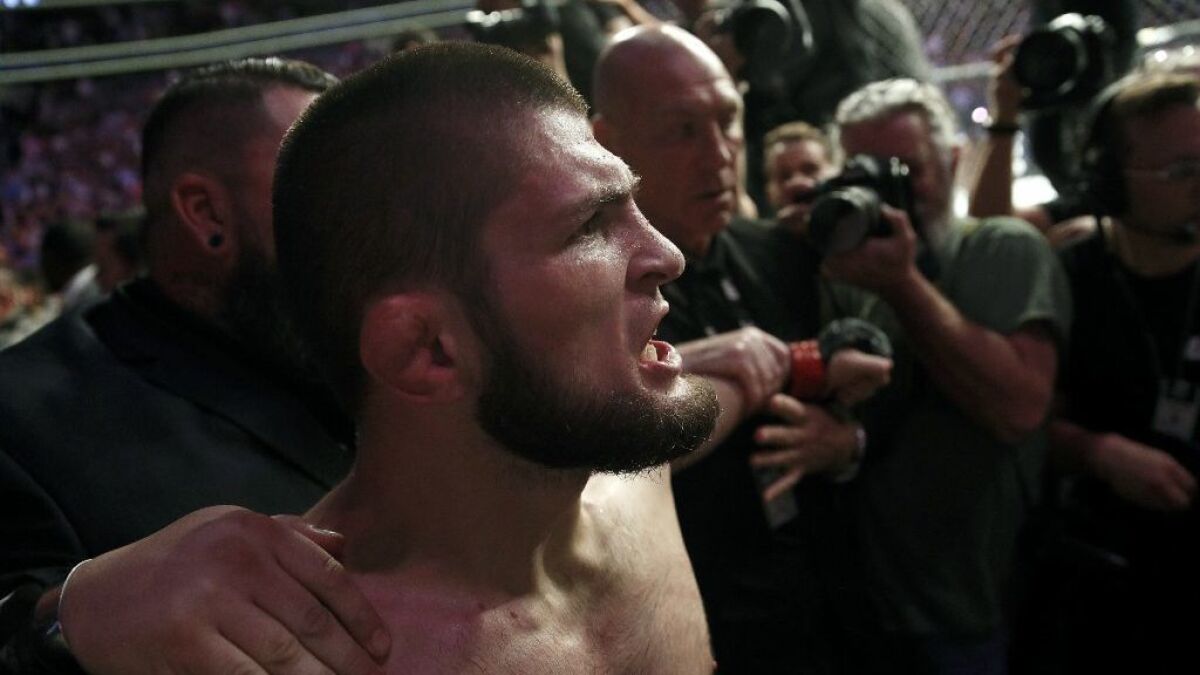 Khabib Nurmagomedov took only seconds to savor the fulfillment of his years-long ambition to defeat Conor McGregor and cement his status as the undisputed UFC lightweight champion.
He then turned back to the anger that fueled his preparation for the fight and made his resounding victory a footnote by leaping out of the octagon and attacking a member of McGregor's team.
The head of the Nevada Athletic Commission, Bob Bennett, told the Los Angeles Times he's launching a "comprehensive investigation" of the incident, and UFC President Dana White said late Saturday it would not be surprising if Nurmagomedov receives a lengthy suspension and has his belt stripped.
"The governor [Brian Sandoval] was here. When the governor's in the room and goes running out … the governor oversees the commission, so I'm sure it's going to be ugly," White said.
"Some people love that ... but for me, it's a bad night."
Sign up for the Fight Corner, our boxing and MMA newsletter »
White said any other UFC fighters involved in the incident would not fight in the organization again. However, that would deprive him of an Oct. 27 fight between Nurmagomedov's teammate Zubaira Tukhugov and Artem Lobov, one of McGregor's best friends. Tukhugov was a participant in Saturday night's fracas. In April, McGregor came to Lobov's defense when his colleague was confronted by Nurmagomedov in Brooklyn.
Nurmagomedov (27-0), after defeating McGregor by fourth-round, rear-naked chokehold in a dominant exhibition of his wrestling skill, was hardly contrite in a brief news-conference appearance.
He apologized to "Nevada, the police and Las Vegas," but then criticized McGregor's antics and harsh words that helped make UFC 229 the richest pay-per-view in organization history, pointing to those as the root of Saturday's melee.
"This is not my best side … my father is going to smash me when I get home," Nurmagomedov said. "But [McGregor] talked about my religion, my country, my father. He came to Brooklyn and went after my bus … this is a respect sport, not trash talking. You cannot talk about religion, you cannot talk about nation."
But for all the things Nurmagomedov said McGregor shouldn't have done, no fighter can jump out of the octagon to attack someone without harsh repercussions. The episode worsened when an unidentified associate of Nurmagomedov jumped into the cage and struck McGregor with two sucker punches to the back of the head. Three associates of Nurmagomedov were handcuffed by police inside T-Mobile Arena, White said, but when McGregor declined to file charges, they were released.
McGregor didn't appear at the news conference. "Conor was more concerned about the fight [he lost]," White said. "He was like, 'We don't like each other, whatever.' He doesn't care about charges. He cares about the fight."
The commission's first move was to hold Nurmagomedov's guaranteed $2-million purse check indefinitely, and it's unclear if law enforcement will pursue charges.
"We have to see what happens … can these guys get visas and get back in the country? And I mean Khabib," White said. "The biggest night of the year, and I'm disgusted."
White said Nurmagomedov should've "pulled [McGregor] up from the ground and said, 'Hey, good fight,' and got his belt. Even if you were the biggest Conor fan ever, you would at least have to respect him.
"What Khabib did to himself tonight, he was set up … all the mean things that were said about him … he won the fight. He looked great doing it. He had the opportunity to walk out of that place a champion. He would have looked like a stud, instead of flying over the cage and doing the things that he did. It should have been a very different night for him."
Nurmagomedov went after a jiujitsu training member in McGregor's camp, Dillon Danis, a Bellator MMA fighter who mouthed something after the fight ended that sent the champion into a rage. After the fracas, two-division UFC champion Daniel Cormier helped calm his friend and San Jose stablemate.
Nurmagomedov re-entered the octagon and confronted White for not strapping on his belt. White said he was concerned if he did, the pro-McGregor crowd would've showered the octagon and fans below with debris.
White sought adequate security for the event ever since McGregor launched the first attack back in April, on a bus carrying Nurmagomedov to a UFC event in Brooklyn, he was arrested and spent a night in jail.
"We had so many police here, I don't even know if the city was safe tonight," White cracked. "We had two [security] meetings tonight, one of them two fights before the main event. But what are you going to do when a guy flies like a monkey over a cage?"
White and some UFC fighters who spoke before him were concerned that casual fans who purchased the pay-per-view may conclude this kind of behavior comes with cage fighting.
"This isn't the last time guys are going to say mean things to each other. They've been saying mean things for 18 years in the UFC. This is the first time this happened," White said.
Twitter: @latimespugmire
---
Get our high school sports newsletter
Prep Rally is devoted to the SoCal high school sports experience, bringing you scores, stories and a behind-the-scenes look at what makes prep sports so popular.
You may occasionally receive promotional content from the Los Angeles Times.