Chargers' top pick Mike Williams is finally working his way into the game plan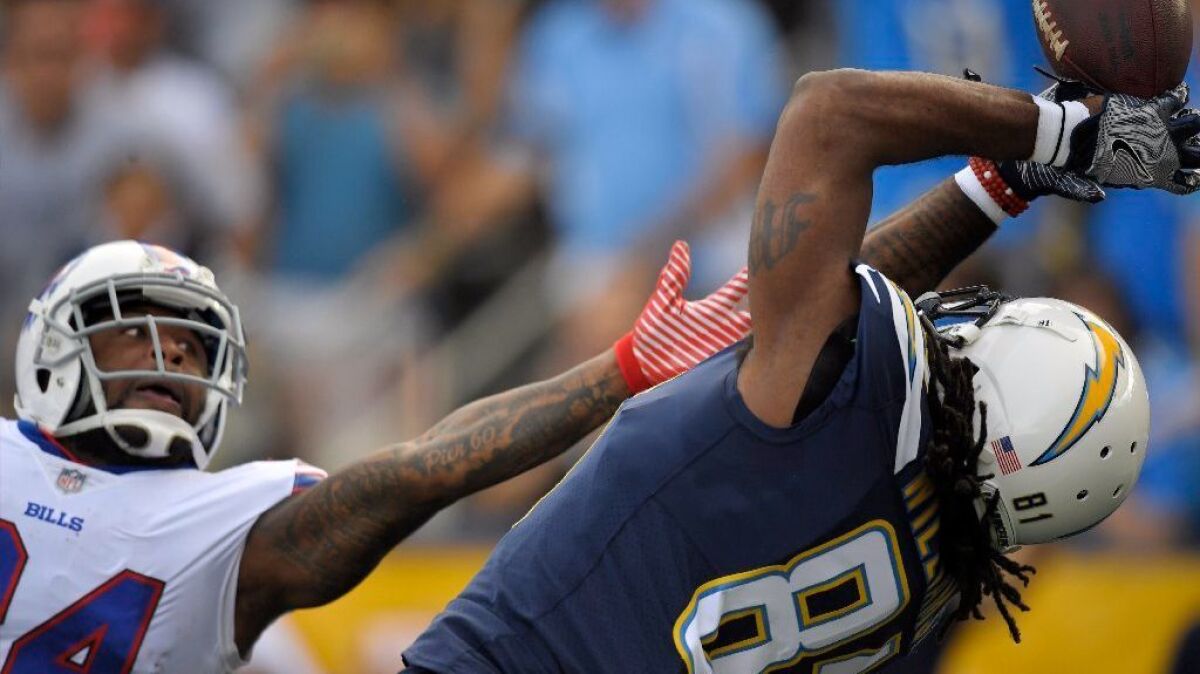 It has been nearly seven months since the Chargers took receiver Mike Williams with the No. 7 overall pick in the draft, and they're finally beginning to see results.
Williams played a season-high 41 snaps Sunday in the Chargers' 54-24 victory over the Buffalo Bills, catching five passes on eight targets in what was his biggest involvement in a game to date.
"Yeah, it felt like a normal game to me. Just to get a chance to get balls thrown to me and get some targets, I just felt like I was back in college again," he said. "In college I got a lot of balls thrown my way, so I feel like I got a lot of targets in that game, and a lot of opportunities to make plays."
Williams didn't come down with the one big play with which he was tasked, a potential touchdown pass from Philip Rivers in the first half that bounced out of his hands with a defender all over him.
While it would've been a tough play to make for his first career touchdown, it was one Williams said he should've made.
"I've made that catch 90 out of 91 times," Williams said. "That was on me. I should have come down with that one."
Williams has been slowly pushed into the Chargers' fold since sitting out nearly all of the offseason and the entire preseason because of a lower-back injury. He made his debut in the Chargers' victory over Oakland in Week 6.
"I think he's shown why he's the seventh pick in the draft," coach Anthony Lynn said. "He did some physical things really well. He's getting better and better every single week. If he continues to do that, he will get more targets."
Williams' confidence appears to be on the rise along with his snap counts, a sign of the team's belief in him.
"Each week you can tell he's getting more confident, he's getting better at his routes, getting more confident going up for the ball," cornerback Casey Hayward said. "Hopefully this week he can continue to get better. … He was targeted some more, so hopefully that seventh pick can really show what he can do when he's really healthy."
Rest and recover
The Chargers typical game-week routine has been altered with the team playing Dallas on Thanksgiving, forcing Lynn and the Chargers to put physical recovery ahead of practice time.
"That's the most important part of this week, the recovery part," he said. "We have to do everything we can to help these men recover and get back on their feet so they can play with the energy and passion they need to play with."
The team will do a more intense film study and won't hold a full-speed workout before they face the Cowboys. Lynn said the coaching staff didn't even evaluate the Chargers' performance Sunday because of the time crunch.
"You have to make sure you don't do too much on a short week like this," Lynn said. "The plays that go on better be the ones that count because you better make sure you have enough bullets when you go out and play on Thursday night. That's the most challenging part, it's doing too much."
No bad blood
During the first quarter of the Chargers' win, Lynn and Rivers were caught on camera in the midst of a heated exchange. Monday, Lynn downplayed the confrontation.
"Philip plays with a lot of fire, plays with a lot of emotions. I like that," Lynn said. "I think those emotions are what make him the player that he is today. Sometimes we have different opinions on things. We talk it out. We yell it out. Whatever it takes. But at the end of the day, we're on the same page."
Etc.
Rookie running back Austin Ekeler, who scored his fifth touchdown Sunday, said he's embracing his role as the team's third-down running back, though it's a challenge. "I'm used to being in the whole game in college, and now I'm not getting to play in the whole games. I'm not getting in the rhythm as I might have in college, so now I just have to be ready all the time," Ekeler said. "I don't know when I'm going in, but when I go in, I've got to be ready, understand what they're trying to do in situations, with blitzes and things of that nature. So it's more of getting a feel of the game from the sideline would be the biggest transition." … Lynn said he was hopeful defensive end Chris McCain would be able to play Thursday after sitting out Sunday because of a hamstring injury. … The Chargers will hold their only formal practice of the week on Tuesday.
Follow Dan Woike on Twitter @DanWoikeSports
---
Get the latest on L.A.'s teams in the daily Sports Report newsletter.
You may occasionally receive promotional content from the Los Angeles Times.