Running back Austin Ekeler impresses in Chargers' final preseason game against 49ers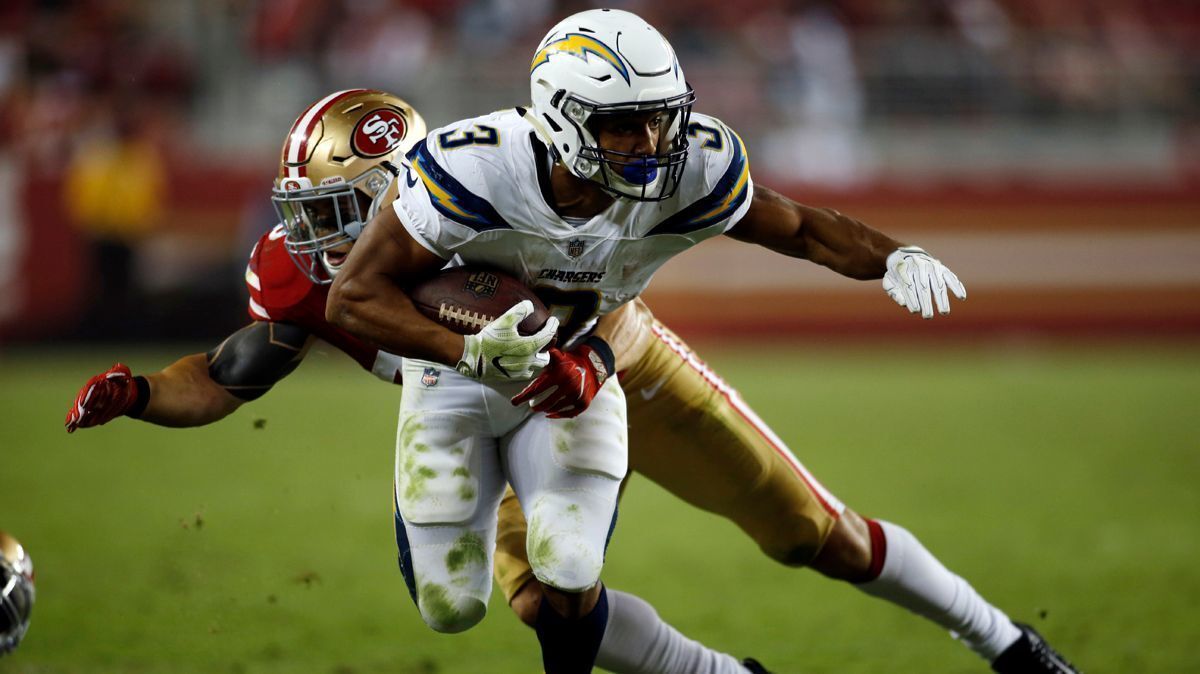 Reporting from SANTA CLARA —
The empty seats didn't matter to the chosen — the two dozen or so players who sat out because their jobs are secure. Win or lose, good or bad, they'll be on the field when the Chargers open the season Sept. 11 in Denver.
But the ones in the helmets and the pads, the ones taking handoffs, throwing passes, chasing down returners and crashing into tackles, Thursday night in San Francisco might've just been one of the most important games of their lives.
There were young players like Cardale Jones, Austin Ekeler, Sean Culkin, Sam Tevi, Michael Davis and Rayshawn Jenkins trying to secure spots on the final 53-man roster. There were veterans such as Dwight Lowery and Craig Mager trying to hang on.
The numbers on the scoreboard — 23-13 in San Francisco's favor — don't matter to them as much as the 90-to-53 cuts coming Saturday afternoon.
Chargers coach Anthony Lynn dispelled the notion that the staff had made up its minds about the roster, something he reiterated in a pregame radio interview on the team's broadcast.
"I know there are one or two guys that are going to change our minds tonight," Lynn said.
And that number might even be low.
The Chargers' struggles with their top units off the field have been a thread that's run through losses to Seattle and New Orleans and a win against the Rams. The players with secure futures have made big plays — Philip Rivers has thrown just a single incompletion — while the players on the roster bubble have struggled to separate themselves from their competition.
Lynn hoped Thursday would provide answers, and at some spots it did.
Ekeler, an undrafted running back out of the laughably generic Western State, and Kenjon Barner could be in a fight for a spot in the backfield behind Melvin Gordon and Branden Oliver. Ekeler made a key special teams tackle, burst through the line on consecutive first-down runs and found himself open in the passing game. Barner fumbled deep in Chargers territory on the game's second possession.
Ekeler showed speed and agility as a runner and a receiver, racking up 108 total yards in the showiest performance of the game.
"The way he played didn't surprise me at all," Lynn said.
Jones, who is trying to convince the Chargers to keep a third quarterback, rifled a pass off tight end Culkin's hands for an interception on the team's opening drive. Jones also fumbled in the second quarter when he failed to feel the pressure from behind.
But in between the mistakes, Jones probably flashed enough to keep him on board as a project. He fired fastballs to Geremy Davis and Jamaal Jones. He hit undrafted free agent Mitchell Paige with a great pass and he found tight end Matt Weiser open in the middle of the field for a pair of long gains.
He finished completing 18 of 24 attempts for 158 yards while running for 26 more.
Defensive lineman like Damion Square and Darius Philon continued strong preseasons, helping hold the 49ers to eight total yards of offense in the first quarter.
But with the fringes of the main roster on the field after that, the cracks started to surface. Lowery, who is in a fight with Tre Boston for the starting free safety spot, got badly beaten, taken off his feet with a juke move from San Francisco third-string quarterback C.J. Beathard on his way to a 62-yard scoring run.
"At some point your reserves are going to have to play," Lynn said. "…We just have to find the right ones."
The Chargers' punt coverage team, filled with guys trying to make the team like safety Dexter McCoil, gave up a 93-yard punt return when Victor Bolden went down the field untouched.
There were mistakes — lots of them. And there were successes, even in defeat.
Some will make careers; others will end them. And with that on the line, a meaningless preseason game felt a lot less meaningless.
Etc.
Fifth-round pick Desmond King capped his strong preseason with a sack, a blind-side hit on Beathard, his collegiate teammate at Iowa. … Davis started at cornerback opposite Trevor Williams while Mager, a former third-round pick, was relegated to special teams and back-up duty. Mager did record a sack in the second half. … Jenkins, the Chargers' third-round pick, nearly blocked a field goal in the second half. … Ryan Carrethers and Whitney Richardson both forced fumbles in the second half. … Linebacker Kyle Coleman recovered a fumble and returned an interception for a touchdown. … Mike Bercovici had two passes intercepted, including one in the end zone. … Linebacker James Onwualu didn't suit upfor the game. ... Donovan Clark (knee) and Joshua Perry (head) were among the Chargers to suffer injuries in the finale.
Twitter: @DanWoikeSports
Get the latest on L.A.'s teams in the daily Sports Report newsletter.
You may occasionally receive promotional content from the Los Angeles Times.