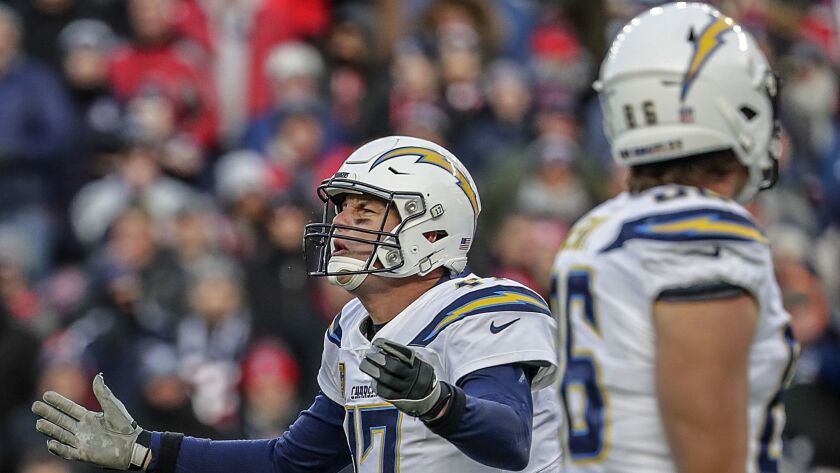 On the morning after, the team that built its reputation on winning away from home was left to lament having to play so many games on the road.
The Chargers went 9-0 outside of Southern California before Sunday, when they traveled to New England and went splat.
They trailed the Patriots 35-7 at halftime and 38-7 in the third quarter and eventually saw their once-promising season crash in a 41-28 divisional-round disappointment.
"I think what it goes to show is it's a big deal to win the division and to play at home, to be the No. 1 seed," quarterback Philip Rivers said Monday. "It was a long way and a hard road to get there.
"When you're in the midst of it, you talk about what a good road team we were … that will continue to be a mantra for our team. But it's not easy. You win nine in a row when you get on an airplane, how long is that streak gonna go? We certainly believed it was gonna last three more this year, but we came up short."
The Chargers finished the regular season at 12-4 and tied with Kansas City for the top record in the AFC.
But the Chiefs had the tiebreaker based on a better record in the West, a Chargers loss at home to Denver in Week 11 proving to be the difference.
The four teams that remain alive for Super Bowl LIII each had an opening-round bye and advanced with a victory at home. Nine of the past 10 Super Bowl participants were No. 1 seeds.
"Yeah, we traveled a lot, but there are no excuses," coach Anthony Lynn said. "That's part of it. If you win home-field advantage, you don't have to travel. That's why that's so important. … You have to get that done when you have the opportunity."
Sign up for our daily sports newsletter »
The Chargers began the year by losing two of their first three games. Then they won six in a row and 10 of 11 to emerge as one of the NFL's leading Super Bowl contenders.
They opened the playoffs by dominating for long stretches in a 23-17 victory at Baltimore, convincingly avenging a home loss from just two weeks earlier.
All the positivity that had developed during their run to the divisional round crumbled Sunday when they were overwhelmed by the more postseason-experienced Patriots.
Despite the lopsided nature of how they were eliminated, the Chargers remain certain that they're heading in the right direction.
"I don't think we are that far off," Rivers said.
As he held his thumb and forefinger about an inch apart, he added: "It's this much every year. That could have gone our way yesterday if we were hot offensively and got a couple of stops, but we didn't."
Rivers, 37, just finished his 15th NFL season and 13th as a starter. Lynn said he believes the veteran quarterback "can play for a couple more years — maybe even more."
No matter how much football Rivers has left, time is definitely ticking away for the organization to win with him at quarterback.
"The bar has been set," wide receiver Keenan Allen said. "This is what we want it to look like. This is how it's going to be. We're going to be winners."
For now, the Chargers will be retoolers, their roster about to undergo the usual offseason reconstruction designed to continue the franchise's recent upward trend.
"Two year ago, four wins," safety Jahleel Addae said. "Last year, missing the playoffs by one game. Now, two wins short of the Super Bowl. We are climbing the ladder, and that's what we are going to build off of."
Safety injured
Lynn said safety Adrian Phillips "tore something in his upper (left) arm" against the Patriots, adding that it wasn't his biceps muscle.
Phillips was injured in the first quarter and left the game briefly. He returned with his arm heavily wrapped and was able to play 60 of 83 defensive snaps, finishing with six tackles.
"He gutted it out," Lynn said. "He stayed in and finished the ballgame. You could tell he was hurting, and he was in pain. But he didn't want to let anyone down. He's a special guy."
Phillips was named an All-Pro special teams player in his fifth NFL season. He will be an unrestricted free agent.
Learning experience
As bitter as the loss was Sunday, Lynn said the important thing now is trying to take advantage of the experience.
"If you put yourself in that position and you don't succeed, you better learn something," he explained. "You better get something out of it. That's what we want to do. We'll figure out exactly what they did to us… I don't think you can just go play a game like that and be the same."
Etc.
Lynn and his staff will coach the AFC in the Pro Bowl in Orlando on Jan. 27. The Chargers had seven players named to the team. … Lynn praised his assistants and said he hoped to retain them all. "But when you have some success like that, people will come look at your staff and try to take some of your guys. Some guys, they deserve it," he said. …The Chargers signed eight players Monday, including No. 3 quarterback Cardale Jones and Ty Long, a top punter from the Canadian Football League.
Twitter: @JeffMillerLAT
---