Antonio Gates gives Chargers blast from the past in win over Jets
Reporting from east rutherford, n.j. —
The torch seemed to be passed this season from an aging and supposedly washed-up Chargers tight end to a shiny, sleek new model; from a future Hall of Famer on his last legs to a rising star with fresh legs.
Antonio Gates, the 37-year-old power-forward-turned-pass-catcher in his 15th NFL season, did his best to block out the speculation that second-year pro Hunter Henry was pushing him toward retirement. That proved tougher than boxing out all those big men while he played college basketball at Kent State.
"I know the situation when you have a guy as talented as Hunter and a guy like myself, who's been around," Gates said. "The business side of it allows you to see the transition — how much I'm playing, how much he's playing — and sometimes it can tear a guy down; you can lose your confidence.
"But I've always wanted to be a part of something special. It would have been easy for me to sit here and get upset all year, but I want to win a Super Bowl, and I'm willing to make the sacrifices for that."
The Chargers are longshots to reach the Super Bowl, but their playoff hopes continue to flicker, in part because of the fire that still burns in Gates.
Assuming a more prominent role after a season-ending injury to Henry, Gates caught a season-high six passes for 81 yards and a touchdown on Sunday to help the Chargers to a season-saving 14-7 victory over the New York Jets in MetLife Stadium.
"You knew he would be ready to go — he has been all year," said quarterback Philip Rivers, who completed 22 of 40 passes for 290 yards. "Really, it needs to be commended the way he's handled the whole thing all year.
"He's been the guy for 14 seasons, and then to really take a little backseat to Hunter and play a limited role, but still stay ready and be the pro he's been, he should be commended for it."
Gates averaged 67 catches, 831 yards and eight touchdowns a season for 13 years (2004 to 2016), but he entered Sunday with 20 catches for 189 yards and two scores. He averaged 20 snaps per game over the previous five weeks while Henry, who has 45 catches for 579 yards and four touchdowns, got more playing time.
But Henry, the former Arkansas star, suffered a minor laceration of his kidney at Kansas City on Dec. 16 and was placed on injured reserve. The 6-foot-4, 255-pound Gates eased Henry's loss by reconnecting with his old-school teammate, the 36-year-old Rivers.
Early in the second quarter, on a second-and-14 from the Jets' 40-yard line, Gates made a nice sliding catch of a 27-yard pass on a long out-pattern for a first down.
"I could tell by the velocity of the ball that it would be a little short, so I slid on purpose because the angle is a lot better," Gates said. "You're talking about two guys who are not strangers to these kinds of connections."
Their next connection was classic Rivers-to-Gates. From the three-yard line, Rivers tossed a jump ball into the end zone, where Gates, with 6-foot-1 Jets safety Jamal Adams climbing up his back, made a leaping catch for a 7-0 lead.
"I'm used to being in a position where those guys are 6-9," Gates said, "so it gives me a kind of an edge at that point."
It was Gates' 114th career receiving touchdown, an NFL record for tight ends, and it marked the 87th time Rivers and Gates connected for a score, a record for a quarterback/tight end duo. Next on the list is New England's Tom Brady and Rob Gronkowski, who have combined for 75 touchdowns.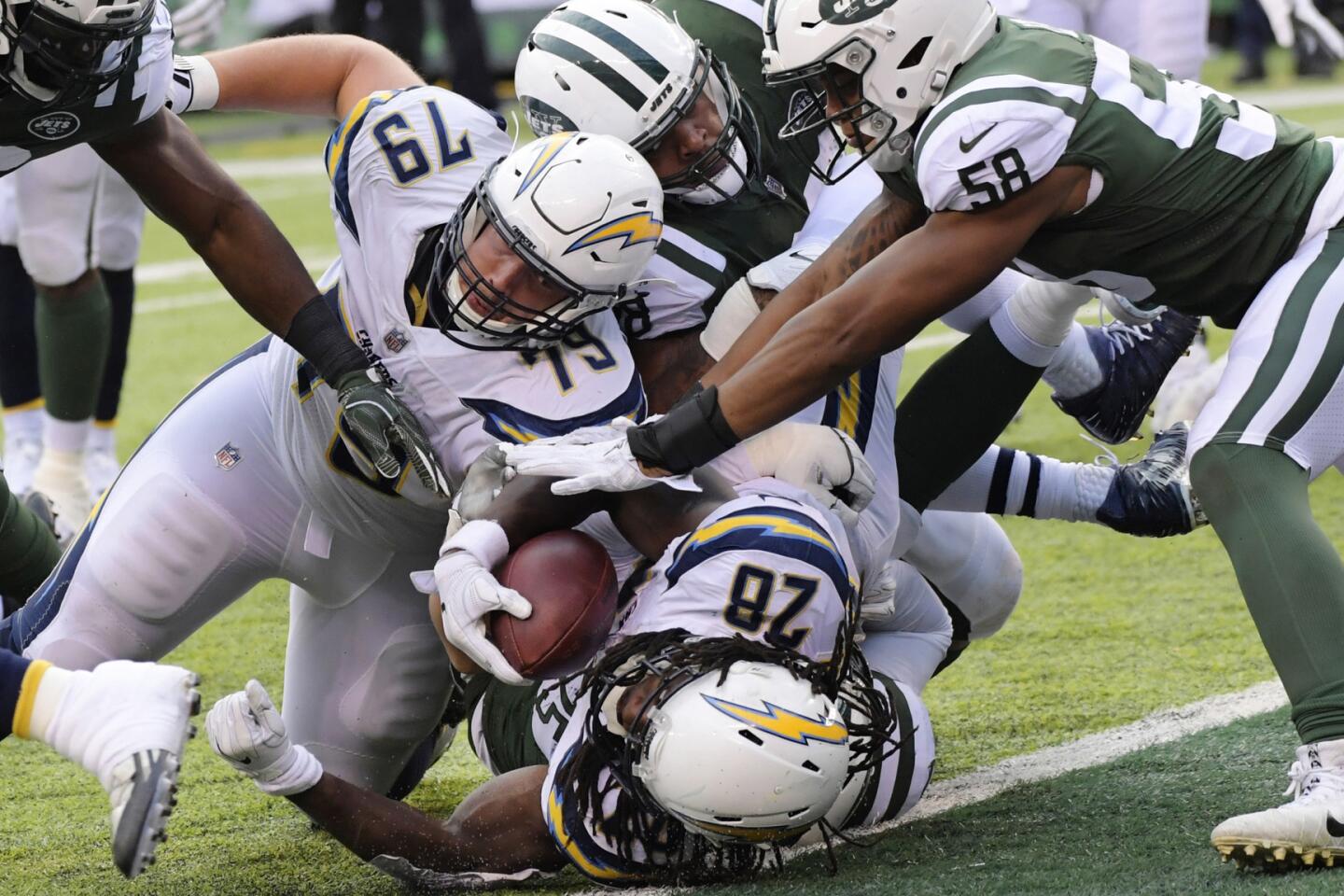 Los Angeles Chargers' Melvin Gordon rushes for a touchdown as Jets linebacker Darron Lee closes in during the second half.
(Bill Kostroun / AP)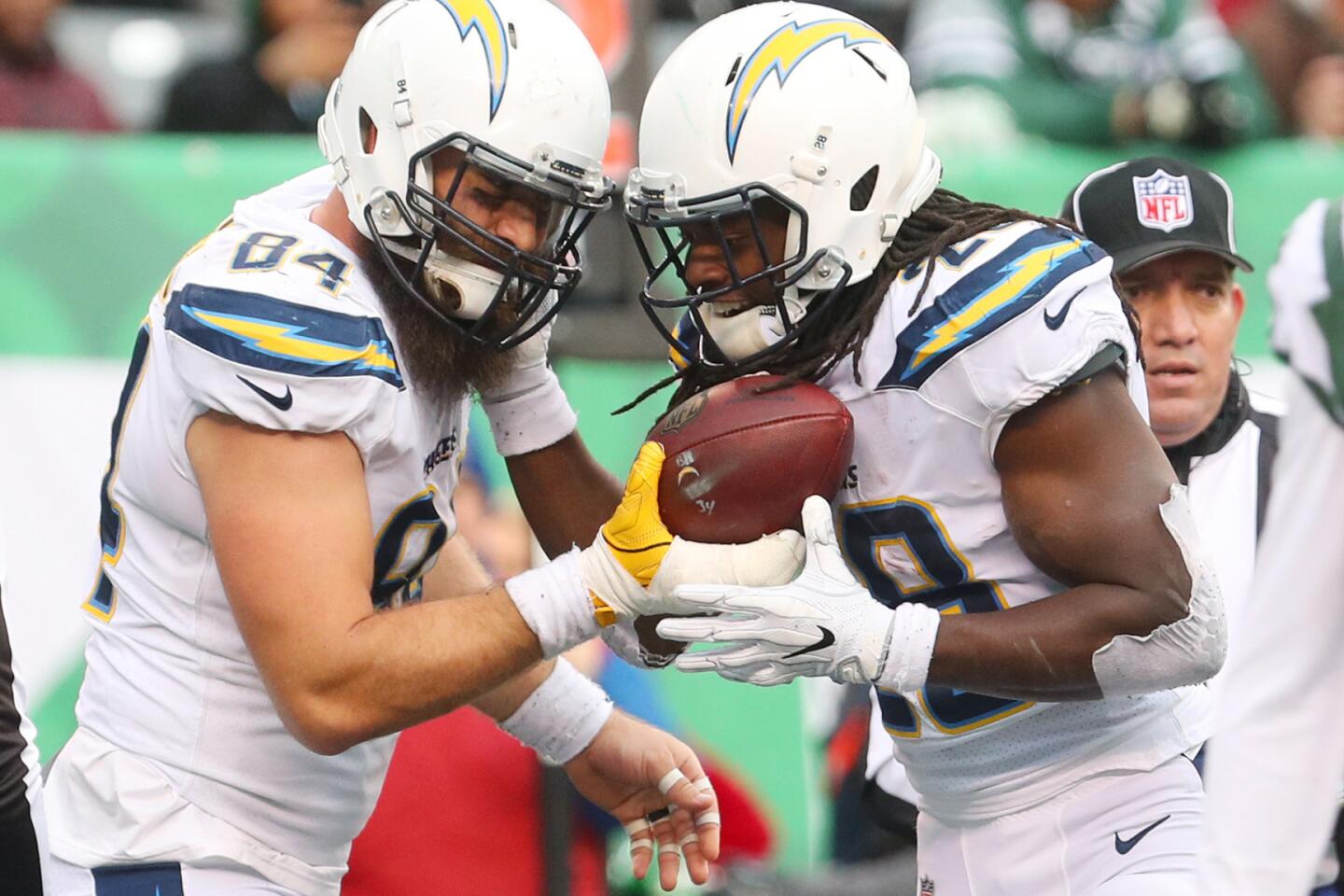 Chargers Melvin Gordon (right) is congratulated by his teammate Sean McGrath after scoring a touchdown against the New York Jets during the second half.
(Ed Mulholland / Getty Images)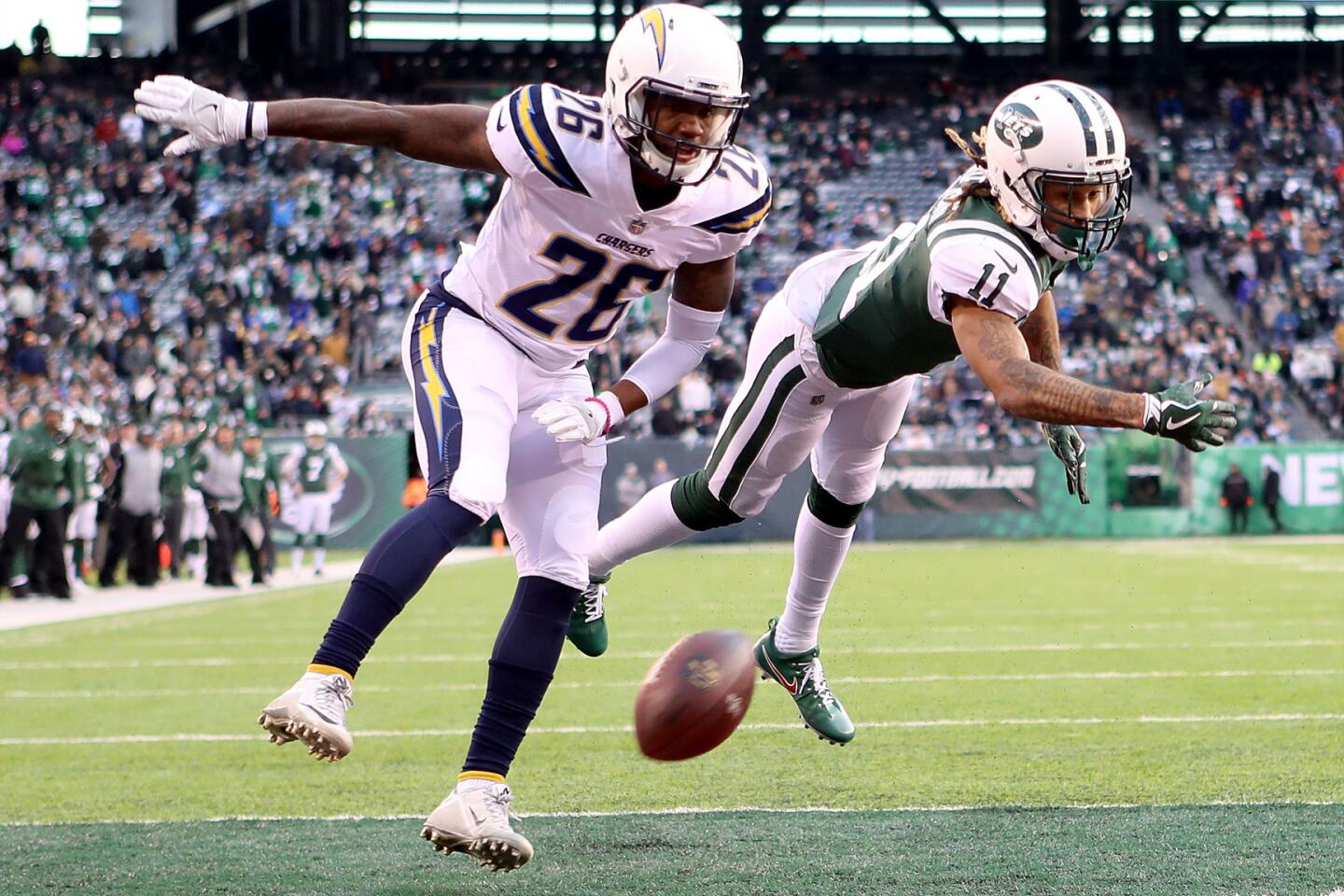 Jets Robby Anderson reaches for a catch against Chargers Casey Hayward in the fourth quarter.
(Abbie Parr / Getty Images)
Jets quarterback Bryce Petty tosses the ball away from Chargers' Adrian Phillips during the second half.
(Seth Wenig / AP)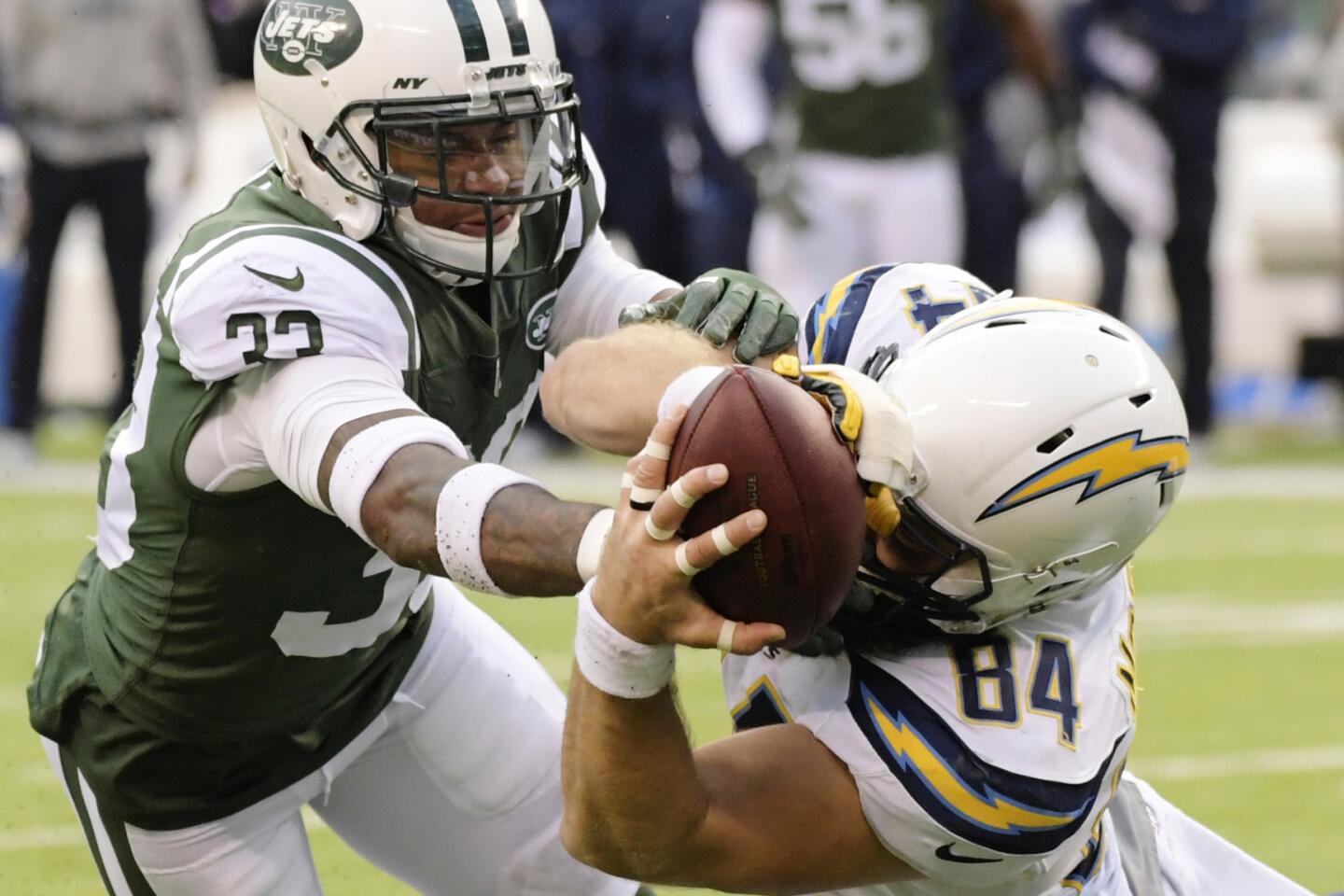 New York Jets' Jamal Adams and Chargers' Sean McGrath fight for control of the ball during the second half.
(Bill Kostroun / AP)
Los Angeles Chargers running back Melvin Gordon breaks a tackle by New York Jets' Marcus Maye during the second half.
(Seth Wenig / AP)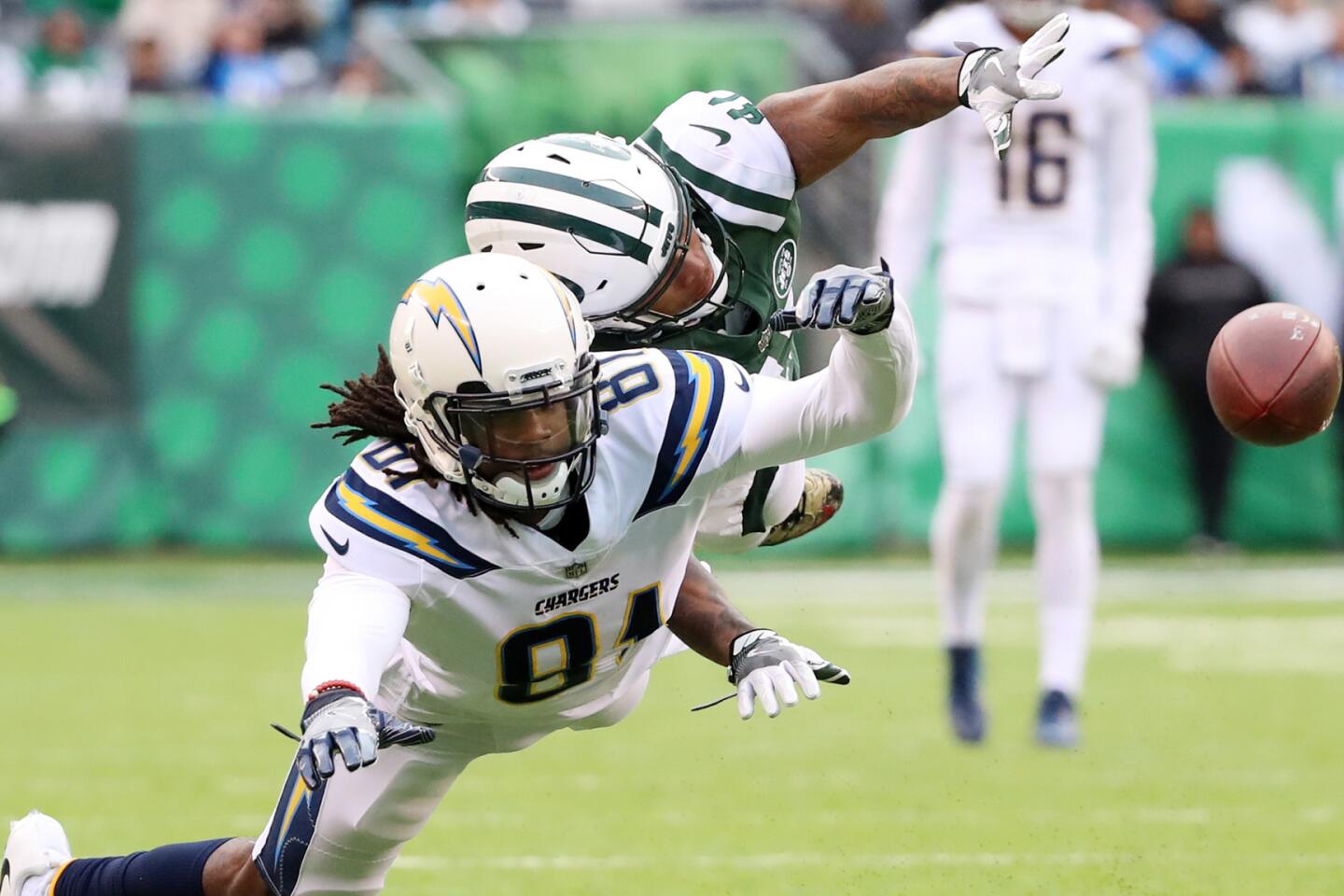 Chargers Mike Williams and Jets Buster Skrine battle for a pass during the first half.
(Abbie Parr / Getty Images)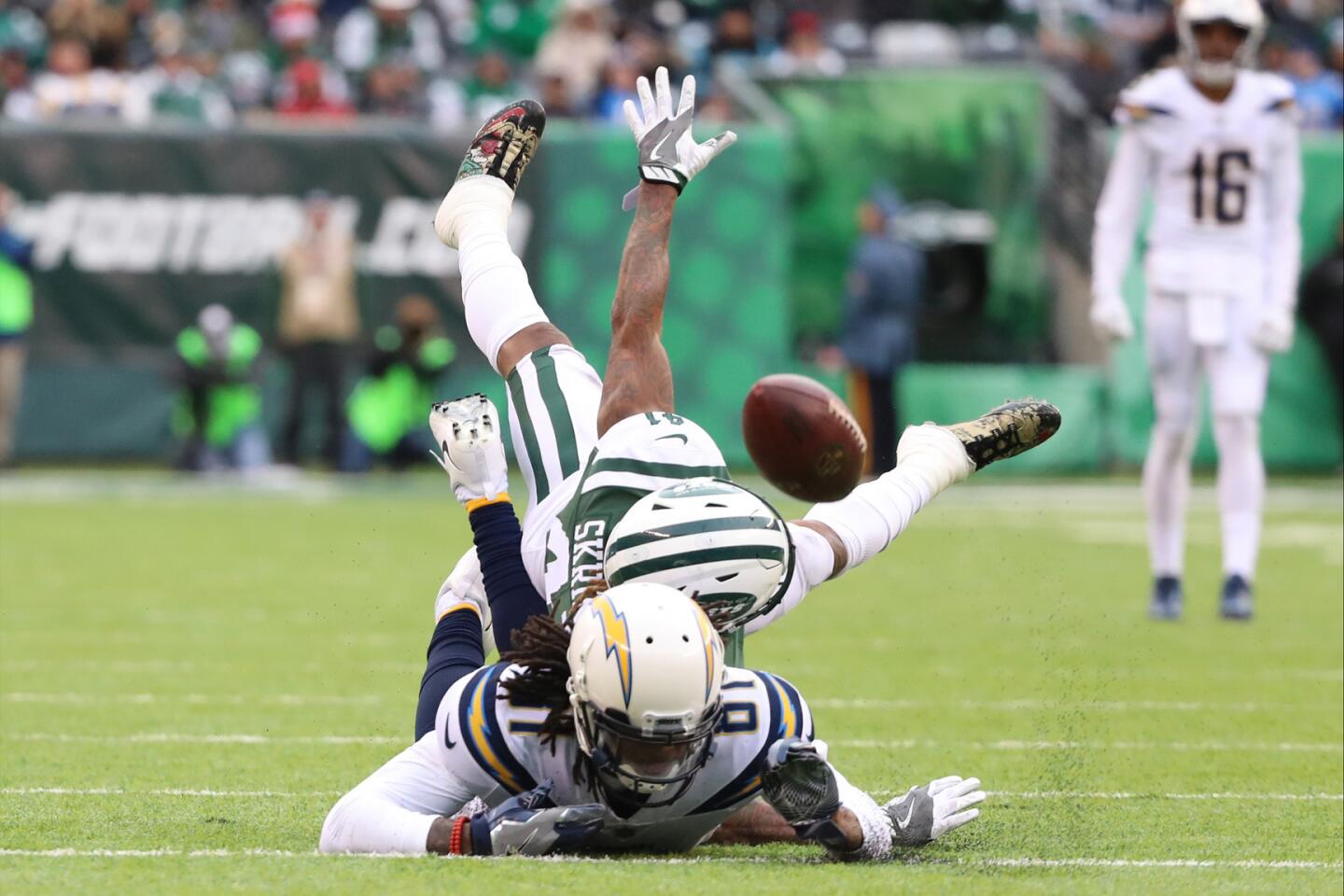 Chargers Mike Williams and Jets' Buster Skrine battle for the pass during the first half.
(Abbie Parr / Getty Images)
"Any time he scores a touchdown and lengthens the lead for the other potential contenders, it's great to see, because he's that great of a teammate and that great of a human," fellow tight end Sean McGrath said. "I'm ecstatic for him."
Gates had a 15-yard catch in the third quarter, and McGrath had a huge 23-yard catch, outjumping Adams to give the Chargers a first-and-goal at the two-yard line, to set up the Chargers' second touchdown.
It was only the third catch of the season for McGrath, who said he has learned from Gates how to be a team player.
"One of our pillars is selflessness, and I think he's a great representation of that," McGrath said. "He's a future Hall of Famer, he's taken a young guy in Hunter under his wing, and he doesn't complain, he doesn't bat an eye. I'm very fortunate to be in the tight-end room with him."
Gates said he will decide after the season whether he will retire or not.
"At the end of the day, I just want to do my best, to be in the present," Gates said. "I don't care about what the media has to say, if they say I'm done. I don't really listen to it.
"It's funny. I look at the game itself, and I'm like, 'Can I still do it? Can I still beat a linebacker? Can I still beat a safety? Do I still want to do it? Do I still have a desire to put in the time it takes?' "
For at least one chilly 38-degree afternoon in northern New Jersey, the answer to all of those questions was yes.
Follow Mike DiGiovanna on Twitter @MikeDiGiovanna
Get the latest on L.A.'s teams in the daily Sports Report newsletter.
You may occasionally receive promotional content from the Los Angeles Times.