Chargers hope for better first quarter against Bengals after recent late rallies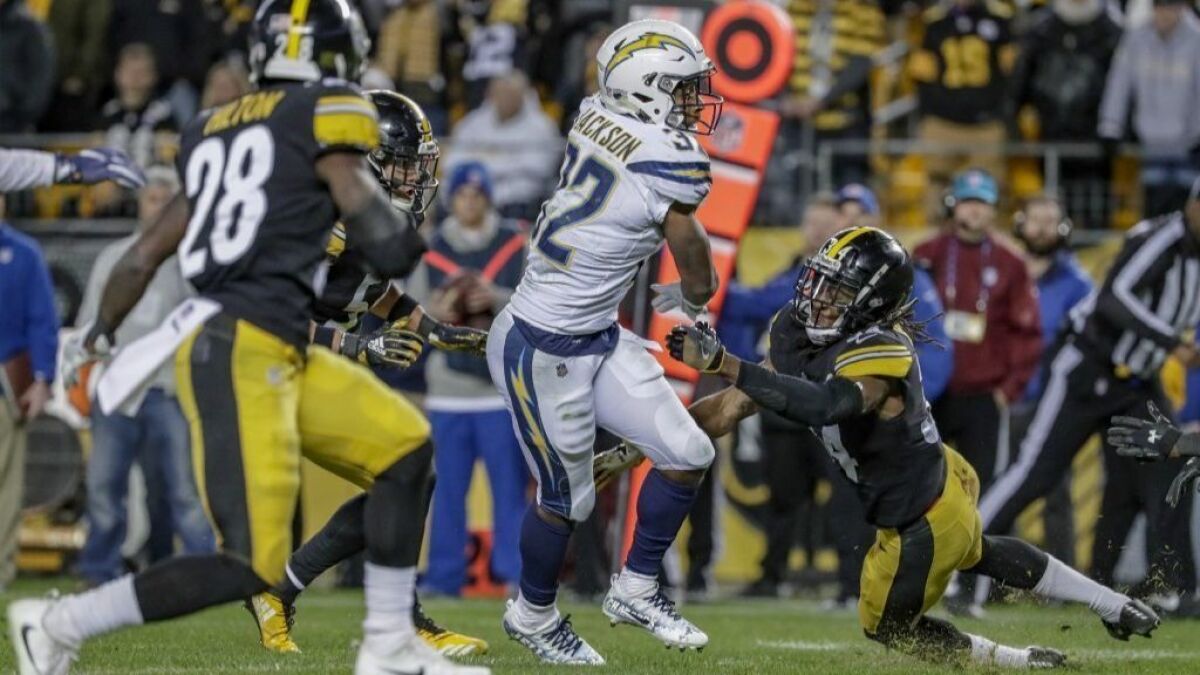 They've won once on a fourth-quarter field goal, once with a defensive stop in the final 35 seconds and twice with no time remaining.
Yes, the Chargers have yet to go to overtime this season but are 2-0 in games that extend beyond the 0:00 point of the fourth quarter.
This team in 2018 has been excellent as a closer. Now, the challenge is producing a quality start.
"Give our opponents some credit," coach Anthony Lynn said. "They're the main reason we've started slow."
Over the past five weeks, the Chargers have led after the opening quarter just once and that happened in the only game they've lost since since Sept. 23.
They trailed Seattle 7-6, Oakland 3-0, Arizona 10-0 and Pittsburgh 13-7 entering the respective second quarters. The deficit against the Steelers red-lined at 23-7 by halftime.
And, yet, the Chargers came back to win all four times, this team plus-91 in point differential overall but minus-7 in the first 15 minutes of games.
Of course, their 9-3 record suggests quality starts might not matter, particularly when the opposition is a team like reeling Cincinnati, which visits StubHub Center on Sunday as a two-touchdown underdog.
But after the Bengals, the Chargers conclude the regular season with divisional road games at Kansas City and Denver and a home date against Baltimore with an AFC playoff berth there to be taken.
More impressive starts could make it much easier to fashion a more fantastic finish.
"Each week it's something different," Lynn said. "We just have to make quicker adjustments and play with a little more urgency."
Against Cincinnati, the Chargers face the added sleepwalking threat of having to re-fire the adrenaline after their most emotionally taxing victory in years.
They came back from 16 points down to beat Pittsburgh, something that never had happened to the Steelers at home. Ever. And the franchise was founded in 1933 when Art Rooney bought into the NFL for a fee of $2,500.
The Chargers won the second half 26-7 by scoring all four times they possessed the ball after halftime — including on a 73-yard punt return by Desmond King — and twice converting two-point conversions.
They won a Sunday night game televised nationally, the production attracting an audience nearly five times larger than anything else being shown at the time.
Now, they're back home in the intimate StubHub Center, an announced crowd of some 25,000 expected, to face an opponent that has lost six of seven and will be starting a quarterback named Jeff Driskel.
"We gotta go out there and handle our business," tight end Virgil Green said. "We know what we're fighting for. We're trying to get to the playoffs, get to that tournament. The Bengals are our next stop."
They will be playing for the second consecutive week without running back Melvin Gordon, who is out with sprained ligament in his right knee.
That means more Austin Ekeler and — quite notably — more Justin Jackson, a rookie who in recent weeks has burst from the special teams to "The Tonight Show."
Jackson was mocked last month by Jimmy Fallon for an old photo featuring Jackson wearing a haircut with the spiked tips dyed orange.
Fallon joked that, in his previous job, Jackson was a feather duster in "The Beauty and the Beast" castle. Jackson responded by tweeting a photo of his hair now grown out and back to its original color.
Comic relief aside, the rookie provided a needed running-game boost against the Steelers, gaining 63 yards in the second half.
"What Justin has is instincts," Lynn said. "That is something that you can not teach. He has better instincts than a lot of people. One of the reasons he's been so productive is he can find the soft spots in a defense."
Jackson gives the Chargers and quarterback Philip Rivers another weapon in a lineup full of them. Ekeler called the array of options "the exact situation you look for" when building an offense.
As for how he plans to deploy his running backs Sunday, Lynn noted that third-stringer Detrez Newsome also will play.
"Hot man rolls," Lynn said. "Whoever's playing the best will stay in."
In the first half a week ago, the Chargers rushed for two yards total. No one was hot. No one was rolling.
Until the start of the third quarter, that is, when the Chargers awakened and did precisely what they needed to do in order to secure their eighth victory in nine games.
Veteran cornerback Casey Hayward recently was asked about his team's habit of easing into games, often leading with its chin.
"It's real important to not get punched in the mouth (first)," he said. "You don't want to start slow or you'll probably be the one punched in the mouth."
As important as that is, it's even more important to be the one left upright at the end, the Chargers continuing to stand tall.
Twitter: @JeffMillerLAT
---
Get the latest on L.A.'s teams in the daily Sports Report newsletter.
You may occasionally receive promotional content from the Los Angeles Times.