Chargers hope loss to Denver was 'a wake-up call' as they try to win season's third quarter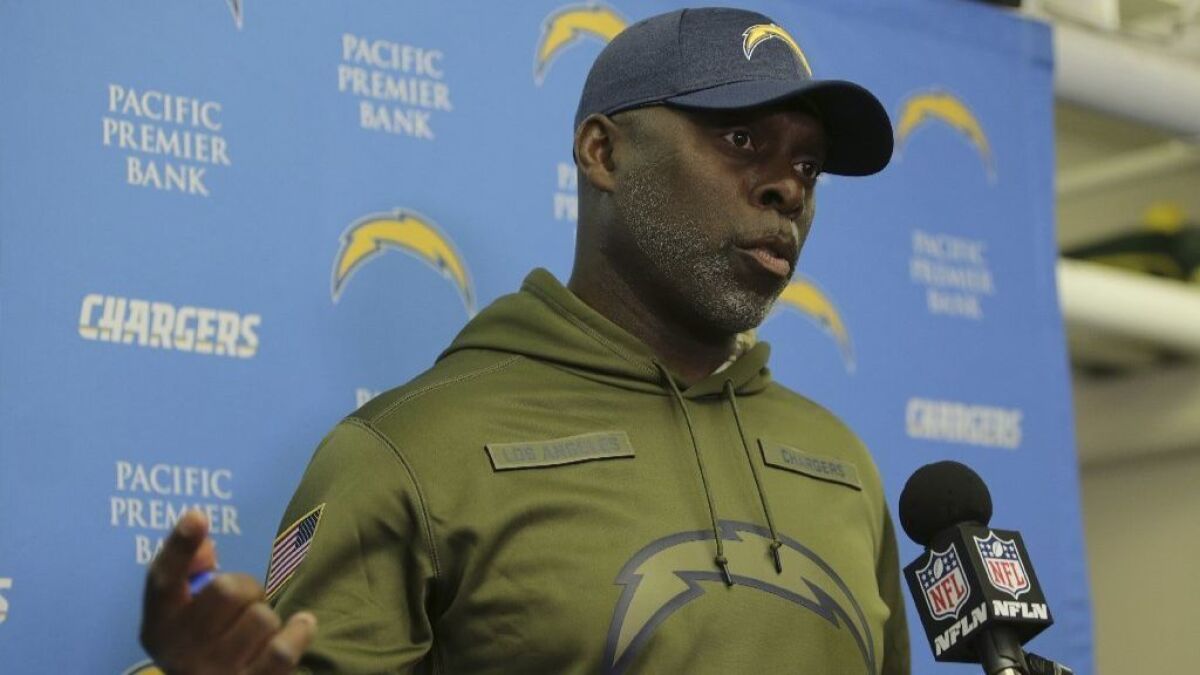 The Chargers are standing on the verge of game No. 11.
Or, as coach Anthony Lynn sees it, on the tee box of hole No. 10.
It's a Saturday, see. In, let's say, Augusta.
"It's the third quarter of our season," Lynn said. "It's no different than the third day of a golf championship. This is when we need to be moving. And a wake-up call like that could have been just what we needed."
A wake-up call? The Chargers' 23-22 loss to Denver last week was more like a snap hook into a pond filled with ornery gators and abandoned Titleists.
Lynn likes to divide an NFL season into quarters. Each four-game block stands on its own.
The Chargers are 1-1 so far in their third quarter or, as Lynn noted, their third round, now making the turn and looking to right their ways and move toward a Sunday push for the championship.
"I like the energy we've had in practice," Lynn said. "The tempo has been good. I think the guys know the only way to get that bad taste out of your mouth is go out and play well, play the best you can.
"Usually, we win when we do that. We know what we have to do. I mean, guys are still pissed off about last week. But I think that's a good thing."
The Chargers were seven-point favorites against Denver before burying themselves in a barrage of errors — both physical and mental — to end a six-game winning streak and blow a chance to move into a first-place tie in the AFC West.
Afterward, several players left the locker room without speaking to the media or said very little if they opted to talk.
Wide receiver Keenan Allen used the occasion to announce that the Broncos "suck," an intriguing suggestion, seeing how Allen and his team had just lost to those very same Broncos.
"Guys are frustrated," defensive end Isaac Rochell said several days later. "Guys are disappointed, especially when you feel like you gave the game away. They're a good team. But still, we made so many mistakes, we feel like we gave it to them."
A second consecutive loss Sunday is likely possible only if the Chargers are in a giving mood again. Arizona visits StubHub Center with a 2-8 record and a rookie quarterback who has thrown more interceptions than touchdown passes.
Josh Rosen might be the future of the franchise. But the Cardinals' future most assuredly isn't happening in the present.
Arizona has scored the second-fewest points in the NFL. Over the past seven games, the Chargers have permitted the fewest points.
In other words, this is a matchup where nothing has to give.
And yet, the Chargers are the ones who could be more desperate Sunday. Coming off that bitter loss, they also are looking at a five-game December that will represent a significant upgrade in competition.
"People say sometimes, 'We need a restart,' " Rochell said. "We're a good team. We don't need a restart. We need to keep doing what we're doing and not make stupid mistakes."
Losing has a way of sharpening focus, focus that can go soft when teams do things like win six in a row.
Perhaps that's what Chargers have experienced. They have to consider the Denver defeat a wake-up call because that's the one positive that can come from something otherwise so negative.
"Obviously, we know the way the game ended; we wish we did things differently," quarterback Philip Rivers said. "Some things crept in that we've stayed away from during that six-game win streak for the most part."
Shortly before the Denver loss, Rivers had talked about how the Chargers this season had avoided "disaster plays," adding "we know those things can kill you."
And then, naturally, disaster happened. Leading 19-7 and looking to blow open the game, Rivers directed the offense back inside Broncos' territory.
He attempted to hit Travis Benjamin with a short pass that surprisingly became a long play — for Denver. Von Miller intercepted the ball and returned it 42 yards, setting up a Broncos' touchdown. The upset was alive.
And so was the narrative that the Chargers were just doing Chargers things again, that a franchise known for providing false hope had, with those six straight wins, built another phony fortress.
"It was one game," Rochell said. "I know they're all big. But it's not a matter of 'We're the same old Chargers.' We have a good team here. We have the right people in place. We just can't make dumb mistakes."
Not in football, at least, not in the NFL. Comparisons aside, this isn't golf. There are no mulligans.
Twitter: @JeffMillerLAT
---
Get the latest on L.A.'s teams in the daily Sports Report newsletter.
You may occasionally receive promotional content from the Los Angeles Times.