Chargers head to combine with few needs that can be met by the draft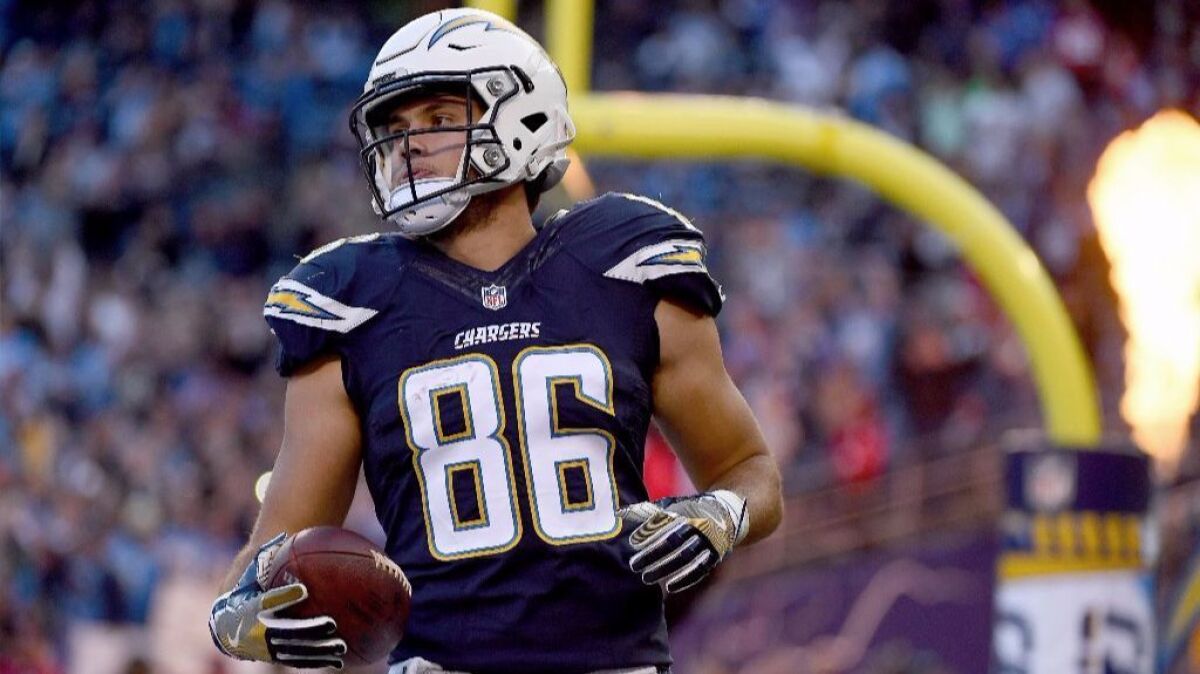 When the Chargers' coaching, scouting and front-office staffs head to Indianapolis this week for the NFL scouting combine, some of the biggest areas where they need improvement won't be on the field being put through the wringer.
"Injury prevention" won't put its hands on the artificial grass and dash for 40 yards. "Luck" won't strip down to its skivvies for a full-body examination from a room full of scouts. "Protecting fourth-quarter leads" won't sit in an interview room and be asked to decide once and for all whether a hot dog is a sandwich.
The Chargers needs are more abstract than a pass-rushing defensive end, a vertical threat on the outside or run-stuffing defensive tackle. After winning only five games last season, it might seem like improvements all over the field are necessary.
But, the Chargers feel that — if healthy — they're much better than a five-win team. And even though the coaching staff is largely new, they feel good about where they sit heading to the combine.
"We're rolling," new Coach Anthony Lynn said.
They know they have a quarterback (Phillip Rivers), a running back (Melvin Gordon), wideouts (Keenan Allen, who is coming back from injury; Tyrell Williams; Travis Benjamin, and Dontrelle Inman), and two high-end tight ends (Antonio Gates and Hunter Henry).
They know their first-round pick last year, Joey Bosa, was the top defensive rookie in the NFL by a big margin. They know they had one Pro Bowl cornerback suffer a season-ending knee injury (Jason Verrett) only to replace him with Casey Hayward, who then had himself a Pro Bowl season.
They know nine of their losses were by eight points or less, including plenty where they led in the fourth quarter.
And, they know they could use help — not saving — in a lot of areas.
The Chargers' offensive line graded poorly according to Football Outsiders, finishing below average in pass and run blocking. The team should have their eyes open for players to contribute up front on offense, even if April's draft isn't considered to be an incredibly loaded crop of offensive linemen. But just like pitching in baseball and shooting in basketball, you can never have too much help on the offensive line.
Wisconsin's Ryan Ramczyk and Alabama's Cam Robinson are two of the top tackles available.
Another possible area of need is linebacker, as the team shifts from the 3-4 defense to the 4-3 under coordinator Gus Bradley, the former Jacksonville head coach. Melvin Ingram, the team's best pass-rushing threat other than Bosa, is headed for free agency and a big payday. If the Chargers can't meet the price tag, they could look for pass rushers in the first round for the second straight year.
Stanford's Solomon Thomas and Tennessee's Derek Barnett are two rushing ends that could be in play for the Chargers at pick No. 7 on April 27.
Outside linebacker also could be an area of interest as the skill sets change slightly with the team's scheme shift.
The Chargers also could use help at safety, a position of massive importance in Bradley's defenses with Seattle, where he was the defensive coordinator before heading to Jacksonville. Dwight Lowery turned 31 in January and Jahleel Addae is a free agent. Louisiana State's Jamal Adams could be off the board at No. 7, and early mock drafts have often married the Chargers to Ohio State safety Malik Hooker in Round 1. Corner is an option too, finding depth behind Verrett and Hayward.
If the team goes heavy on the defensive side of the football, it'll be partly because of Bradley's scheme, which was designed to get younger players on the field faster.
"It's a system that allows guys to pick up [things] really quickly," he said. "It allows them to play fast early. It's more of that philosophy."
This could be the off-season when the team begins a long-term succession plan for Rivers, who is 35. Finding a young quarterback, maybe even someone who merely profiles as a backup, should be on the team's to-do list in Indianapolis.
Lynn and his staff aren't heading to Indianapolis hoping to discover anyone. Hopefully, he said, that work is done.
"The combine just validates what we see on tape," he said. "We don't make decisions on guys and what they do at the combine."
The Chargers won't leave Indianapolis will all their problems solved. But the plan is to at least have found a few more answers.
Follow Dan Woike on Twitter @DanWoikeSports
Get the latest on L.A.'s teams in the daily Sports Report newsletter.
You may occasionally receive promotional content from the Los Angeles Times.