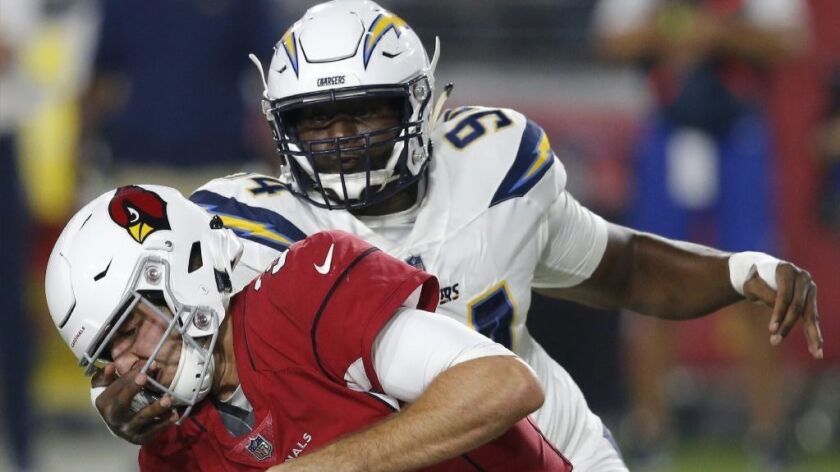 Chargers defensive tackle Corey Liuget had been a professional long enough to know the news wasn't going to be good.
The envelope had the NFL's seal printed on it. The word "confidential" was there. It sat in his locker at the team's facility. It was all very official ... ominous even.
His fate as a player, his reputation as a competitor, were written on the contents inside.
"I read the first couple of lines of it, and it just broke me," Liuget said. "It's like my whole heart dropped. Everything I had planned, it just … it all up."
The letter informed Liuget he would be suspended for the first four games of this season for a violation of the league's policy on performance-enhancing substances. He had taken something — unknowingly, he says — as part of his offseason program with his longtime personal trainer.
The two no longer work together.
"I made a mistake and take full responsibility," he said in a statement. "As part of my training program, I placed my trust in someone who, in hindsight, was not well-versed in the NFL's policy on banned substances. As players, we're told time and again that the NFL holds you responsible for anything in your body. Even if you take it accidentally, it's on you. Pretty cut and dry. You hear it and think, 'That won't be me, that can't possibly happen to me.'
"Yet here I am, suspended four games. And that's my fault."
The Chargers and general manager Tom Telesco seem to believe the explanation, although there is no proof. But in the immediate aftermath, Telesco released a statement supporting Liuget.
"Even though Corey's mistake was unintentional, he understands how disappointing this is for everyone in the organization," Telesco said. "I'm pleased he has accepted responsibility on the matter, and we respect and support the League's decision. We also support Corey. Few people have a bigger heart and have done more for the community. While nobody feels worse than Corey himself right now, we know he will bounce back from this."
The team's first-round selection in 2011, Liuget missed four games last season with a foot injury and started the other 12, earning a spot as a Pro Bowl alternate. He had been one of the team's top-paid players.
But that letter — it instantly changed everything.
Because he'll be missing the first four games of the season, the eighth-year pro has been demoted to second-string reps in training camp. Darius Philon, a promising young lineman, has replaced him in the first-unit defense.
And, unlike his teammates, Liuget's time with the team has a set expiration date. As soon as the Chargers begin the season, Liuget will be banished for four weeks, unable to practice or train at their Costa Mesa facility.
While the Chargers prepare for Week 1, Liuget will be training in San Jose. When the team begins its season against Kansas City, Liuget will be with his family, celebrating his youngest child's birthday.
"It just sucks that I'll be gone for four weeks and not out here with my teammates," Liuget said. "I take full responsible for what's happened. It's going to be pretty shocking to some people when I come back. Everybody's going to be really happy with how I handle myself."
So far, the team has been pleased with how Liuget has made the most out of a bad situation. He's been a dominant force in practices, torturing the interior of the offensive line. He looks leaner and quicker.
"Hell, we can't block him in practice," coach Anthony Lynn said.
Liuget said the initial days at practice helped snap him into a better mindset: he'd work hard regardless of his pending punishment or his standing on the depth chart.
"Get out here, perform and let the coaches see me," he told himself. "No matter what circumstances I'm in, I'm not going to let it determine my character or who I am. The first couple of days, it was a bit tough. But, I put myself in this position."
And it was completely avoidable. The NFL and the players union have a multitude of resources to inform players about substances, including a phone app that cross-checks supplements against the league's list of banned substances. However, supplement labels can be incomplete.
And sometimes a trusted confidant doesn't have the complete picture, either.
Either way, the responsibility fell on Liuget to know better, and he didn't. Now, he's determined to make it up to the Chargers and his teammates.
"It was the worst — and the best — thing to ever happen to me," Liuget said. "I was kind of getting away from myself. I was getting to where I was just happy playing football. This kind of brought back the hunger a little bit of me because, damn, I've got to work harder now. I've got to put in a little more time and take things a little more serious, even though I always have.
"This just woke me up to where this game isn't here forever."
Twitter: @DanWoikeSports
---