Memory of his slain brother has Chargers rookie Desmond King playing 'off the chain'
Desmond King winces at the mere mention of his name. It has been more than five years since his older brother, Armon Golson, was fatally shot during a robbery near their Detroit home, and time has done little to heal the wound.
"I really don't like talking about it," the Chargers rookie defensive back said at his locker this week, his voice barely above a whisper. "It's still hard for me."
As King opens up a bit, he recalls how Armon and his oldest brother, Andre Golson, introduced him to football when he was 5 years old, how they put him through drills and knocked him around — in pads, of course — in the front yard when he was a kid. And he clutches a gold chain around his neck.
"This was my brother's chain," King said. "I always wear it. I play with it on, under my uniform, so I know that I have him with me at all times."
King was a 17-year-old senior at Detroit's East English Village Prep Academy when Armon, then 22, was shot and killed on Sept. 18, 2012, a tragedy that devastated King's family but did not deter or derail Desmond.
Three days after the slaying King rushed for two touchdowns and intercepted a pass in a 39-0 win over Detroit's Southeastern High, one game of an illustrious three-year varsity career in which King established a Michigan high school record with 29 interceptions and rushed for 3,970 yards and 45 touchdowns.
Undersized at 5-feet-10 and 185 pounds, with decent but not blazing speed, King generated little interest from major college programs.
A University of Iowa assistant, acting on a tip from a Detroit-area coach, visited King a week before signing day and was struck by his playmaking skills, work ethic and mental toughness.
A scholarship was offered. King accepted. King did not disappoint. He developed into an All-American cornerback for the Hawkeyes and won the 2015 Jim Thorpe Award as the nation's top defensive back.
A dual major, King graduated in 3½ years with a 3.1 grade-point average and degrees in African American studies and broadcast journalism.
King, who turned 23 Thursday, was selected by the Chargers in the fifth round of last April's draft and has evolved into a valuable nickel back, with 52 tackles — including six for loss — four sacks, five pass breakups and one interception entering Saturday night's AFC West showdown against the Kansas City Chiefs.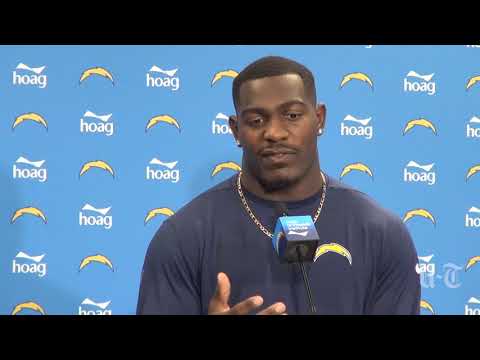 Chargers rookie Desmond King is not only making a big impact with the team, but also living his childhood dream.
"Street violence took Armon away from us … but we all pulled together, and we're making it," King's mother, Yvette Powell, 47, said by phone from Detroit.
"I'm so proud of Desmond, because he's doing exactly what his brother would have wanted him to do — stay focused, keep playing football, graduate from college. I'm sure Desmond is putting a smile on his face."
King's father, also named Desmond, left the family when King was a child. The thought of what his single mother did to shield him from the dangers of Detroit's streets brings a wide grin to King's face.
King grew up in Warrendale, a working-class neighborhood on Detroit's far west side known for its high crime rates, dilapidated housing and foreclosures.
"It was very dangerous, violent. There was a lot of drug-dealing going on in my area," King said. "I stayed busy with sports and school. My mom kept me out of trouble."
From the time Desmond was 5, Powell shuttled him from football to indoor track, from indoor track to wrestling, from wrestling to outdoor track, from outdoor track back to football. Though she often held two jobs, as an in-home nurse and retail clerk, Powell found time to volunteer for King's schools and youth leagues.
When King opted to attend high school on Detroit's east side, Powell drove Desmond there and back every day, leaving the house at 6:30 a.m. for the 20-minute commute and returning around 8 p.m.
"I tried to keep him busy all year round," Powell said. "When you don't have anything to do — we call it idle hands — that's how you find trouble. But if you keep them busy and keep them in their schoolbooks, they didn't have time for all that extra stuff out there."
This was my brother's chain. I always wear it. I play with it on, under my uniform, so I know that I have him with me at all times.
— Chargers rookie Desmond King
Armon found time for the extra stuff. He dropped out of high school and fell in with the wrong crowd. According to a Detroit crime Facebook group, he was the city's 283rd of 386 homicide victims in 2012.
Like King, Chargers tight end Antonio Gates, 36, grew up on Detroit's west side. The 15-year NFL veteran can see how King's upbringing and experience shaped his young teammate into the player and person he is today.
"Living a certain way, being able to flourish through all of the trials and tribulations that you face in Detroit, it gives you an edge when you get here," Gates said. "In my mind, that's where we get our toughness from. The term 'tough' is being able to sustain through any adversity, through difficult times.
"So you learn a work ethic, a sense of pride that is embedded in you. And you see it, from the Joe Louis statue to Motown to the auto industry. That's just what we hang our hats on, being very prideful, working hard."
King is now a chiseled 5-10 and 200 pounds. With his square jaw, thick neck and piercing brown eyes, he exudes toughness. After a few too many opponents eluded his grasp early in the season, King has become one of the team's surest tacklers.
"You can see it in the way he plays — he's a tough football player," Gates said. "When I say tough, I mean he's willing to do whatever it takes to help us win. If we need him to make this tackle, he'll make this tackle. If we need him to cover this guy, he'll cover this guy."
A timid rookie, King is not.
"He don't take no mess from nobody," cornerback Casey Hayward said. "You need that demeanor as a football player, because you get out there, and some people try to bully you. He don't take none of that, on or off the field."
King, who has also returned 16 kickoffs for 332 yards (20.8 average), played only three of 69 defensive snaps in the season opener at Denver. He's played a majority of the snaps in the 12 games since, and 188 of 230 snaps (82%) in the past four games, all wins.
King usually lines up in the slot. With defensive coordinator Gus Bradley employing more sets that feature five and sometimes six defensive backs — a scheme that plays to a Chargers strength (defensive back depth) and hides a weakness (linebacker depth) — King has been freed up to blitz and play the run.
His four sacks have come in the last five games. He had his best game last week against Cleveland, notching a team-high 10 tackles, one sack, one pass breakup and one quarterback hit. He returned an interception 90 yards for a touchdown in a Thanksgiving Day win at Dallas.
"He doesn't have all the measurables, the speed, all that stuff you like to see at the combine," Chargers coach Anthony Lynn said. "He's just a playmaker."
Bradley's cover-three scheme, a mix of man-to-man and zone, can be difficult even for veterans to grasp and confusing for rookies. It took King a few games to feel comfortable, but he's emerged as a key component of a unit that ranks third in the NFL in pass defense (200.3 yards a game) and interceptions (16).
"There's definitely been a learning curve," King said. "I'm playing a lot faster than I was earlier in the season. My teammates are definitely helping me a lot."
So is the memory of his older brother. King will face the biggest challenge of his young NFL career this weekend, a game in a hostile environment with first place in the division on the line against a revitalized Chiefs offense that has scored 57 points in the last two games.
If King is feeling a hint of intimidation, an ounce of fear, he can draw strength from the gold chain around his neck. Even as Armon was getting into trouble, he tried to protect his younger brother, always encouraging Desmond to focus on his grades and football and stay away from the streets.
"Everything I do in this sport is dedicated to him," King said. "Where I'm from in Detroit, not a lot of people make it in sports … but you can do it if you stay focused and keep your mind to it. I had a dream of it. Now, seeing it's real, it's amazing and a blessing."
Follow Mike DiGiovanna on Twitter @MikeDiGiovanna
Get the latest on L.A.'s teams in the daily Sports Report newsletter.
You may occasionally receive promotional content from the Los Angeles Times.