Chargers add punter Donnie Jones to help get a hold on Caleb Sturgis' kicking issues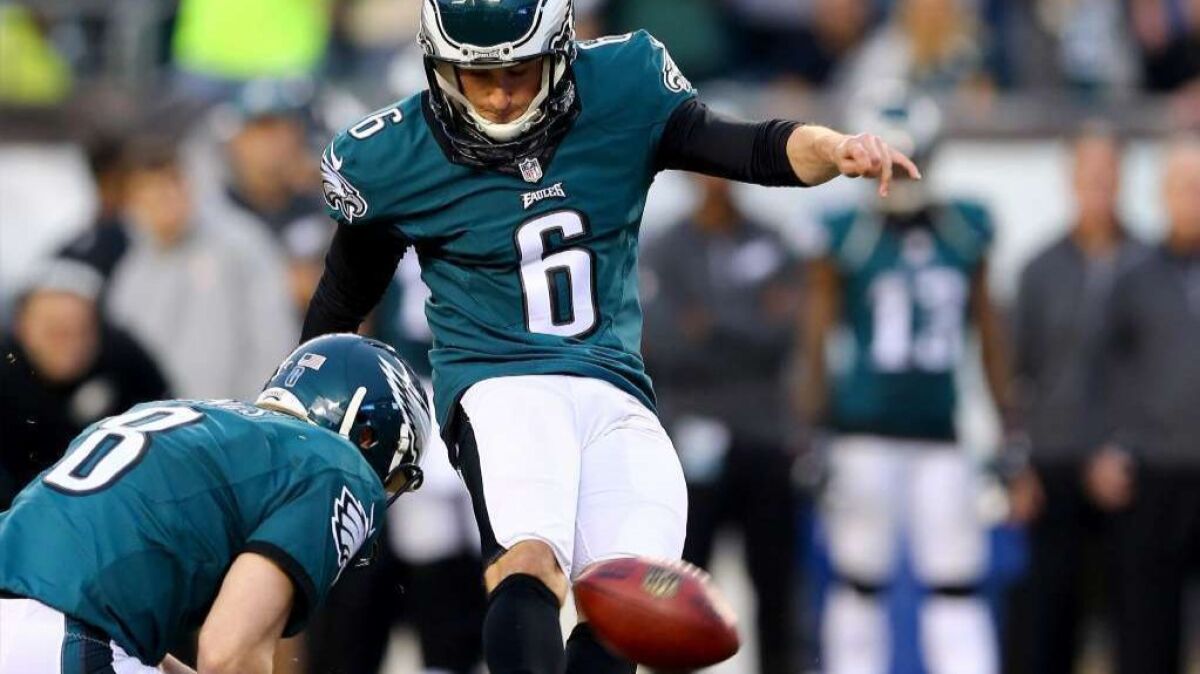 He made the NFL because of his leg but, more than 14 years later, is back in the league because of his hands.
Donnie Jones is about to resume a career during which he has held his own — along with thousands of footballs, one at a time.
"It's a skill that gets overlooked a lot," he said, "until something bad happens."
Something bad has happened to the Chargers repeatedly over the last 20 games, the team on its fifth kicker since the start of last season.
Rather than make yet another switch at that position after Caleb Sturgis missed two extra points and a 54-yard field-goal attempt Sunday, the Chargers swapped holders.
They brought in Jones on Tuesday and waived Drew Kaser, an exchange of punters that had nothing to do with hang time or balls downed inside the 10-yard line.
"I've got a ton of respect for Donnie," Sturgis said. "He takes the game very seriously. He does a great job punting the ball. As far as holding, he again takes it very seriously. He's the best I've been around."
Jones held for Sturgis for two full seasons and the start of a third when both played for Philadelphia, their relationship ending after one game in 2017 because Sturgis was injured.
They've now been reunited after coach Anthony Lynn promised to reassess the entire placekicking process, the Chargers determining that the consistency of Kaser's holds was lacking.
Jones, 38, who had retired after the Eagles won the Super Bowl in February, arrived in Costa Mesa for a workout this week and was offered the job after he punted 10 balls and held 10 others from a long snapper recruited for the day.
"I'm happy for Donnie," Sturgis said. "At the same time, I'm a little sick to my stomach too for Drew. I know my performance definitely played into what happened. This league's tough. You see friends go …"
So what's the big deal, exactly, with catching a football and setting it down on one of its pointy ends so a teammate can do the real hard part?
There's spinning it just enough for the laces to be facing toward the goalposts. There's also positioning it at the angles — both side to side and top to bottom — the kicker prefers.
This must be accomplished quickly and seamlessly, without the slightest suggestion of a bobble. And it must be done over and over, as identically as possible, a bunch of moving parts held precisely together to make something complicated look simple.
"It's a skill I take pride in," Jones said. "I work hard at it because there's a guy that depends on me to get his job done. It takes a lot of repetition. I want to be the best I can at it."
There was a time when Jones was a terrible holder, mostly because he had never done it.
After being cut during his rookie season with Seattle, he began working with the man who replaced him, Ken Walter, who eventually won two Super Bowls with New England, holding on Adam Vinatieri's clinching kicks.
"To this day," Jones said, "I'm forever grateful because, if it hadn't been for that, I probably never would have learned this skill."
The day the Chargers reached out to Jones, he had put up Halloween decorations at his family's home in Baton Rouge, La.
He was occupying his time in retirement by volunteering as a substitute teacher and assistant football coach — in charge of special teams, naturally — at his children's grade school.
He had taught physical education one day and religion another. On the morning of his first practice with the Chargers, someone from home texted to see whether he wanted to have lunch or perhaps do brunch on Sunday.
Jones said the Chargers intrigued him because of their roster and their direction. Another team called a couple weeks ago, he said, but he wasn't interested in that opportunity.
Now, he's here to punt and to hold, just not necessarily always in that order.
"My job is just to come in and continue to do what I've done for 14 years," Jones said. "I know I need to be the best holder I can be for Caleb."
Etc.
Left tackle Russell Okung (groin) and right tackle Joe Barksdale (knee) both returned to practice Thursday. Lynn reiterated that he doesn't expect a decision on Okung's playing status to be made until Sunday. Lynn said this week that Barksdale is unlikely to play against Oakland. … Travis Benjamin had a cast placed on his bothersome right foot. The wide receiver has been limited since the opener because of an Achilles/heel issue. "We put a cast on him just to protect him," Lynn said, "just to take the pressure off the foot." Benjamin missed the Chargers' second and third games before returning Sunday against San Francisco only to reaggravate the injury. He is likely to be out until later this month.
Twitter: @JeffMillerLAT
---
Get the latest on L.A.'s teams in the daily Sports Report newsletter.
You may occasionally receive promotional content from the Los Angeles Times.