Daniel Lay isn't an actor. It may seem odd to introduce someone like that, but when you're talking about a Chargers fan in Los Angeles it's important to point that out to people in San Diego and elsewhere around the country who seem convinced anyone posing as a Chargers fan in public must be from central casting.
Lay is a 38-year-old senior solutions architect from Hawthorne and a Chargers season-ticket holder. He was in high school when the Rams and Raiders left town in 1995 and adopted the Chargers after attending UC San Diego. He was among the thousands of Chargers fans who filled the Santa Monica Pier last week for the Chargers draft party.
Lay wasn't sure what to expect with the NFL draft starting at 5 p.m. on Thursday and the Chargers holding the 28th pick, but was pleasantly surprised when he saw a line of Chargers fans down the pier waiting to get in an hour before the draft started.
"I think what surprised me about the draft party was the turnout was so good ex-fans tried to proclaim there was a conspiracy and that [everyone] in attendance were paid actors," Lay said. "The last time they made such an accusation was when many of them noticed loud chants for the Chargers on televised games, and instead of just acknowledging that the fans are there they demanded that the NFL commissioner investigate the Chargers for pumping in fake crowd noise at their games."
The Chargers realize they're in an uphill battle to win over Los Angeles football fans. They were the second NFL team to move into a market still learning how to support one after having none for 21 years. They were as synonymous with San Diego as the Gaslamp Quarter for 56 years, but moved north two years ago and announced they would "Fight for L.A."
While L.A. shrugged; San Diego mourned.
Caught in the middle of a heartbroken city and an apathetic new home were Chargers fans. They were innocent bystanders who had nothing to do with the move but became vilified by former fans for supporting Chargers owner Dean Spanos and mocked by others for being such a small contingent that they couldn't fill a 27,000-seat soccer stadium. Some, like Lay, were fans before the move and stuck around; others decided to support the new team in town after not having a local NFL squad for more than two decades.
"I wanted to be a fan of the team that would have the least fans at the start because I really wanted to be a part of something that started from the ground up," said Josh Albrekston, a 40-year old radiologist who lives in Los Angeles. "And I knew the Rams had a fan base here, so if the Chargers moved here I was going to be a Charger fan. So I was walking my dog at 7:55 a.m. on Jan 12 on the corner of Wilshire and Hope when I saw the Charger tweet saying they were moving and I bolted up."
Lay predicted support for the Chargers would only grow when they move into the new stadium in Inglewood with the Rams in 2020.
"When I went to the Coliseum last year to see the Chargers-Rams game, I was impressed by how many Chargers fans were there," he said. "It became immediately clear to me that the cheaper seats in a larger venue played a substantial role in the decision of fans to attend, so I believe more affordable tickets will lead to better turnout in the new stadium."
While the Rams are coming off a Super Bowl appearance last season, both teams have been fairly even on the field recently. Since Oct. 2, 2017, the Rams are 23-9, the Chargers 22-8. There may not be much of a disparity in their records, but that's not the case when it comes to ticket prices in their new home. While the Chargers will feature more than 26,000 seats priced between $50 and $90 per ticket, plus a personal seat license fee of $100, the least expensive Rams seat license will be 10 times that.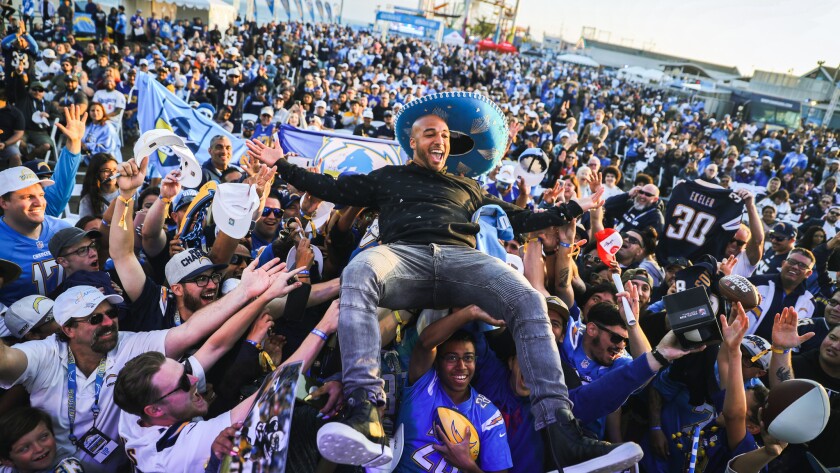 "The second they announced the PSL prices everybody I knew went from 'I might not be able to afford them' to 'I got an extra for my dad, wife, girlfriend, kids, whoever,' " Albrekston said. "There are a ton of Charger fans who would come to games if the tickets were cheaper instead of $200 at [Dignity Health Sports Park]. I absolutely believe the ticket prices will lead to more Charger fans."
::
Steve Ballmer is the wealthiest owner in the NBA — by a mile. Forbes estimates the Clippers owner's net worth at more than $40 billion, which makes him one of the 20 richest people in the world. The next NBA owner on the list is Mikhail Prokhorov of the Brooklyn Nets at $9.8 billion. He is No. 139 on the list.
While the league salary cap levels the playing field when it comes to signing players, Ballmer isn't restricted when it comes to taking care of his staff. Over the past week, Clippers general manager Michael Weiner turned down an offer to be the president of basketball operations for the Minnesota Timberwolves and assistant general manager Trent Redden passed on the chance to be the general manager of the New Orleans Pelicans.
Both will be running NBA franchises one day, but they decided to pass on the chance to do it now so they can finish building what they started alongside Lawrence Frank, Jerry West and Mark Hughes. That speaks volumes about how much the culture of the Clippers has changed under Ballmer.
::
No team in Los Angeles has a pair of players who are better on television than the Sparks. Over the weekend, Chiney Ogwumike was traded to the Sparks, where she will not only be reunited with her sister Nneka but join fellow NBA analyst Candace Parker. Parker has shined as an analyst for Turner and Ogwumike has been a rising star at ESPN, where she will continue her on-air career.
::
Kudos to Josh Rosen for taking the high road after the Arizona Cardinals traded him to the Miami Dolphins one year after selecting him as their franchise quarterback. He could have easily remained silent or been bitter, but his classy one-minute video on Twitter thanking the Cardinals and wishing Kyler Murray well showed the poise and character of a leader.
---