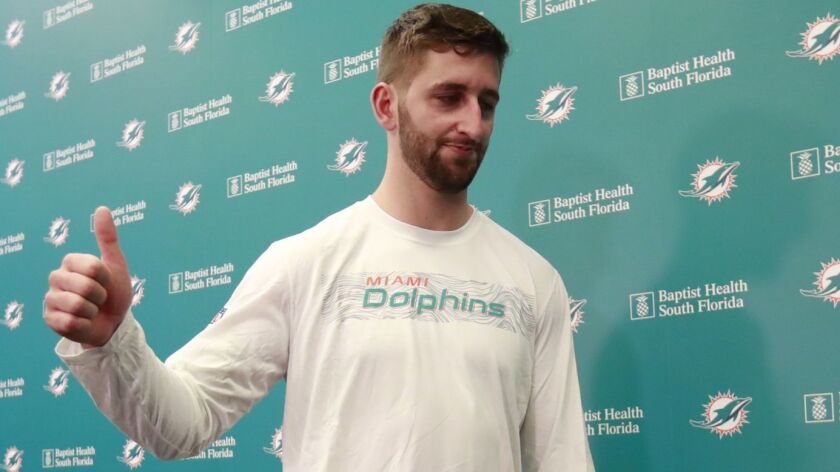 In the end, the Arizona Cardinals got the guy they wanted as their quarterback of the future, selecting Heisman Trophy winner Kyler Murray of Oklahoma with the No. 1 overall pick in last week's NFL draft.
But shouldn't they have gotten more for Josh Rosen — the guy they chose as their quarterback of the future with the 10th overall pick in 2018 — than the 62nd overall pick this year and a fifth rounder next year?
That's what they got from the Miami Dolphins, who passed on making a deal for Rosen on the first day of the draft and actually traded down from the 48th overall pick (and got a future second-round pick out of the deal) before finally pulling the trigger Friday evening.
A Sports Illustrated article published Monday suggests some of the ways the Cardinals might have bungled the whole process. The team waited until just before the draft started to commit to picking Murray and shopping Rosen to the handful of teams — the Dolphins, New York Giants and Washington Redskins — in the market for a young starting quarterback.
Rosen's agent, Ryan Williams, didn't receive permission to help with the process until after the first two picks were made, the article states. Then, after the Giants selected former Duke quartertback Daniel Jones at No. 6 overall, Williams reportedly received an inquiry from Cardinals general manager Steve Keim, who wondered if the New England Patriots might be interested in acquiring Rosen as the eventual successor to Tom Brady.
Sign up for our daily sports newsletter »
According to Sports Illustrated:
"Williams was taken aback and grew angry. How did Keim not already know the answer? The whole world knew, or had a good idea, that the Cardinals were taking Murray on Thursday. Why the secrecy? Why are we negotiating trade terms now instead of weeks ago?"
At that point, Arizona still hoped they might receive a No. 1 overall pick for Rosen, even though they apparently had no leverage. "That's really bold for someone who just took a QB," the article quotes a Redskins executive as chuckling after hearing that asking price.
Miami ended up going with Clemson defensive tackle Christian Wilkins at No. 13 and Washington took Ohio State quarterback Dwayne Haskins at No. 15. That night, Rosen stopped following the Cardinals on social media, even though the team was saying publicly that it actually might keep him and Murray on the roster.
"A GM's not going to draft a quarterback and draft another one the next year, higher, and then play the first one. It's admitting you made two mistakes. It just wouldn't happen," Rosen told Sports Illustrated. "I wouldn't hesitate to compete [for the starting job], but I would know pre-emptively I wouldn't get a shot even if I won the competition."
Four days later, Rosen was officially introduced as the Dolphins' new quarterback.
Twitter: @chewkiii
---