Chargers' offensive line has been eating up the competition, and it shows on the stat sheet
It begins with group dinners in the spring, usually at a steak house where large quantities of red meat, potatoes and bread are consumed, laughter flows like an aromatic pinot noir and the bills, picked up by a higher-paid veteran, often push $2,500.
It continues with breeze-shooting sessions in the summer and fall, with locker-room topics ranging from family vacations to current events, off-field pursuits, college football rivalries or that poor defensive back they flattened in a big high school game.
Before the Chargers' offensive line could develop into a close-knit group that has given up only 12 sacks in eight games, tied for fourth-fewest in the NFL, and cleared a path for the team to average 5.2 rushing yards per carry, third-most in the league, it had to pass a chemistry class.
"The closer you are as a unit, the better you play," said center Mike Pouncey, who signed a two-year, $15-million deal with the Chargers last spring. "We've had a few dinners, we hang out here and off the field, and for me, it's been authentic.
"It's not like, 'Hey, we're going to dinner here and make sure everybody shows up.' It's that guys want to do it, and it's been a big part of our success as an offensive line."
Pouncey, an eight-year veteran and three-time Pro Bowl selection with the Miami Dolphins, has been a difference-maker on a line that includes veteran left tackle Russell Okung, left guard Dan Feeney, right guard Michael Schofield and right tackles Sam Tevi and Joe Barksdale.
His relentless work ethic and toughness have rubbed off on the entire group, his energy contagious, and his wisdom and experience have helped guide and mold the younger linemen.
"Pouncey has been amazing," said Okung, a nine-year veteran in his second season with the Chargers. "He brings a tenaciousness and physicality to our group that we definitely needed. You can really feel his presence out there. He's definitely special."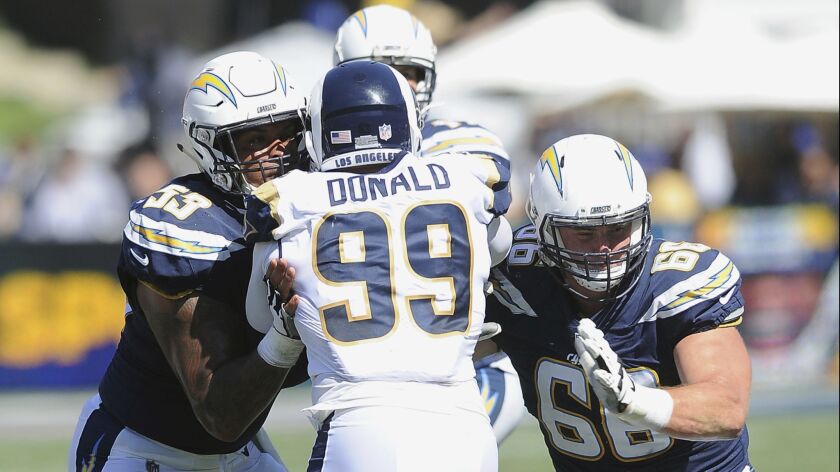 Philip Rivers has completed 165 of 246 passes for 2,236 yards and 19 touchdowns, with three interceptions, and sports the third-best quarterback rating (116.5) in the NFL. Melvin Gordon ranks seventh in rushing with 579 yards and seven touchdowns on 107 carries. Receivers Keenan Allen, Tyrell Williams and Mike Williams have combined to catch 87 passes for 1,419 yards and 11 touchdowns.
None of the skill-position players would be as effective without the grunt work of the big men up front, who have helped the Chargers (6-2) win five straight entering Sunday's game against the Raiders in Oakland.
"That's the group that has to jell and come together," said Rivers, a 15-year veteran. "You talk about timing, the receivers and quarterbacks, and I've always said that the [line] is important. You've seen it in our efficiency in the running game and pass protection.
"It's really picked up from last year so far. I just really haven't been knocked down very much, and they've done a good job of keeping it clean. The guys on the outside are getting open, but it really starts with those guys up front."
It takes a special kind of selflessness to be an offensive lineman. For Rivers to throw a touchdown pass, running back Austin Ekeler to do his air-guitar celebration and Gordon to do his end-zone dance, the linemen must fend the often freakishly athletic and physical NFL edge rushers, block 300-pound defensive tackles in the trenches and have the speed and mobility to run outside to block a smaller, quicker defensive back up field.
"As an offensive lineman, you can't have an ego — it's an egoless position," Pouncey said. "You have to go out there and do your job, and whether you do good or bad, you don't get praised for it. I've been in this thing for a long time, and individual success comes from team success."
The linemen measure that success by how clean Rivers' uniform is after the game, how many passing and rushing yards the team racks up throughout the season, how few penalties they commit and how many games they win.
The Chargers used a silent snap count, coordinated between Feeney and Pouncey, for much of Sunday's game in the ear-splitting din of Seattle's CenturyLink Field, where an NFL-high 168 false-start penalties have been called on opponents since the 2005 season.
The Chargers were flagged for one false start, in the first quarter of a 25-17 win over the Seahawks. They kept Rivers clean until the fourth quarter, when the Seahawks — scrambling to come back — amped up the pressure and sacked Rivers twice. According to Pro Football Focus, the Chargers yielded only two quarterback hurries.
"What makes playing offensive line so hard is you have to be a cohesive unit on every single play, because as soon as one guy is off, then everything is off," Okung said. "And, honestly, that can happen on every play. It can be picking up stunts or blitzes or a pick-game with me and Dan, where the end is trying to crash.
"If Pouncey tells me which side to protect because we think a defensive back is coming off the edge, and I'm not paying attention to him or not trusting him to make the right call, then it's a big hit on Philip, which can be devastating.
"We take a lot of pride in what we do. It makes us absolutely sick to see the quarterback get hit. We want our running backs to have success and our quarterback to stay clean, always. The fans see it when we mess up. We're the unsung heroes, for sure."
Synchronicity is the key for a good offensive line. When all five men are physically and mentally prepared, sharp in their technique and working in unison, the yards, points and victories usually follow.
The Chargers, who haven't reached the postseason since 2013, rank eighth in the NFL in total offense (399.3 yards per game), fifth in rushing (128.9) and 12th in passing (270.4), and are well-positioned for a playoff run.
"Chemistry on the line makes all the difference, it really does," Chargers offensive line coach Pat Meyer said. "Take away the individual traits, take away the athleticism and power and all that.
"The cohesiveness of the line is most important thing, and that's what we have, a good group of guys that wants to get better individually, from a unit standpoint and as a team."
---
Get the latest on L.A.'s teams in the daily Sports Report newsletter.
You may occasionally receive promotional content from the Los Angeles Times.