Chargers' drive on offense help defense stay on road to 20-19 victory over Titans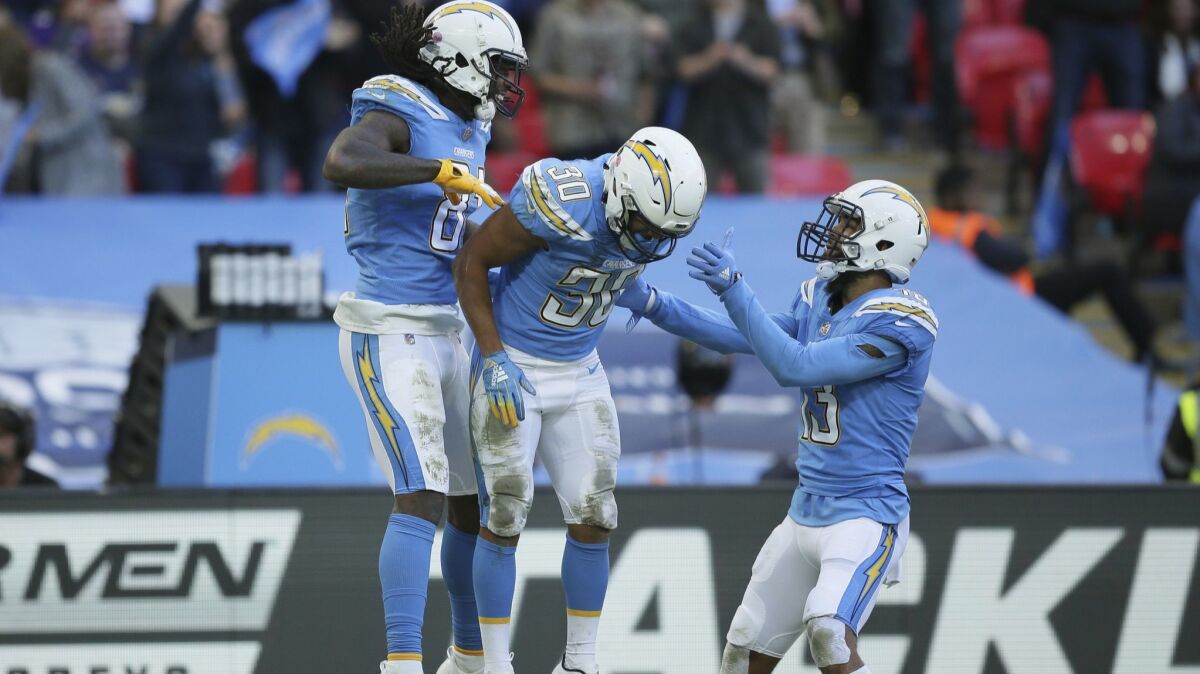 Reporting from london —
As impressive and efficient as their two touchdown drives were Sunday -- a pair of quick-strike possessions covering 150 yards on four plays -- what the Chargers needed most in the second half was a blue-collar, grind-it-out, chew-up-some-clock drive to give their overworked defense a break.
The 10-6 lead they held at halftime of an eventual 20-19 victory over the Tennessee Titans was about the only advantage the Chargers held in the first 30 minutes at Wembley Stadium.
The Titans ran 36 offensive plays compared to the Chargers' 16. Tennessee had the edge in first downs (11-6) and total yards (208-177) and a huge advantage in time of possession, holding the ball for 21 minutes 1 second of the first half compared to the Chargers' 8:59.
"You look up in the first half, we had 16 or 15 snaps," Chargers quarterback Philip Rivers said. "That's a small number of plays, smaller than we're used to."
A 75-yard bomb from Rivers to Tyrell Williams on their first offensive play of the game and a 55-yard touchdown pass from Rivers to a wide-open Mike Williams on the third play of the second half built a 17-6 Chargers lead.
The Titans cut the deficit to 17-13 on Derrick Henry's one-yard touchdown run with 9:43 left in the third quarter. After an exchange of possessions, the Titans still held a 46-24 edge in offensive plays when the Chargers took over at their 34-yard line with four minutes left in the third.
That's when Rivers and running back Austin Ekeler, who got the start in place of the injured Melvin Gordon (hamstring), wide receiver Keenan Allen and tight end Antonio Gates went to work, keying a 14-play, 56-yard drive that consumed 6:27 in the third and fourth quarters.
The drive stalled when Mike Williams was unable to haul in Rivers' third-down pass from the 10-yard line in the end zone, and the Chargers settled for Michael Badgley's 28-yard field goal and a 20-13 lead with 12:29 left.
But the defense got a much needed breather, which may have helped in the waning moments when the Chargers snuffed out a two-point conversion attempt. i
"That drive was huge," said Ekeler, who rushed 12 times for 42 yards and caught five passes for 26 yards. "Obviously, you want to end up with a touchdown and we got a field goal, but for us to be able to stay on the field, to get some chunks of time off the clock, definitely helped our defense."
Ekeler took an inside handoff on first down and rushed for 11 yards and caught a five-yard pass from Rivers on the next play. On third-and-five from the 50-yard line, Rivers hit Gates with a seven-yard pass, giving the Chargers their first third-down conversion of the game in four tries.
Three plays later, on third-and seven from the Tennessee 40, Allen made a tricky catch of a ball that was thrown a little behind him for a 13-yard gain. On third-and-four from the Titans' 21, Allen dove to the ground to dig out a low Rivers pass for a seven-yard gain and a first down.
"Keenan's catches were big," Ekeler said. "That's what you're looking for from him. He's probably one of the most consistent, if not the most consistent, receiver on the team."
He's also one of the most fiery and animated. On the incomplete third-down pass to Mike Williams in the end zone, Allen was so upset that Rivers didn't throw the ball to him on the right side that he angrily kicked the pylon in the back corner of the end zone.
Allen got an earful from wide receivers coach Phil McGeoghan on the sideline, and then Allen and Rivers started screaming at each other with such intensity that teammates had to separate the two.
"It was a misunderstanding of the coverage," Allen said. "I was definitely open, but if Phil was looking over there, I probably wouldn't have been open. He saw it. I went back and looked at it on an iPad, and we talked about it. It was a misunderstanding, and I let the frustration get the best of me."
Both players quickly apologized to each other, Rivers putting his arm around Allen and patting the receiver on the shoulder pads.
"It wasn't our first little spat, it probably won't be our last one, and that's OK," Rivers said. "He wants to win so bad, and he wants the ball so bad, and I want him to want that. You know, brothers and guys who are close, they argue sometimes, and then you see two minutes later we were fine.
"There's no problem there. He ran a route so good that he felt like he needed the ball, and he should have, that's fine. But at the same time, the coverage was going his way, so I went somewhere else. It's just passion. It's an emotional game."
Follow Mike DiGiovanna on Twitter @MikeDiGiovanna
---
Get the latest on L.A.'s teams in the daily Sports Report newsletter.
You may occasionally receive promotional content from the Los Angeles Times.