Chargers aren't worried about their limited salary-cap space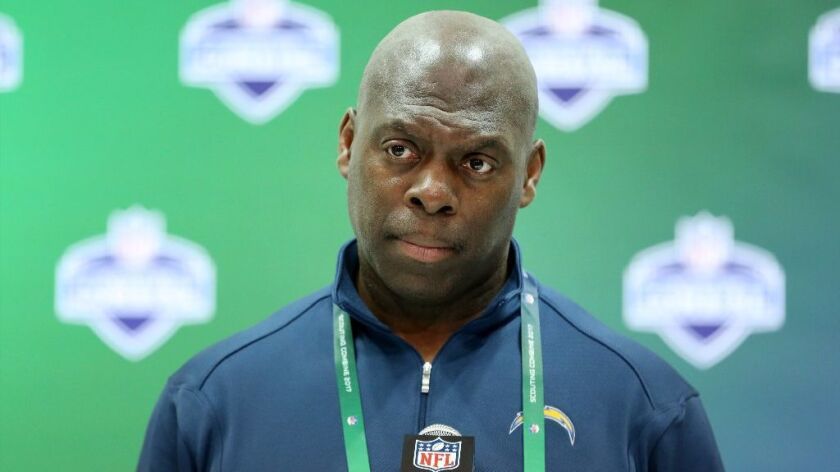 Reporting from INDIANAPOLIS —
After the NFL's salary cap for the 2017 season was set at $167 million, anyone interested in finding out how much room the Chargers have to sign free agents would've needed to move their eyes from north to south to find Los Angeles' new team near the bottom of the spending list.
With roughly only $6 million in current wiggle room, the Chargers would barely be able to afford Orange County real estate, nevertheless top free agents to put in their Costa Mesa digs when the team moves later this summer.
But General Manager Tom Telesco made sure to remind everyone during his media session at the NFL scouting combine his team wasn't in great cap peril. In fact, they've already landed one of their top targets.
The team put the franchise tag on edge rusher Melvin Ingram earlier in the week, and Telesco said Thursday he hopes to soon have Ingram signed to a long-term contract.
"We know Melvin was a priority with us this off-season. Him as a player, the position he plays, what he's done for us — pass rushers are very important in this league," Telesco said. "If we didn't have Melvin Ingram, we'd have a pretty big hole as a pass rusher. It was important to get him back with us."
Ingram's franchise tag as a linebacker will cost the team $14.5 million, but a new, long-term deal could be structured to lessen its impact on the cap. The team also could release veterans under contract — wideout Stevie Johnson is considered an option — as a way to clear more space.
One of those players won't be veteran tight end Antonio Gates, the organization's all-time leading receiver.
Chargers Coach Anthony Lynn referred to Gates as a "cornerstone" the team wants to add around.
"We think we're in a pretty good spot," Telesco said. "… Just cap-wise, we can get done what we need to get done."
The Chargers would like to upgrade their offensive line, and they'd like to retain some of their free agents, including veteran running back Danny Woodhead, who sat out 14 games last season because of a torn right anterior cruciate ligament.
Woodhead's knee is close to 100% and, earlier this week, he posted videos of himself on his Instagram account running routes at full speed.
"He's quick; good hands out of the backfield," Lynn, a long-time running backs coach, said. "I had Danny in New York so I know him very well. He's a good changeup from Melvin [Gordon]. Melvin is more of that bigger, taller, physical runner. And Danny can bring that finesse and that quickness and that perimeter run game."
Last year, the team ranked No. 26 in rushing offense.
Line help
The struggles running the ball plus the need to protect quarterback Philip Rivers has "offensive linemen" near the top of the Chargers' wish list while they evaluate prospects.
The group was already in need of an upgrade before starting tackle King Dunlap was arrested on suspicion of violating a protective order this off-season. Both Lynn and Telesco said they have spoken to Dunlap about the domestic charge.
"He's been a high-character guy for the Chargers for the last four years. I understand he's dealing with the law right now, and we're going to let that process work out," Lynn said. "I don't want to make any judgments on him right now."
Telesco also said the team would be patient.
"These are decisions you need to work on," he said. "We're still gathering a lot of information on that, forming a determination of what we do."
Even if Dunlap is with the Chargers, the team's offensive line is in need of an upgrade.
"Right now, we're counting on everybody who is under contract on the offensive line. Make no mistake about it; I think we can play better on the offensive line," Lynn said. "And, we will. I think there are some things we can do differently as a coaching staff that's going to help those guys, and we're looking to upgrade the position if possible."
Trouble is, it might be difficult for the Chargers to use their first-round pick, the seventh overall, to address the need without overreaching.
"I'd say offensive line in general this year is probably not as strong as other years," Telesco said. "…For us, it's all relative to what you're looking for and what your traits are at certain positions, whether tackle, guard or center. I know we've got some guys that we like. I haven't really compared it to last year's numbers yet, but in general, I would say, yeah, it's probably not as strong as other years."
Notes
Telesco said the Chargers' top wide receiver Keenan Allen is on track in his recovery from the torn right ACL he suffered in the team's season opener last season. "We'll have a better feel probably in early April, late April, as far as a better timetable of where he is. But he's on track, where he should be, which is good news," Telesco said. …
Telesco was asked about Ole Miss quarterback Chad Kelly being excluded from the combine, with the league excluding Kelly and Oklahoma running back Joe Mixon from the event after high-profile legal problems.
"It's my 23rd combine. I never really felt the combine was a reward for a college player's career," he said. "The combine to me was always, this is an evaluation event for us to see everybody that we think is an NFL prospect, and get our work done on them. We'll get our work done one way or another."
---
Get the latest on L.A.'s teams in the daily Sports Report newsletter.
You may occasionally receive promotional content from the Los Angeles Times.