Chargers knew of battery complaint against Chris McCain when they rescinded contract offer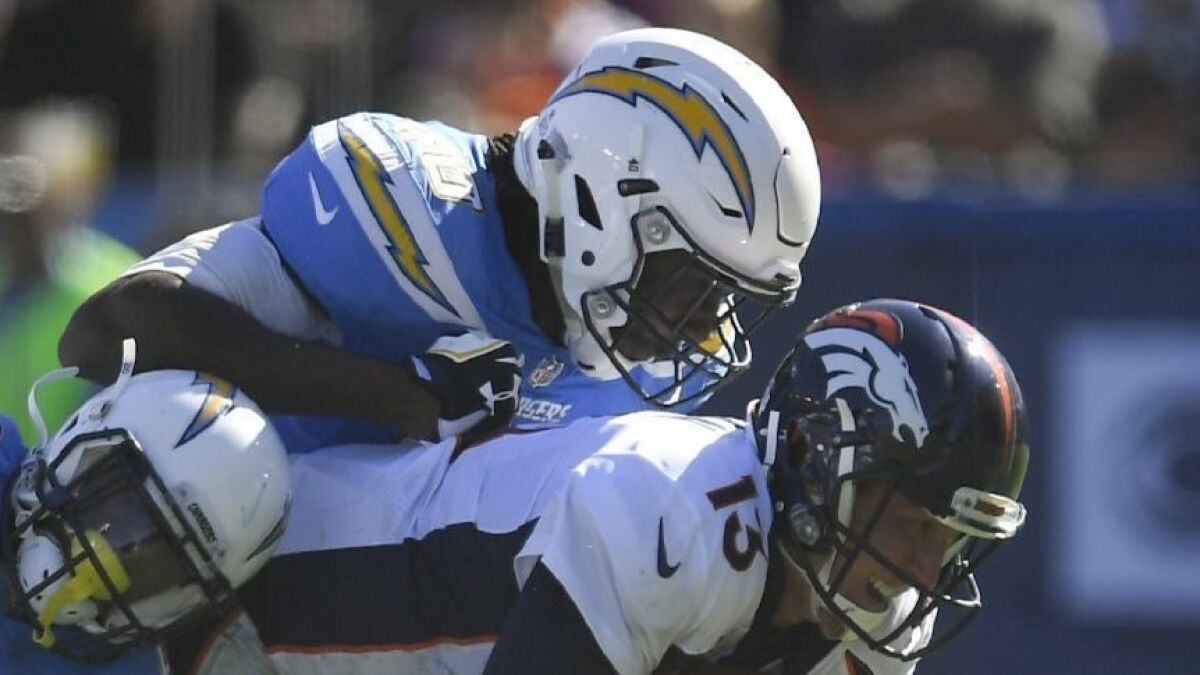 Former Chargers defensive end Chris McCain has been charged with two counts of battery stemming from an alleged incident Jan. 7, according to a complaint filed by the Los Angeles City Attorney.
McCain, 26, is alleged to have spit on and grabbed the neck of the alleged victim, Arpi Davtyan, according to the complaint. McCain told the Indianapolis Star Tuesday that he had no knowledge of the incident, had never heard of the alleged victim, and had not been contacted by investigators. He is set to be arraigned July 13.
In 15 games with the Chargers last season, McCain recorded five sacks and became the team's most reliable pass rusher from the edge, outside of Melvin Ingram and Joey Bosa.
He also received a lot of positive attention for his pregame ritual, in which he brought a young fan down from the stands to walk around the field with him.
"I just do it to give back," McCain told The Times in September. "I love kids. I never went to a football game as a kid. I always wanted to, and we could never afford it.
"I always wanted to meet a player, to find a way to shake their hand, and I never could. You never know which kid might feel that way."
The team extended a "right-of-first-refusal" tender worth $1.9 million to McCain this offseason, signaling their interest in keeping him. However, on April 15 the team surprisingly rescinded the tender, making McCain a free agent.
At the time, coach Anthony Lynn said "the sport does have a business side to it." McCain signed a one-year, $705,000 deal with the Indianapolis Colts on May 8.
The Chargers wouldn't say whether the incident led to the team rescinding its tender. However, the organization learned of an allegation before it made the decision.
"We were aware of an alleged incident and alerted the league office at the time," a team spokesperson said.
But McCain told IndyStar he had no knowledge of the incident and was unaware of the case's existence until news reports surfaced Tuesday. He also said he had never heard of the woman identified as the alleged victim.
"She is lying," McCain said.
McCain also said no investigators have contacted him about the matter.
"No one has contacted me about anything," he said. "No cops, no one. No one has talked to me."
Twitter: @DanWoikeSports
---
Get the latest on L.A.'s teams in the daily Sports Report newsletter.
You may occasionally receive promotional content from the Los Angeles Times.