Chargers running back Melvin Gordon has a sprained knee ligament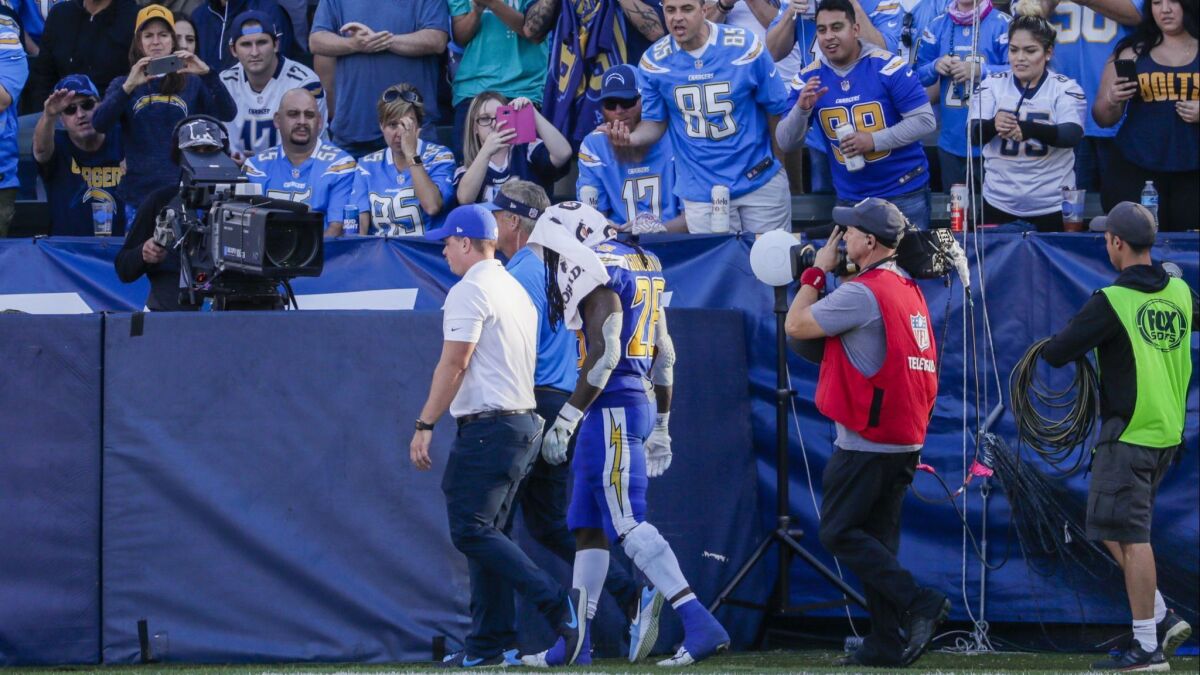 The Chargers officially lost one of their most dynamic playmakers Monday, but the development was still "good news."
That was coach Anthony Lynn's assessment after the team learned that Melvin Gordon suffered a sprained medial collateral ligament in his right knee.
The Chargers' leading rusher almost certainly won't play Sunday in Pittsburgh; he will be evaluated week to week beyond that. Lynn said he "absolutely" maintains hope that Gordon will return before the end of the regular season.
"It just depends on how he progresses with this recovery," Lynn said. "Melvin, over the years, he's healed pretty quickly. So, when he's ready to go, he's ready to go."
After playing the Steelers, the Chargers return home to face Cincinnati on Dec. 9 and then visit Kansas City for a Thursday night game Dec. 13.
The Chargers would love to have Gordon back for that meeting with the Chiefs, a game that could factor heavily into determining the AFC West champion. But until Gordon is able to return to the practice field, the Chargers won't have a full grasp on a timetable.
"I've had MCLs and I know you can recover quickly from those," said Lynn, a former NFL running back. "I was very relieved."
Without Gordon, the Chargers will turn to his backup, Austin Ekeler. Behind Ekeler are rookies Justin Jackson and Detrez Newsome.
Ekeler, who is in his second season, has established himself as a good complement to Gordon.
Like Gordon, he is a capable runner and receiver. In the Chargers' 45-10 victory over Arizona on Sunday, Ekeler led the team with 10 receptions.
He is listed as three inches shorter and 15 pounds lighter than Gordon, but Ekeler is known for being more stout than his 5-foot-10, 200-pound frame might suggest.
"He's a smaller back, but he's pound for pound the strongest young man on our team," Lynn said. "I have no problem with Austin running between the tackles."
Ekeler is second on the Chargers with 409 yards in 70 carries, an average of 5.8 yards per run. He has caught 32 passes for 354 yards and scored four touchdowns total.
Lynn said the Chargers' game plan won't change much without Gordon because Ekeler has such a prominent role in the offense.
"Austin was already plugged in with what we were doing right now — inside, outside, special plays," Lynn said. "It won't change at all."
Gordon was injured when he was brought down by lineman Robert Nkemdiche. Gordon had just taken a lateral from Ekeler as part of a double reverse when Nkemdiche went low and, in the process of trying to make the tackle, leg whipped Gordon.
Lynn described the play as looking "pretty nasty" but said he didn't question Nkemdiche's motives.
"I don't know if it was intentional," Lynn said. "I thought the young man was just playing hard and it happened."
Gordon, who leads the Chargers with 13 touchdowns — at least six more than anyone else — sat out a game last month because of a hamstring injury. The Chargers still defeated Tennessee 20-19, but rushed only 16 times for 47 yards, both season lows.
In search of more ground production, the Chargers could incorporate their receivers, particularly on sweeps. Keenan Allen, Mike Williams, Tyrell Williams and Travis Benjamin each has carried the ball at least twice this season.
Lynn expressed confidence in the team's reserve running backs.
"Those guys are young," he said. "Young legs, this time of the season, with the fresh legs and the veterans being worn down a little bit, sometimes they can come in and bring a little juice to your offense." Jackson, the Chargers' seventh-round pick, extensivehad his most extensive playing time Sunday, finishing with seven carries for 57 yards.
He was cut at the end of the preseason before being signed to the practice squad. Jackson was promoted to the active roster during Week 4.
"I saw a guy that's been waiting on the runway, waiting for his opportunity," Lynn said when asked to assess Jackson's play Sunday. "I thought he took full advantage of it.
"He's not banged up at all. He's fresh. That's what we brought him here for, this time of year. A lot of times, young backs gotta step in and play. He was ready."
Gordon's loss comes just after the Chargers lost two other starters — defensive tackle Corey Liuget and linebacker Denzel Perryman — to knee injuries that ended their seasons.
The team also was without Pro Bowl defensive end Joey Bosa for nine games because of a foot problem before he returned during Week 11.
Despite those injuries and several others, the Chargers (8-3) remain the AFC's wild-card leaders by two games.
"You just look at the character of our football team," Lynn said. "We have good guys. I say it all the time: great players don't win championships, great teams do. I think we have an opportunity to have a great team here."
Extra points
Tyrell Williams (groin) played sparingly Sunday. Given the score, there was no need to push him, Lynn said. … Defensive tackle Brandon Mebane remains away from the team dealing with a family matter. Lynn said he did not know whether Mebane would be available Sunday.
Twitter: @JeffMillerLAT
Get the latest on L.A.'s teams in the daily Sports Report newsletter.
You may occasionally receive promotional content from the Los Angeles Times.