NFL combine will help the Chargers answer some questions ahead of the draft
Every year, the NFL's decision makers descend to the tropical paradise that is Indianapolis in late February for answers.
They'll find out how fast someone can run; how many times he can bench press a certain weight. They'll learn how high he can jump, how tall he is, and how much he weighs.
And, maybe most importantly, they'll get to learn about the players' injuries and personalities.
Those are the questions that will be answered in Indianapolis, but the Chargers, like every other team, have very specific questions that won't get answered until deep into the draft process.
Here are the three biggest ones they'll start addressing:
Is this QB year?
Until the Chargers actually make a move, this is the question general manager Tom Telesco will have to answer every time the NFL draft rolls around: What's the plan after Philip Rivers is done?
Rivers did his part to slow that timetable last season with one of the best seasons of his career. Rivers threw only 10 interceptions — six in two games against Kansas City — a dramatic improvement from a 21-interception season in 2016.
There have been mixed feelings about this quarterback class, with the top-tier names — Josh Rosen, Sam Darnold, Josh Allen and Baker Mayfield — all coming with their unique concerns.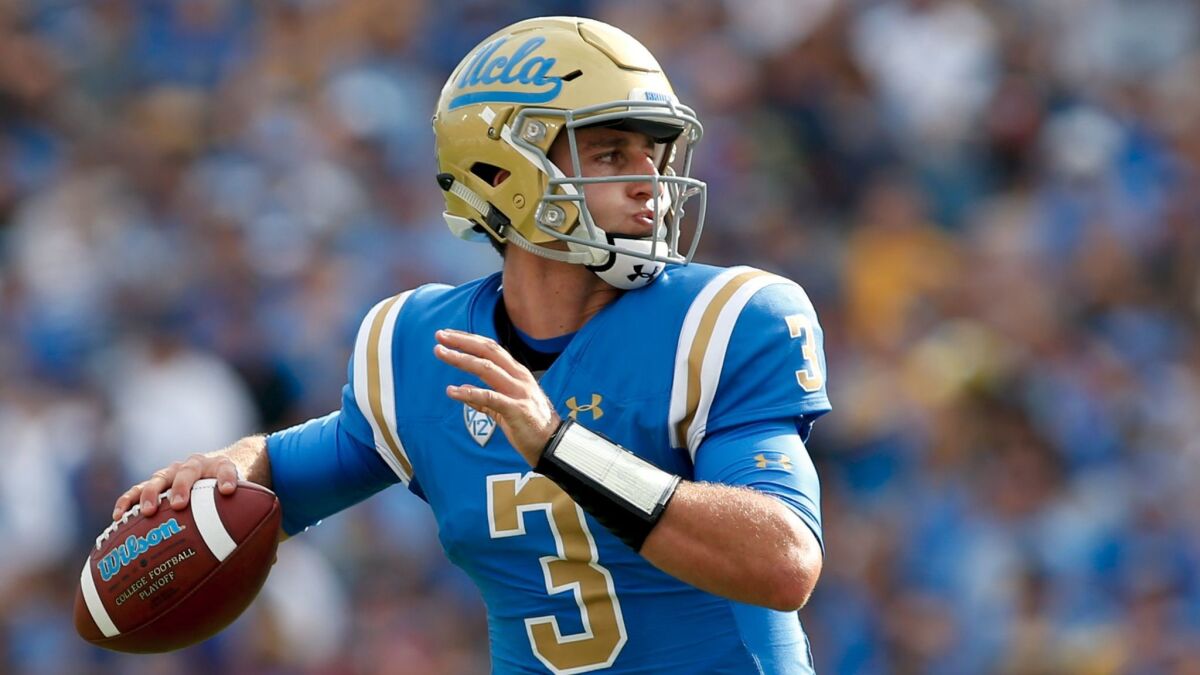 Considering the Chargers played so well under Rivers last season, they might not want to take a quarterback in the early rounds when players who could make an immediate impact are available.
Still, if one of the top quarterbacks starts to slip, the Chargers might be in position to start building a contingency plan — if they decide it's the year to do it.
Biggest holes?
The Chargers enter the offseason in a unique situation — the roster was flawed enough to lose four-straight games to start last season and talented enough to win nine of their last 12.
They were fairly healthy for most of the season, meaning the Chargers probably need to become deeper than they were a year ago. The bigger needs might be a little more subtle.
The Chargers improved dramatically against the run over the course of last season, but they did so in unconventional fashion, using more defensive backs than linebackers.
The team could use some heft in the middle — where the career of Brandon Mebane, 33, could be winding down — and will likely get a good look at the top defensive tackles in the draft.
The Chargers also could use help at linebacker, and safety Tre Boston might need to be replaced if he leaves via free agency.
Offensively, depending on free agency, the Chargers might need to replace Antonio Gates at tight end, and offensive linemen Matt Slauson and Kenny Wiggins.
Getting second-year guard Forrest Lamp back from knee surgery will help, and last year's first-round pick, receiver Mike Williams, should play a bigger role, too.
If the Chargers don't find great answers to what they need most, they could end up simply going for the best value with each pick, a strategy Telesco has used in the past.
Who's going to kick?
The most obvious need the Chargers have going into this offseason is a reliable kicker, something they thought they had when they signed Younghoe Koo as an undrafted free agent … something they thought they had when they signed Nick Novak … and so on and so on ...
The first steps at the combine will be figuring which — if any — of the rookie placekickers is worth expending a draft pick.
The Chargers could look for a veteran — Oakland's former kicker Sebastian Janikowski perhaps — or another young kicker who has been making the rounds, but they'll have to do something to avoid last season's disaster.
Twitter: @DanWoikeSports
---
Get the latest on L.A.'s teams in the daily Sports Report newsletter.
You may occasionally receive promotional content from the Los Angeles Times.