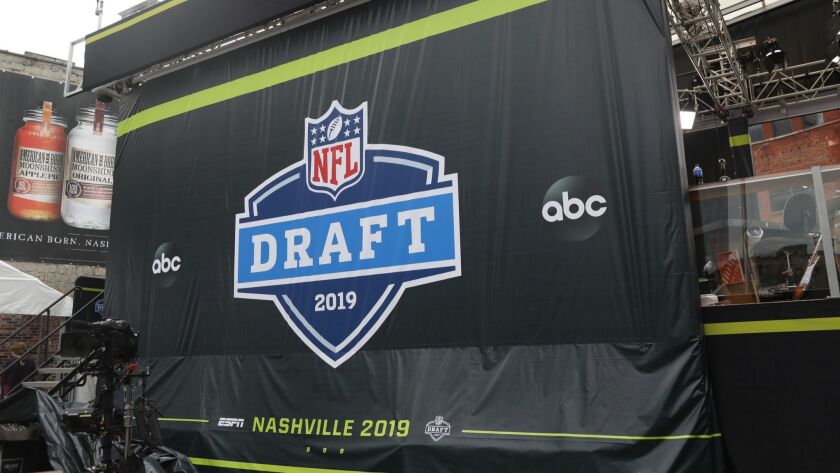 They've made some great runs in April.
Unfortunately for the Chargers, the NFL holds its Super Bowl in February.
"We just don't grade our draft classes," Tom Telesco said. "We don't do a lot of that assessment. It really comes down to wins and losses, can you make the playoffs, how many playoff wins can you have, can you win a championship."
This franchise has yet to claim its first NFL title.
Still, Telesco and the Chargers have enjoyed great recent success in the draft, which begins Thursday.
The ultimate goal continues to be a rampage through the postseason rather than the offseason. But it is worth noting how well Telesco's offseasons have been with the Chargers.
Since he was hired in 2013, the Chargers have drafted a player each year who became an All-Pro or played in a Pro Bowl.
The group includes Keenan Allen, Jason Verrett, Melvin Gordon, Joey Bosa, Desmond King and Derwin James, and no other team is even close to matching that stretch of achievement.
Telesco joined the Chargers after a long run with Indianapolis. Not surprisingly, his career as a football executive is rooted in scouting.
And, yet, he understands that the Chargers have won only two playoff games during his tenure. He also appreciates the reality of being in a position where job performance is assessed day to day. Or, this week, round to round.
"You're only as good as your next draft class, to be honest with you," Telesco said.
Unless there's a trade, his next draft class is going to get a tardy start. The Chargers don't pick until the 28th spot in the first round.
This is particularly discouraging considering Telesco said Monday that the Chargers don't have 28 players rated as genuine first-rounders.
The Chargers haven't drafted this late since 2007, when they selected 30th. That year, they took a receiver from Louisiana State named Craig Davis. In four years, Davis caught 51 passes and scored two touchdowns.
But seven spots after Davis that year, the Chargers chose a safety from Utah named Eric Weddle, a decision that proved to be much more productive.
Grading draft classes while the names are still echoing from the podium is less an inexact science and more an exact guessing game.
In his second year with the Chargers, Telesco didn't draft Adrian Phillips. But neither did anyone else.
Instead, Phillips signed with the Chargers as a free agent, beginning a rather remarkable journey in which he got cut eight times, spent long stretches on the practice squad and become a 2018 special-teams All-Pro.
"A human judging another human," Telesco said, "is very difficult to do."
The Chargers have needs along the offensive and defensive lines. They could use another safety. And a cornerback.
Telesco said that, if the best player available Thursday mans a position the Chargers don't need right now, they'll probably draft him anyway.
All of which means they could do just about anything with the 28th pick, including not even make it. Telesco said a trade is possible, a trade to move up or down.
He also said that whatever he does in this draft his decisions won't be based solely on where the Chargers need to be in a few months.
"You always have more than one need," Telesco said. "Our needs change a lot. I don't know what our needs will be in 2020 and beyond. It's hard to take players right now with only thinking of how they pencil in on opening day 2019."
Sign up for our daily sports newsletter »
Over the last two years, the Chargers have drafted 14 players. Each one of them is still with the team, and only receiver Dylan Cantrell (sixth round last year) hasn't appeared in a game.
That's another example of Telesco and his staff's consistency.
They will enter Thursday looking to add talent but also talent that fits in with more than just football schemes.
"We do have a good thing going in our locker room right now," Telesco said. "I love the camaraderie. I love how the guys play with one another and play for each other. They're great teammates.
"They're tough on each other. They want to win. They hold each other accountable, but in the right ways. I think we have a good group of leaders. We need players to come in and kind of fit in that culture."
Slightly more than three months ago, the Chargers season ended with a 41-28 divisional-round playoff loss at New England.
With the 28th pick of this year's draft, they'll move another step toward replacing that memory.
"We have 12, 13 months we work on this," Telesco said. "There's really no excuse to not be prepared to do something on draft day."
Twitter: @JeffMillerLAT
---