Chargers activate tight end Hunter Henry for AFC playoff game against New England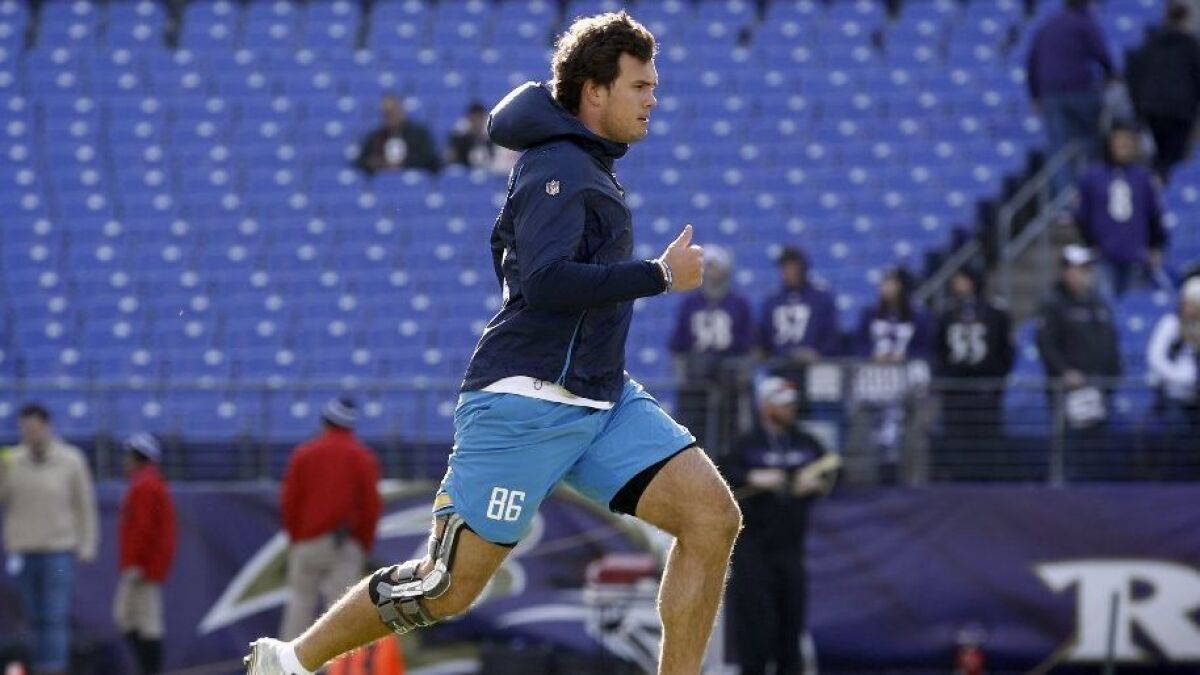 The long wait for tight end Hunter Henry ended Monday when the Chargers activated him from the physically unable to perform list.
Now, Henry and the Chargers have a few more days to figure out whether he is in position to contribute in their biggest game yet.
Henry's status for the Chargers' divisional-round playoff matchup at New England won't be determined until the end of the week.
But Monday marked a milestone for Henry, who suffered a torn knee ligament in May. He made it back to the active roster in slightly less than eight months.
"He's really excited," coach Anthony Lynn said. "He's been with us all along. He's been in meetings all year. He's been very much engaged. So we feel like he's ready to play."
The Chargers had until Monday to active Henry. Otherwise, he would have been put on injured reserve and ruled out for the season.
When the team resumes practice Wednesday, Henry will be asked to push his conditioning and intensity to gauge his overall readiness. Last week, Lynn said the team was confident in the stability of Henry's knee.
"We still need to see him play more football," Lynn said. "You don't want to throw a player back in until he's ready. We're still evaluating him."
Henry has been traveling with the Chargers in recent weeks and was in Baltimore. The decision was made Saturday to not activate him for the wild-card game against the Ravens, a 23-17 Chargers victory.
When Henry returns, he'll provide the offense with another option, particularly in red-zone situations.
Against the Patriots, he would be limited to a predetermined number of snaps to avoid rushing him back.
But with a berth in the AFC title game going to the winner, the Chargers could use all their weapons.
"We're not just going to roll the ball out there and say, 'Hey, go,' " offensive coordinator Ken Whisenhunt said. "It's a little bit of working him back into it. To his credit, he's worked very hard."
Defensive scheme draws attention
The Chargers' unusual and successful game-long deployment of seven defensive backs Sunday generated talk throughout the NFL.
But first, the idea led to much discussion inside the team's facility.
"There were some long conversations there," Lynn said. "But I trust our coaches. They believe in the personnel that we have.
"We have those conversations. We don't always agree. We disagree sometimes. But, yeah, that one was a tough one when he [defensive coordinator Gus Bradley] first brought it to me. But it worked."
Bradley and his assistants decided the best way to combat the speed of Baltimore quarterback Lamar Jackson was to use smaller, quicker defenders in place of more traditional linebackers.
Safeties Jahleel Addae and Adrian Phillips basically manned the middle while safeties Derwin James and Rayshawn Jenkins at times tracked Jackson.
The result was a flustered Ravens offense that entered the fourth quarter with three first downs and 83 yards.
While noting the obvious contributions of the defensive backs, Lynn also praised the Chargers who were up-front.
"You can't put two little guys in the box if the defensive line doesn't show up," he said. "We put more stress on our defensive line than we ever have."
Rookie tackle Justin Jones finished with four tackles and a sack. Damion Square, T.Y. McGill and Darius Philon each contributed inside.
Melvin Ingram, Joey Bosa and Isaac Rochell all got to Jackson at least once, as the Chargers sacked him seven times.
"Those young men, they won their one on ones," Lynn said. "They won their gap. And sometimes, they won the double-teams. …That's the best I've seen our defensive line play all season."
Offensive line gets kudos
Overshadowed by that swarming defensive effort was a much-improved performance by the Chargers offensive line, which limited one of the NFL's best defenses to one sack of Philip Rivers.
Baltimore used a flurry of stunts and blitzes to sack Rivers four times, hit him four other times, intercept two of his passes and hound him into his worst game of the season in a 22-10 win over the Chargers in Carson on Dec. 22.
Rivers completed 23 of 37 passes for 181 yards and no touchdowns and, according to NFL Next Gen Stats, was under pressure on 18 of his 41 (44%) dropbacks.
The Chargers didn't generate much offensively in the rematch Sunday. Rivers was 22 of 32 for 160 yards and no touchdowns. The Chargers scored one touchdown and kicked five field goals, and had only 243 yards.
Though Rivers absorbed seven quarterback hits in addition to the sack, he was under pressure on only five of his 33 (15%) dropbacks and had no interceptions.
The Chargers, playing Baltimore's style of offense, had possession for 33 minutes 39 seconds, compared to the Ravens' 26:21.
"The last time, they came at us with some pick-stunts, and we weren't prepared for it. They created two sacks and put pressure on the quarterback," Lynn said. "We were prepared for that this time. Our offensive linemen won their one on ones. They strained, they showed effort and they protected well up front."
Rivers also negated some of the Ravens' pressure with several short swing passes to running backs Austin Ekeler and Melvin Gordon, a few shovel passes to Travis Benjamin and some quick-release throws to receivers in man-to-man coverage, most notably a 28-yard pass to Mike Williams late in the third quarter.
With Baltimore blitzing on a second and six from the Ravens 43, Rivers took a three- or four-step drop and lofted a pass toward Williams on a go-route before Williams even turned and looked for the ball. He made a diving catch behind cornerback Jimmy Smith.
"I'll tell you what, there are a lot of bad offensive games by teams facing that defense," Rivers said of the Ravens. "We were pleased with the way our offensive line played, protecting the quarterback."
Twitter: @JeffMillerLAT
Get the latest on L.A.'s teams in the daily Sports Report newsletter.
You may occasionally receive promotional content from the Los Angeles Times.