Column: Chargers' Philip Rivers and Antonio Gates, and Patriots' Tom Brady, recall 2008 AFC title game cold
Time has a way of blurring the edges of our memories but keeping certain moments and feelings vivid for years.
New England quarterback Tom Brady remembers it was chilly on Jan. 20, 2008, when the Patriots faced the San Diego Chargers for the AFC championship at Gillette Stadium and profootballreference.com backs him up: the temperature was 23 degrees but a wind of 17 miles per hour in Foxborough made it feel like it was 9 degrees for their 3:05 p.m. (Eastern time) kickoff.
Brady, already a three-time Super Bowl champion at the time, also clearly recalls his admiration for Chargers quarterback Philip Rivers.
"I know Philip had a torn ACL, and the fact that he played was unbelievable," Brady said this week.
Rivers, then in his third season as the Chargers' starter, had injured his right knee in their divisional-round upset of the Indianapolis Colts and underwent an arthroscopic procedure the next day. He was listed as doubtful two days before the game at New England but was determined to play through the discomfort.
"It wasn't real good," he said. "It wasn't crazy pain. It kind of buckled a few times in the game but I really was thankful. Throughout the course of the game I didn't feel like it really hindered me as much as I had anticipated. It didn't help."
Tight end Antonio Gates, the only other player on the Chargers' current roster who played in that game, thought their AFC championship game appearance was "routine" because the two teams had met in the divisional round the year before, the Patriots winning on a late touchdown and a last-minute field goal.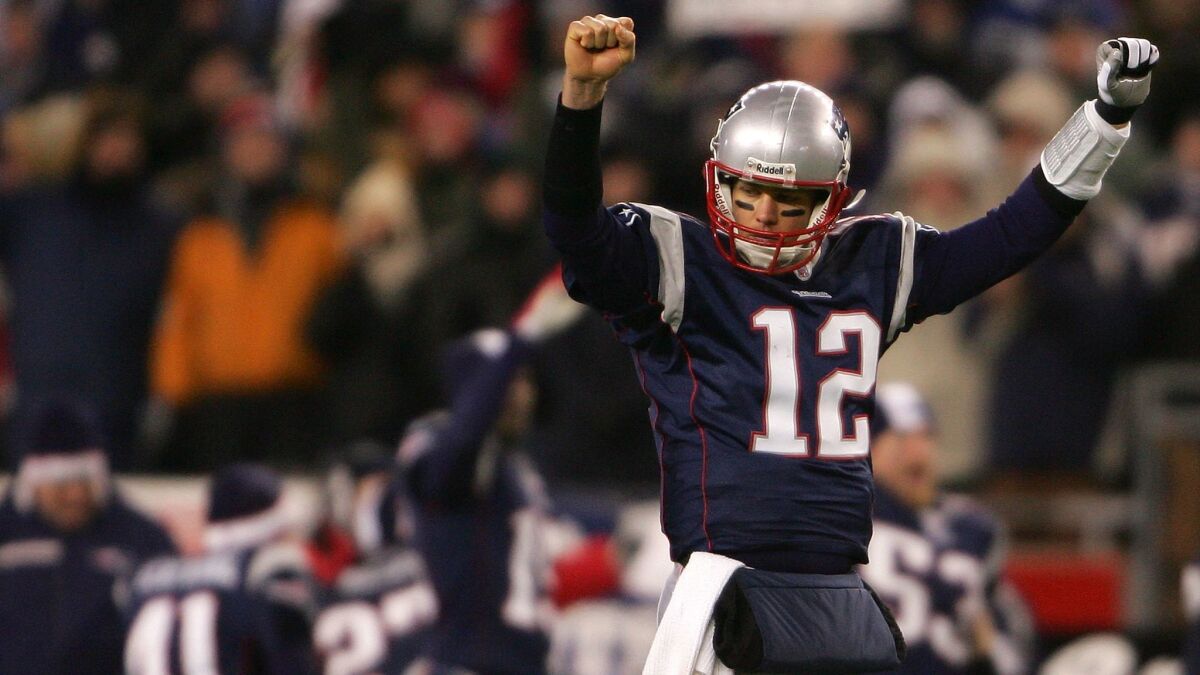 In the rematch, the Chargers carried momentum after their rallies against Tennessee and Indianapolis but they also had battered bodies. Besides Rivers' knee, running back LaDainian Tomlinson and linebacker Shawne Merriman were hobbled by knee injuries and Gates had a dislocated big toe. Gates wasn't sure if he could play.
"I'm glad I actually did, to be honest with you, because we haven't got back to that point," he said.
The Chargers were stopped cold that day. They took a lead on a field goal by Nate Kaeding early in the first quarter but the Brady-led Patriots surged past them in the second quarter of an eventual 21-12 victory, which elevated New England's record to 18-0. The Chargers' points came on field goals of 26 yards, 23 yards, 40 yards, and 24 yards.
Since then, the Patriots have won two more Super Bowl titles. The Chargers have won three playoff games, including the 23-17 wild-card victory at Baltimore last week that sent them to Foxborough on Sunday for a season-defining divisional playoff matchup against the Patriots.
"In my career, it's safe to say I'm on third base and on my way home," said Gates, 38. "Not to go back again, I think it makes it more special for me now, in this day and age and just knowing that a small percentage of people get a chance to play in that kind of game."
Brady didn't have a typically great performance in that AFC championship game. He threw three passes that were intercepted and completed 22 of 33 passes for 209 yards and two touchdowns as the Patriots relied on their defense and burned the clock late with their running game.
The Chargers cut New England's lead to 14-9 just before halftime but Chargers coach Norv Turner was conservative and called for a field goal on fourth-and-three at the six-yard line with 8:40 left in the third quarter. Kaeding's 24-yard kick made it 14-12. Chargers cornerback Antonio Cromartie intercepted a pass Brady had intended for Ben Watson late in the third quarter, but the Patriots kept the Chargers out of the end zone.
"They played a good game," said Brady, 41. "We made a couple more plays. We got a couple turnovers from them. It ended up being a tough game. It was a hard-fought win."
Rivers' courage was exemplary but he was 19 for 37 for 211 yards and was intercepted twice. He said the Chargers' failure to score in four trips to the red zone was more of a problem than his aching knee.
"We didn't have our best day and I don't attribute it to that," he said of the injury. "We score those four touchdowns, or even two of them, who knows how it changes the outcome?"
Rivers, who was 26 on that cold day, is 37, still hasn't reached the Super Bowl and still hasn't beaten Brady: Rivers earned his lone career victory over the Patriots in October 2008, after Brady tore his ACL and was replaced by Matt Cassel.
"Certainly, I was a part of all those teams that didn't win in those games but this team right here has never played them, and that's the way I look at it," Rivers said. "Those are all things that you're aware of. Yes, as a competitor, heck yeah, you wish you'd won some of those seven but we didn't. We can't go back and win any of them but we've got a chance to win one on Sunday."
Rivers has hardly stopped smiling since he got this second chance.
"There is a piece of you that goes, 'It couldn't really be any better,' " he said. "And that doesn't mean because we think it's going to be easy or, 'Oh, we got this.' There's none of that. It's just why wouldn't you, as a team and then individually as a competitor, want to go to a place and a team that has been the best over the last 20 years?"
He can't rewrite history. What matters now is how this season will be remembered.
Follow Helene Elliott on Twitter @helenenothelen
---
Get the latest on L.A.'s teams in the daily Sports Report newsletter.
You may occasionally receive promotional content from the Los Angeles Times.