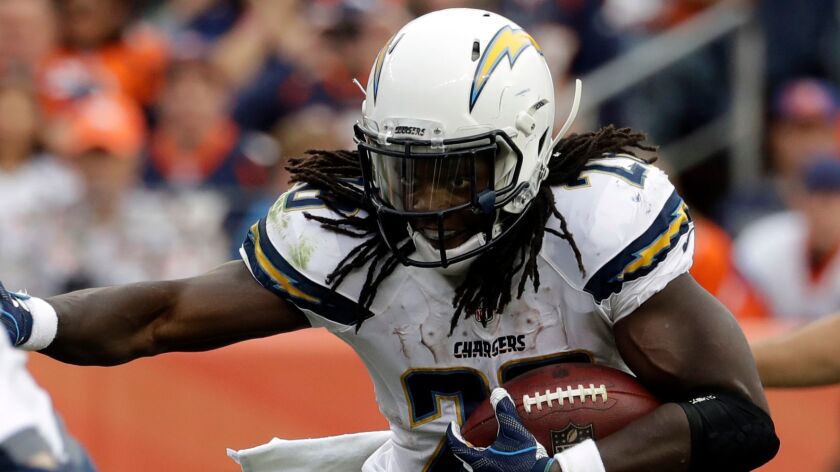 Reporting from Phoenix —
When your Wikipedia entry uses the words "ground and pound," you're either a mixed martial artist, a butcher or Chargers Coach Anthony Lynn.
While Lynn has vowed that the Chargers will have a balanced offense — with quarterback Philip Rivers being given opportunities to air it out when the situation allows — he almost certainly has a slight preference for running the football.
Lynn has coached running backs for nearly his entire professional career. His teams routinely are near the top in the NFL in rushing. He even played the position as a professional.
Maybe that's why a small grin rushes across his face when he talks about his new runner, Melvin Gordon.
"I look out my window right now and see him pulling sleds, running up hills," Lynn said. "He's hungry. He's the type of kid that I have to hold back."
Even a rocky rookie season didn't hold Gordon back last year, as he rebounded from a disappointing start to gain more than 1,400 yards from scrimmage in 13 games.
"Melvin's actually better than I thought he was. I like a runner that can get what's blocked and then win his one-on-ones. Melvin broke more tackles and won more one-on-ones than I thought he did, " Lynn said. "I was very impressed with him."
But he won't be enough.
The Chargers certainly could add to their backfield depth in the draft, and they did the same already via free agency.
They re-signed Branden Oliver, who has proved to be a backup if he can stay on the field, and they nabbed speedy Kenjon Barner from Philadelphia to help ease the pain from losing Danny Woodhead to Baltimore.
An X-factor in the team's running back depth chart, though, could be Andre Williams, a former star at Boston College. Williams rushed for 721 yards as a rookie before a disastrous sophomore season with the Giants.
He appeared in one game with the Chargers last season, rushing 18 times for 87 yards.
"Coming out of school, I studied Andre. He's a big back. He ran with good power," Lynn said. "He lost some weight. He's a very disciplined athlete. He's quicker now, and he still runs with power. Teach him some things out of the backfield in the receiving game, things like that, that can help him get more touches, and he's going to be fine."
While Gordon is clearly the guy, Lynn wants to find other options to help run the ball the way he wants.
"I like to run the football multiple ways," he said. "It's going to take more than one runner."
In between the tackles
On the left end of the offensive line, the Chargers and Lynn are counting on free-agent signee Russell Okung to protect Rivers' back and create holes for running back Gordon. On the right side, Joseph Barksdale is entrenched, starting 31 of the Chargers' last 32 games.
But in between the bookends on the offensive line, Lynn said he's open to change.
Left guard, center and right guard all could be shuffled before the Chargers start the season if young linemen Spencer Pulley and Max Tuerk perform as Lynn expects.
"I'm interested to see how they come along because that could change the whole dynamics on that line. [Matt] Slauson could go to guard, his natural position. One of those guys could take over at center. I don't know yet," Lynn said. "We're going to play around with that puzzle. Maybe we get a piece in the draft; I don't know. But we're going to play around with those three [spots]."
Follow Dan Woike on Twitter @DanWoikeSports
---