Staying healthy has been key factor in Chargers' resurgence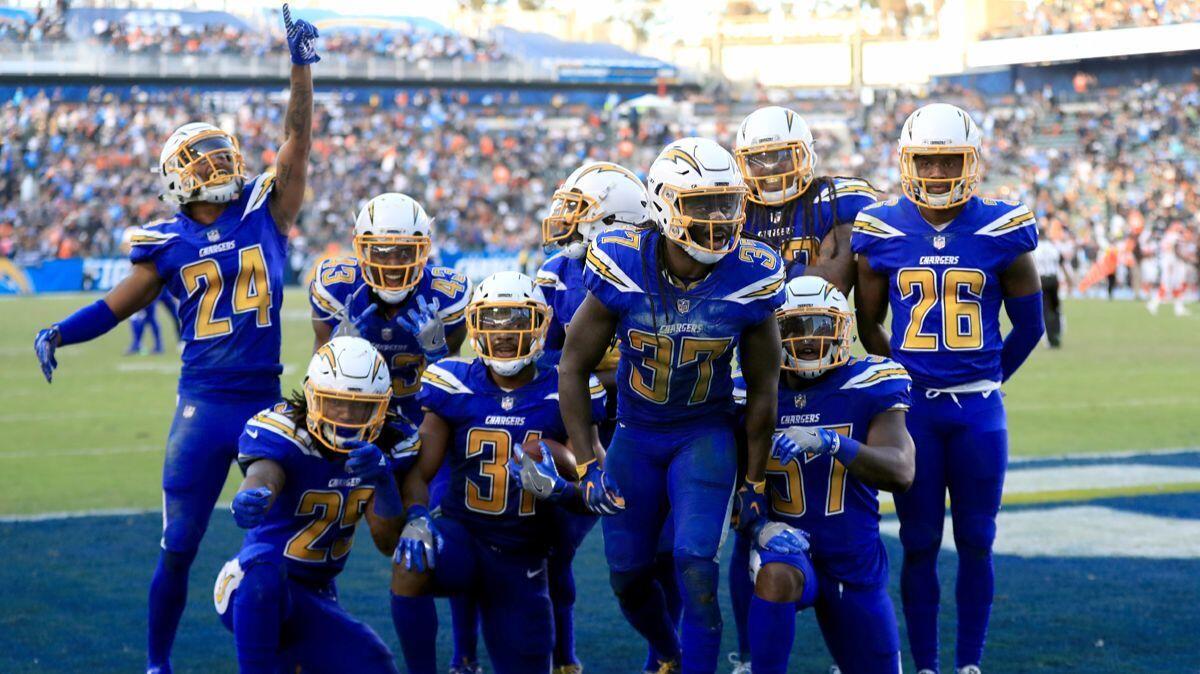 Chargers coach Anthony Lynn doesn't know exactly how it's happened, but somehow his once-snakebitten franchise has the sun shining squarely on it.
To get back into a tie for first in the AFC West after starting the year 0-4, you're going to need some good fortune. To suddenly be swimming in turnovers, to suddenly have the offense humming — it's taken at least a little bit of luck.
But in one area — player health — the Chargers took steps to create their own good breaks.
"I don't know how much of it is good luck. It all could be. I don't know. But we definitely made some changes about how we were going to perform in the offseason with our conditioning program," Lynn said Wednesday. "Our training group made some changes. We brought in some people to help with injury prevention and flexibility. We've put a big emphasis on staying healthy this year and so far it's paying off."
A year ago, the Chargers were defined almost as much by who was off the field than who was on it. Twenty seven players spent time on injured reserve in 2016 and a handful of other key regulars — Joey Bosa, Jahleel Addae, Melvin Gordon and Denzel Perryman — all missed at least three games.
But whether it was changes in the offseason program implemented by new strength and conditioning coach John Lott, or whether the Chargers were simply due for some good luck, 2017 has been a different story.
The Chargers have suffered just four season-ending injuries since the start of the regular season, losing cornerback Jason Verrett, offensive lineman Chris Hairston, offensive lineman Matt Slauson and kicker Nick Novak.
The Chargers also lost rookie offensive lineman Forrest Lamp in training camp and middle linebacker Denzel Perryman, though Perryman's back on the field after ankle surgery.
In the cases of Verrett and Slauson, players like Trevor Williams, Desmond King and Dan Feeney have been able to fill in with little drop-off.
Even seemingly scary injuries — a no-contact fall for Mike Williams and an awkward hit to Hunter Henry's knee — haven't been costly.
Williams was a limited participant in practice Wednesday after missing Sunday's game and showed "big time" improvement since the weekend, Lynn said. Henry wasn't even mentioned on the injury report.
"I think the players buying in, taking better care of themselves, getting in better shape and some of the changes we made in the offseason … they bought in," Lynn said. "So far it's working."
This week's opponent, Washington, has had opposite luck staying healthy. They've put 10 players on the injured reserve list since Week 5, and they'll be missing starting tight end Jordan Reed on Sunday. Offensive tackle Trent Williams, a key part of Washington's plan to stop the Chargers' pass rush, also missed Wednesday's practice.
Washington coach Jay Gruden said the team has had to use more than 20 different offensive linemen this season.
And for once, Chargers quarterback Philip Rivers can't relate. The team's used essentially eight linemen this season. Keenan Allen's been healthy. The team's tight ends and running backs haven't missed time.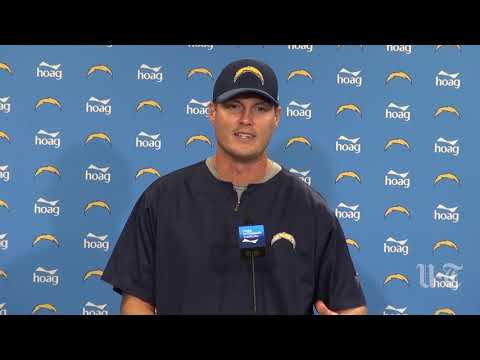 After starting the season 0-4, the Chargers have a chance at winning the division and playing in the postseason. Hear from quarterback Philip Rivers and safety Tre Boston about the team's focus in the final stretch of the regular season.
It's a big part of the reason why the team has gotten better as the season has moved forward.
"Guys can handle more and more and more when you have the same group together. There was a stretch there way back … where it was pretty much the same group each and every week for a handful of years. You almost felt like you could just call any play that you ran," Rivers said. "It didn't matter if it was in the game plan. They'll be fine. So I think it allows you flexibility to make adjustments on the run because you know it's not a (bunch) of guys who just got here shuffling in and out of the lineup."
He'll be back
Washington quarterback Kirk Cousins said he's an admirer of Rivers because of the veteran's physical and mental durability.
"I respect, first of all, his longevity. He's like the Terminator. Man, he just says, 'I'll be back,' " Cousins said. "No matter what happens, injuries, adversity around him, coaching changes, roster changes, he just keeps coming back, and his production has never really wavered. He stays healthy. He's tough. He competes no matter what."
Rivers appreciated the comment despite never seeing the movie.
Etc.
Tight end Antonio Gates, coming off his best game of the year, got Wednesday off for rest. …Cornerback Casey Hayward (hamstring) was a limited participant Wednesday at practice, as were Corey Liuget (toe), Adrian Phillips (hamstring) and Spencer Pulley (knee). …The Washington injury report Wednesday had 13 names on it, with nine players either limited or unable to practice.
Twitter: @DanWoikeSports
Get the latest on L.A.'s teams in the daily Sports Report newsletter.
You may occasionally receive promotional content from the Los Angeles Times.